Virtual Service inspires in-country Volunteer service
Peace Corps' Virtual Service provides a unique opportunity for U.S. citizens to donate their services and collaborate online with counterparts abroad on short-term projects. Early pilot participants were also returned Peace Corps Volunteers and for many, engaging online with dedicated counterparts inspired them to serve once more in person.
Elias, a returned Education Volunteer (Kosovo 2019-2020), was excited to participate in Virtual Service after the pandemic prematurely cut his in-person service short. In February of 2021, he began virtually supporting primary and secondary schools in his former country of service.
Alongside his counterparts, Elias co-created and co-facilitated extracurricular club activities for various grades and English language proficiency levels. The three-month-long engagement allowed Elias to continue learning local languages and classroom management skills; it also reinforced his commitment to Kosovo's education system and to the Peace Corps. Once the agency announced volunteers could safely return to the field, Elias's two-year, in-person Volunteer service in Kosovo was reinstated, and he became the first Volunteer to return to service in the European country. He completed his service this past July.
"I absolutely encourage anyone who's thinking about Virtual Service to participate. I found it to be immensely gratifying, and while it's not synonymous with in-person service, it has its own rewards," Elias said.
David, a returned Education Volunteer (Albania 2015-2017), applied his two-year, in-person service experience to make a meaningful impact in a new way this past January. David engaged virtually with a state university in Armenia. Over the course of four months, David and his counterparts connected online to co-plan and co-teach engaging, student-centered lessons for undergraduates on intercultural communication – a topic David knew quite well having worked as an international business trainer for over 40 years. Six years after completing his Peace Corps service in Albania, Virtual Service inspired David to serve again. The in-person service that matched his experience, interest, and skills was a job as a business communication skills and English education specialist in his former Virtual Service country, Armenia. He arrived in Armenia in this October as a Peace Corps Response Volunteer.
"[Virtual service] was a low-stress project for me, and I was glad to [donate more] hours over the minimum expected. My [counterparts] experienced significant added value, and I was inspired by their appreciation. We all knew that this formula would create more results if I were there [in person]. I am now scheduled to partner with four professors to [build capacity] in content development and facilitation skills."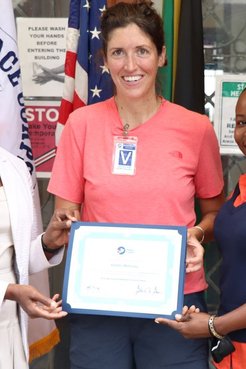 Kaitlan, a returned Agriculture Volunteer (Fiji 2015-2017), donated time as a Virtual Service Participant for the first time in February of 2022. Her engagement saw her collaborate with counterparts at Jamaica's Rural Agricultural Development Authority's (RADA) to co-plan and co-facilitate trainings for RADA's staff that focused on everything from group formation and strengthening to conflict resolution. RADA's staff then disseminated what they learned to farmers across the island.
One year later, she participated in a second virtual engagement – this time with Fiji's United Nations Development Programme (UNDP) to enhance the business skills of local female market vendors. The collaboration was such a positive experience for all parties that the three-month-long engagement extended for a full eight months. Kaitlan is set to support her former Virtual Service partner, UNDP, in person as a Response Volunteer in Fiji next year.
"I am grateful for the support of the UNDP team and their dedication to the Markets for Change Program. We found shared ground on projects we would like to implement in value-addition and agroforestry; I am excited for the chance to see these [projects] through."
Grete, a returned Education Volunteer (Moldova 2017-2019), became passionate about Peace Corps Virtual Service very quickly. She first engaged with America House, which was developing a "Read Aloud" resource library to support the new national English curriculum. For three months, Grete and her counterparts recorded English conversations from the new Moldovan textbooks to strengthen listening and reading comprehension skills among students. Grete went on to support her former country of service again virtually by co-facilitating an interactive, conversational English club for students in grades 5 and 6. During this second engagement, Grete and her counterparts designed teaching materials and more than 20 session plans. Later, she supported a third virtual engagement; this time by co-facilitating English classes for staff at a Ukrainian support center. This third engagement concluded early for Grete to depart in August 2023 for her in-person Response service in Moldova as National Teacher Trainer.
"When I [completed my service] in 2019, I thought I put Moldova behind me. However, the more time I was away, the more I missed it. I missed my friends, co-workers, and especially my students. Since I could not physically serve in Moldova, when I was asked to participate in the first VSP project, I jumped at the chance," Grete explained.
Mark, a returned Volunteer (Guatemala 2009-2011), applied his previous in-country experience teaching healthy practices to students in Guatemala to a recent virtual engagement. While the engagement was set to last only 3 months, Mark and the English teachers in Totonicapán, Guatemala, enjoyed their collaboration so much so that they extended for a full year-and-a-half.
During that time, he and three teaching counterparts created a curriculum for both English as a foreign language and life skills curriculum as well as participatory learning activities for virtual classes and written materials to augment national curriculum.
Mark felt inspired to serve in-person again with the Peace Corps. Twelve years after he returned from his service in Guatemala, he departed to serve as a Response Volunteer in South Africa. He is applying his virtual service experience developing virtual course content in his new in-person role as knowledge management specialist.
"I learned about the Virtual Service Pilot in the spring of 2021 and immediately jumped on the opportunity. I had been missing the Peace Corps. I appreciated VSP, because it brought me back into Peace Corps life, reconnected me with Guatemala, and showed me a whole new dimension of Peace Corps service. I loved fitting in hourlong meetings with my virtual teachers, while sitting in my bedroom, but I also knew I was ready to engage in-person and be more immersed in the culture," Mark said.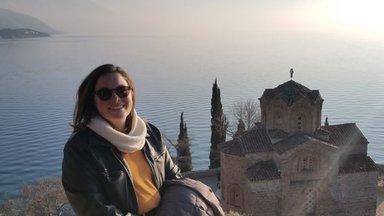 Liz, a returned Education Volunteer (North Macedonia 2019-2020), participated in Virtual Service for three months in 2022. Her engagement saw her collaborating with counterparts at a local youth center to facilitate an English club that aimed to increase the youth's personal and professional capacities. Alongside her two counterparts, Liz co-facilitated activities, which boosted participants' engagement in language-learning and empowered the youth by building their life skills in areas such as interpersonal communication, problem-solving, and critical and creative thinking. Three months after her engagement ended, her two-year service as English language teacher in North Macedonia was reinstated.
"I wondered what [Virtual Service] would be like. I think many have the assumption that it won't feel as genuine because you aren't in the same room, but I did form deep friendships with my counterparts and the students. It didn't feel any less real than my actual friendships in person are. There are a lot of ways that you can connect with someone a thousand miles away," Liz said.
Loren, a returned Volunteer (South Africa 2018-2019), engaged online with Botswana's Ministry of Local Government and Rural Development for a full year starting in March of 2022. The engagement involved co-facilitating a needs assessment, co-developing an action plan for building capacity, and co-facilitating training on business management skills. Loren enjoyed working with counterparts in Botswana, so when he applied to serve in person as a Response Volunteer, he chose Botswana. He is preparing to depart early next year.

"I hope [my virtual engagement] showed that I was and am willing to work hard to support the economic development program in Botswana communities. Being 'on the ground' should give me a better understanding of the needs and wants of the local community and how I can support the local district council," Loren said.