Virtual Service inspires a new partner to request a Response Volunteer
Why do in-country counterparts leave such indelible impressions on our hearts as Volunteers? Could it be their willingness to work with an American? Is it their openness to sharing their cultures and traditions with a stranger? Those factors certainly contribute but, in my opinion, we remember them fondly for their eagerness to learn and their uncanny way of teaching us so much more. Cameroon's Presse Jeune Développement (PJD) did all the above during its first Virtual Service engagement.
Presse Jeune Développement started in 1997 as a secondary school club where students gathered to discuss local issues and gradually grew to be the nongovernmental organization (NGO) it is today. Based in the bustling capital of Yaoundé, PJD is committed to community-level, humanitarian work. Their projects aim to improve intergenerational solidarity and communication, encourage democratic governance, drive environmental and sustainable development, as well as reduce gender-based issues.
The PJD team knows they don't have to face these concerns alone. They've worked with organizations such as Care International, German Society for International Cooperation (GIZ), UNESCO, UNICEF, and UNAIDS.
"After my medical studies, my internships in [our] communities gave me the desire to work with development organizations to bring my own contribution," said Dr. Aurelien Nana, PJD's manager.
Nana knows the first step to supporting the community is supporting his staff. He recognizes that their work can be emotional and stressful at times, so he routinely schedules fun outings for the team to bond and unwind. He also views his leadership role as an opportunity to mentor staff, not police them. The way Dr. Nana sees it, providing a healthy work environment and career growth opportunities for the team will help the organization itself grow. Confident in his team's ability to take on new projects, Nana initiated a new partnership with the Peace Corps this past year.
"I'm not sure I'll be able to fully describe it, but it's awesome," Julie Ndoumbe, PJD's Douala-based regional coordinator, said about collaborating virtually with a Peace Corps Virtual Service Participant.
Julie has been with the organization for 12 years. She oversees PJD's work in four of the country's regions: Littoral, West, North-West, and South-West. These areas are particularly sensitive to gender-based violence and gender-related issues.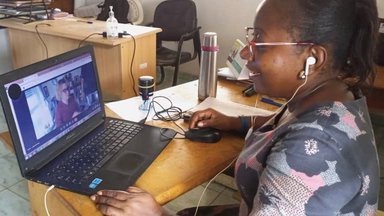 "When you see the needs in the field, those times were so difficult for me that tears came to my eyes. But the more time we spend in the field doing workshops and trainings, the more I am motivated," she said.
Julie applies that motivation to meet with the U.N.'s Gender Themes Group (GTG) monthly to discuss current challenges and possible solutions. Thanks to her passion for PJD's mission and wealth of knowledge, Julie was chosen to serve as counterpart for returned Peace Corps Volunteer and Virtual Service Participant Megan Younness (Central African Republic 1994-1995; Togo 1995-1997).
The two improved the NGO's overall efficiency by organizing documents on a secure file-sharing platform, making it easy for any of PJD's 26 employees to access and edit simultaneously. Julie and Megan are currently collaborating on a gender and youth strategy plan to educate local girls ages 14 to 24 on reproductive health and income-generating skills.
Last month, PJD welcomed their second Virtual Service Participant, Savanna Berezniak. Savanna donates her time to work alongside PJD's community manager, Audrey Akoa, and national coordinator, Jacques Boa. Together, they're co-developing workshops for the PJD team on social media and website content creation. They're excited to plan multichannel campaigns that increase the world's awareness of their work and inspire others to get involved.
"Working virtually on social networks nowadays is a simple, economical [and] effective way to reach [more] people in a short time. It gives us the opportunity to reach and integrate communities that we would not otherwise be able to penetrate," Audrey said.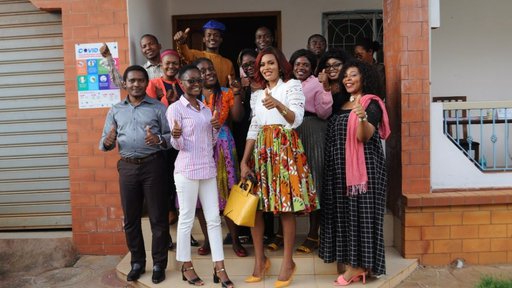 Of course, these virtual engagements are a small part of PJD's quarter century of hard work, all of which is resulting in positive feedback from the community.
"We are delighted to see someone greet us in the street to tell us how we have helped them in one way or another," Dr. Nana says with smile.
The NGO is excited for the future, too. Their team is currently working with Peace Corps Response to apply for their very first in-person Volunteer.
"I asked is this really possible? We started something really great with [Megan], so we thought why not have somebody who can come physically help us with trainings," Julie said.
Despite being thousands of miles away, the Virtual Service Participants have contributed to what will hopefully be a long and successful partnership between PJD and the Peace Corps. As they say in Cameroon, "chaque case en terre battue au village porte l'empreinte de la main de chaque villageois" (every mud hut in the village bears the handprint of every villager).
It appears that Volunteers, or in this case Participants, leave imprints as well.
---