Vanuatu's SMART Sistas celebrate International Girls in ICT Day
SMART Sistas is an innovative new camp that brings together ni-Vanuatu girls ages nine to 14 to attend sessions on everything from leadership skills and girls' empowerment to technology for development.
This May, Volunteers Laura Loveland and Grace Whitmore, along with Peace Corps Vanuatu staff and local non-governmental organizations (NGOs), will host the first ever Sistas Mastering Advanced Real Technology (SMART) Sistas Information and Communications Technology (ICT) camp.
After starting a technology committee in 2014, Volunteers realized that adolescent girls throughout Vanuatu needed to be included in the country's burgeoning ICT market, as women– especially in rural areas - were historically underrepresented in the technology and innovation space.
Grace, Laura, and others wanted to create a supportive and fun environment for technology learning. "We thought that a camp would provide the individualized attention needed as well as the camaraderie among the participants," said Grace.
Volunteers will choose 10 girls from the central Shefa Province to take part in immersive courses that leverage web development, computer-aided graphic design, and game-making to help students broaden their horizons and improve their understanding of the tech industry. The girls will also receive specialized training on leadership, gender empowerment, and career exploration – looking at career options in the telecommunications, computer hardware/software, and electronic media fields, all of which have been steadily growing in Vanuatu.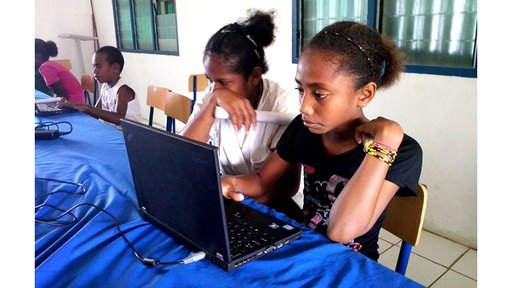 In fact, Vanuatu's tech community has experienced intense growth over the past few years. Last year the United Nations celebrated Vanuatu's innovation with an award for improving ICT to reach Sustainable Development Goals. Vanuatu has also benefited from a newly installed submarine cable promising to deliver "super-fast" internet speeds, and the Telecommunication and Radiocommunication Regulator (TRR) recently launched community computer labs, tablets at schools and internet cafes countrywide to spur greater technology use and creation.

Volunteers leveraged this energy and engagement to pull together tech leaders from TRR, the Reserve Bank of Vanuatu, USP Emalus Campus, Wan Smolbag, and private sector partners including software innovators Garden Code and TechRocket as well as Computer World who provided hardware. "Our goal when designing the camp was to make it as sustainable as possible," said Returned Volunteer Lynda Mae Wilson. "Instead of it being a "Peace Corps"-sponsored event, we designed it to be community-focused. We also have active members, both male and female, from local banks, universities, telecommunication companies, the government IT agency and local nonprofits."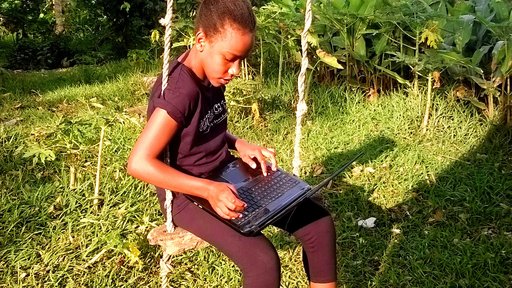 SMART Sistas gives girls who may not be familiar with ICT time to explore and play. Twelve-year-old Nukurei says that coming from a village and having little experience with laptops and tablets makes her feel like an outsider in the capital, Port Vila:

"The girls in Port Vila… they play most of the time with their toys. They call these toys laptops, and sometimes tablets which makes me confused. I can't do what the girls do. I see them draw and paint using their fingers. They can talk to their friends and see their friends' faces at the same time. Wow! They even type letters and play games on these machines. They talk about going online and Bluetooth. I am so ashamed because I don't know what they are talking about."
Volunteers hope that the SMART Sistas camp will help girls like Nukurei feel more confident and included in the technology space. Thus far, more than 70 girls applied for the camp, confirming that need for tech skills is strong. Volunteers hope to expand the camp to other regions in Vanuatu next year and bring more girls than ever into the tech field.