Using social media to promote healthy behaviors in Uganda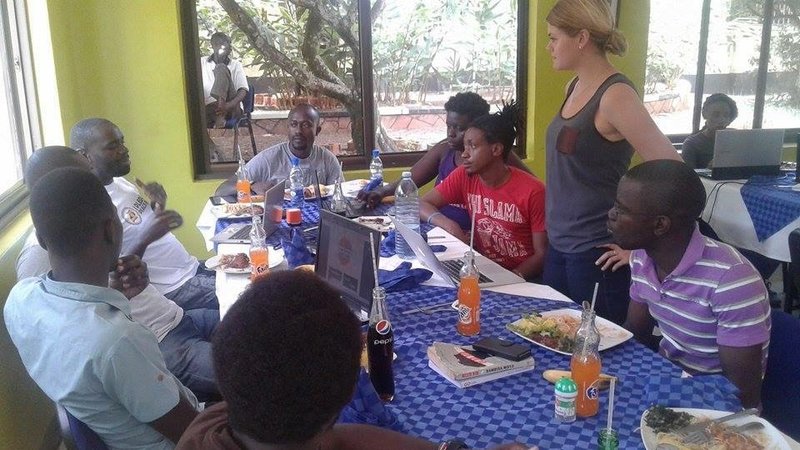 June 30, 2017
It happened by accident, driven out of sheer necessity rather than by drawing upon years of training or experience. 
As I prepared to enter the realities of the work world after college, I recognized that all of my health promotion and psychology classes on behavior change and community health program design were missing two key components: digital and visual communication. 
Behavior change, whether to improve health behaviors or get customers to adopt a company's new product, requires education that is communicated in a relevant, appealing, and easy to understand way. It's all about how you say it. Today, as our world increasingly becomes connected through technology, it's all about how you say it online, particularly through social media. 
Social media is changing the way we communicate. The health industries where I wanted to launch my career after college were beginning to use these social platforms to roll out public health campaigns, improve knowledge and attitudes toward certain health behaviors, offer virtual health coaching or medical services and create online support groups for individuals living with various illnesses. 
And so, in the two years before joining the Peace Corps, I worked with health and wellness startup companies across Nevada, Iowa and Colorado to build online communities, engage with clients and potential customers and distribute digital health information. It required me to learn the ins and outs of marketing, design and social media principles: that Comic Sans is not an appropriate, professional font; that with the right light and filter, even broccoli can become an appealing image; and, in a world where we are now bogged down by information and endless news feeds, making information beautiful through visuals helps spread important messages and improve online engagement. 
While each company I worked with had differing needs, the overall goals were the same: to engage a target audience using visual information in an effort to promote behavior change. 
When I left for Uganda, I thought I was leaving my ad hoc social media and design work behind. I wasn't even sure I would have access to electricity, let alone the internet. Yet I quickly realized that the underlying goals of a Peace Corps Volunteer's work in behavior and attitude change utilize the same principles of marketing I had honed back in the U.S. I had to know my audience, understand what resonated with them and learn what they cared about in order to tailor information in a way that would be the most effective in enhancing knowledge and promoting positive behavior change in my community. 
As I spent time in the rural West Nile region of Uganda gaining a better sense of the culture, the needs and the interests of the people I worked with, I found myself turning back to the power of visual communication. With very low literacy levels in my community, I recognized that visual information not only aided in learning retention, but that pictures could help break down the language and literacy barriers I was facing. 
In addition to the health education programs my community and I have done together, I have been able to further draw on my design experience throughout my service. When a local grassroots organization I work with was designing materials around youth sexual reproductive health for their advocacy and outreach campaigns, I worked with them to create effective messages and visually appealing handouts. The training helped the organization better understand their target audience and design their own materials using more visuals and fewer words. While discussing sexual health is taboo in our community, the materials they created have reached youth, parents, teachers and community stakeholders and have helped facilitate important education and conversations around youth reproductive health.  
My experience with startups and passion for entrepreneurship has also provided me with opportunities to work with Ugandan entrepreneurs and share my social media knowledge. Ugandan businesses and organizations are beginning to use social media to reach their customers and audiences, recognizing that it is no longer just a platform for personal use but, when done well, can become a powerful marketing tool. After a request for a deeper dive on digital marketing from a group of entrepreneurs, I designed an infographic and training around the basics of using social media effectively. I surprised myself at how easy it was to jump back into the social media mindset and during our discussion, entrepreneurs were challenged to define their target audiences and consider how designing their own visual content could increase their online engagement. After the training, one entrepreneur and I continued to meet and brainstorm innovative ways to use social media in youth-focused and creative arts programs. 
I have found my design skills useful not only for trainings but also for monitoring and evaluating programs. I have used visuals to communicate concepts and impact, including for the nationwide business camp and pitch competition I launched for Ugandan youth, StartUp Uganda.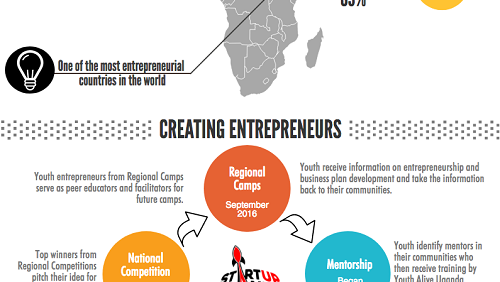 Through camps, mentorship and a series of regional and national business plan competitions, StartUp Uganda provides young people with the opportunity to develop practical business skills, potentially find funding for their innovative ideas and network with experienced Ugandan entrepreneurs. To simplify the various stages of the initiative, I designed an infographic that was distributed to Peace Corps Uganda staff so they could better understand the program and support Volunteers working on the initiative. 
After StartUp's first year, I modified the infographic to communicate the reach and impact the initiative had. This infographic has been presented and distributed at the Global Food Security Summit, highlighting how our young entrepreneurs are using agriculture to address issues of food security in Uganda and allowing other Peace Corps posts to learn from our initiative. As StartUp Uganda enters its second year, the new leadership team will continue to build upon these visuals and discuss ways to integrate technology — including social media — into trainings.  
Before arriving in Uganda, I would have never guessed that a skill set that I had "accidentally" learned would become an important tool I would draw on throughout my service. Yet, true to the Peace Corps experience, there has been plenty of opportunity and interest from my community to use my skills and passions and apply them in our work together.