Using past experiences to change the future
Last year I asked myself: should I join the Peace Corps? My answer was, "what am I waiting for"?
I wanted to join the Peace Corps since my early days in college, when I heard firsthand experiences from returned Volunteers. But life happens and, in my case, a fun career, a wonderful marriage, and a great family intervened.
However, 25 years of Rotary International membership instilled in me a strong belief in giving back and "service above self." I reached a point in my life where I wanted to do something more. I applied to serve as a Peace Corps Response Volunteer. The reply was immediate and the vetting rapid. In a few short months, I completed the medical and background checks, was accepted to serve, and resigned from my job. I was on my way!
I departed for service in South Africa to coach a group of budding entrepreneurs in the development of their business plans. Unfortunately, their projects were at an early stage, too early to benefit from my assistance. Though it seemed imminent, I was not ready to return home after only three months.
Fortunately, the end of the entrepreneur coaching project happened to coincide with the beginning of a major push in the U.S. President's Emergency Plan for AIDS Relief (PEPFAR) initiative in South Africa. As part of this effort, the CDC and USAID needed someone with business know-how to assist their South African partners.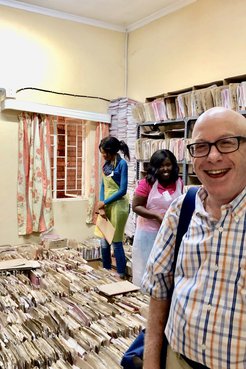 My background in business process re-engineering fit the needs of one of the project partners who were assisting South African health clinics to decongest their facilities. In many clinics, it would take staff more than three hours to find a single patient file. This delay caused back-ups and created long patient wait times of, sometimes, up to an entire day. Patients were testy and clinical staff were forced to manage crowds rather than dispense treatment.
Recognizing this challenge and the costly ramifications, we implemented a business process re-engineering model, allowing the clinics to streamline file and patient flows. In locations that received this support, retrieving a patient's file takes less than five minutes. Five minutes compared to three hours. Patients are now happy and so is staff.
Life away from home is not all easy, but it is certainly fulfilling. I am making use of all the skills I have developed over my personal and professional life and I am integrating them into my role as a Peace Corps Response Volunteer. Moreover, I like to think I am contributing in some small way, while meeting and working with great people. I cannot wait to go to my Peace Corps job every day. While I have had a successful and enjoyable professional career in information technology and business process consulting, the rewards I found in the Peace Corps have been as rich, or richer, than anything I have accomplished before.