Upcoming Peace Corps Volunteer gives back what she was given 29 years ago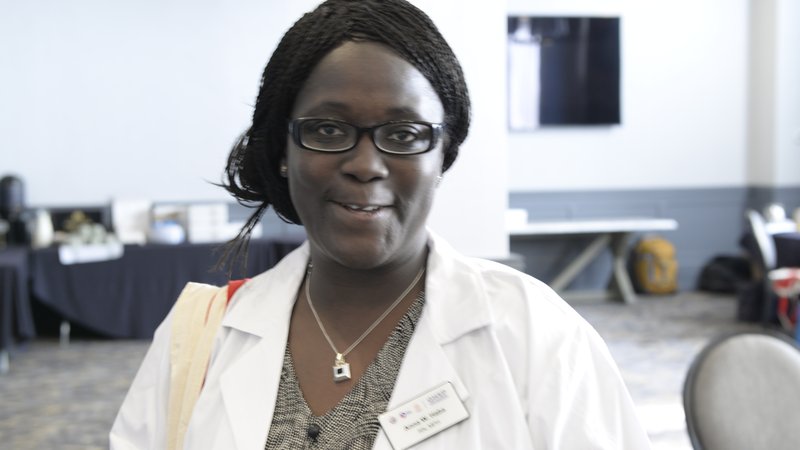 Sept. 27, 2017
On a warm day in March 1988, a warm breeze was murmuring among trees and noisily sweeping dried leaves coming down the hill.
The golden sun ray threads, piercing the foliage of the trees, blinded students and staff as they hastily walked the hill to St. Francis Catholic School in Tappita, Nimba County, Liberia. Among these people was Patricia Lynn Short, a Peace Corps Volunteer from the United States, an English and science teacher who inspired the heroine of this story. 
Ms. Short, as we called her, encouraged students to learn by rewarding academic performance – giving out books, stickers, pencils, notebooks, etc. I was one of those who received books for my performances. For the first time in my life, I owned books of my own. Besides being generous, she had a unique qualification: a college undergraduate degree, at least. Those days, most of the teachers – besides teachers from the sub-regions (Ghana and Nigeria), who may not necessarily have been college graduates – only had high school diplomas, and St. Francis Catholic High School was not an exception.
"Ms. Short, thank you for the books," I said after class. "It was the most precious gift I have ever had. Your people, the Americans, must be generous?"
Read Patty Short's reflection on Anna and her service in Liberia here.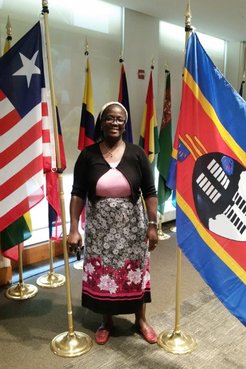 "Thank you. My mission is 'to promote world peace and friendship through the service of American Volunteers abroad.' I, therefore, support hard work and honesty. Why did you ask me this question?"

"This morning, when I was awarded the book, I couldn't believe it. It makes me dream big, and it gives me hope. It has become a gold plate of friendship between us."
"Yes!" she said with blooming smile in her face. "Well, keep it. That's what Peace Corps Volunteer service is about."
I thanked again my teacher and fell in love with the American people. Ms. Short became the role model of many Liberian girls, particularly the virtue of volunteer service. That same year, I became a volunteer at the Catholic clinic, and the Catholic sisters rewarded me by paying my school tuition.
Volunteering allowed me to see firsthand the dedication of nurses and health personnel as they gave relief to my people suffering from many diseases. It also allowed me to see the dire needs of doctors and nurses. It was at St. Francis Catholic Clinic where I decided to fulfill my dad's dream for me: become a medical doctor. 
But my dream of becoming a medical doctor was smashed the following year when rebels attacked my country, which led to a 14-year civil war whose misfortune made me a refugee in the street of Danané in Ivory Coast, West Africa. Prior to moving to Danané, I graduated in 1992 from high school after many struggles of intermittently attending many schools in various cities in Liberia as we fled away from the raging civil war. I barely survived this war.
To every sad story, there is often a successful conclusion. I was awarded a United Nations scholarship, after a very competitive test in French, to attend nursing school.
Four years later, I moved to the United States and became a registered nurse in 2007. When I became a naturalized U.S. citizen in 2011, President Kennedy's concept of "Don't ask what your country can do for you, but ask what you can do for your country" echoed in my mind, then I remembered that I once thought of being a Peace Corps Volunteer like Ms Short to help others as she once did for me. 
Today, I am giving back to America what America gave me 29 years ago. It is impossible to describe the cups of joy that may fill Ms. Short's heart if she discovers that the seeds of generosity she planted at St. Francis Catholic High School have sprouted and produced a new Peace Corps Volunteer. I dedicate my Volunteer service to my dad, Nya Amos Wondei; to my family; to my native Liberia; to Ms. Short; to my church and co-workers, and to America.
As a Global Health Service Partnership Volunteer, Anna will be on faculty as a nurse educator at Swaziland Christian University. She has a background in adult medical/surgical nursing. Swaziland has a ratio of only 16 nurses/midwives to 10,000 population, compared to 98 nurses/midwives to 10,000 population in the U.S. Swaziland also has the highest adult prevalence of HIV in the world.