An unrivaled spirit of love, giving, gratitude and thoughtfulness
When I turned 8, my mom and godmother lovingly planned a surprise birthday party. 
I cried in terror when I saw my friends. Needless to say, I have never been a fan of celebrating my birthday.
One of the most popular questions I'm asked here in Paraguay is, 'Mboy años erekopa? How old are you?' and 'Araka'epa ne aramboty? When is your birthday?' With that, there was zero chance of hiding the inevitable day of my birth, but I brushed off conversations as best I could. I finally started worrying when my women's commission mentioned planning our next meeting on the day of my birthday. Whew, evaded that one! 
The day of
Ña Silvia called at 5:37 a.m. to wish me happy birthday, then again around 7 when I was actually out of bed. Ña Nuni entered my house singing and clapping happy birthday as soon as my windows opened. I baked a million types of cookies, fearing visitors with nothing to offer back. (In Paraguay, you plan your own party and pay for everything if it's your birthday.)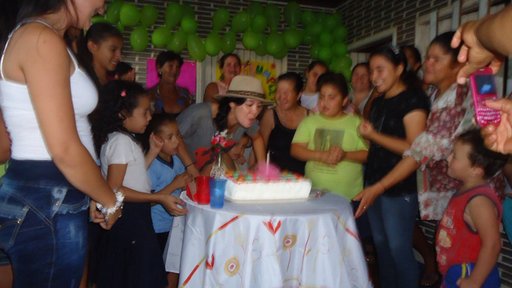 Leti delivered flan and insisted that she help clean my dirt lawn as a birthday gift, which is legitimately the most precious gift I could receive at this time in my life. Around 11, I headed to Ña Lina's, who made the most delicious lunch of my service with so many vegetables I didn't know what to do with myself. I left quickly to teach sex ed at the high school, but promised I would return in the late afternoon to eat cake. 

Class went well and I returned home to water my garden and tutor a friend in English. I hopped on my bike to return to Lina's for cake hour, and instead passed the time admiring her miraculous garden and green thumb. Then, Lina wanted to go on a bike ride but had to stop at Ña Nuni's quickly – nothing out of the ordinary. I jabbered about teaching while sweating profusely on the ride to my house.

As we biked to Ña Nuni's, I saw a crowd of people behind my house – Eliana and Nico playing the guitar and everyone singing "Happy Birthday"! My house was beautifully decorated with balloons, tables filled with sopa Paraguaya, milanesa, baked empanadas, grapefruit juice and a beautiful cake.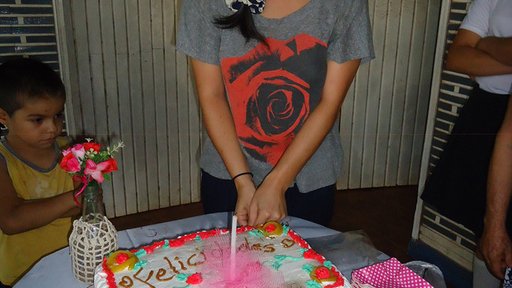 Ña Justina was crying. I looked at her and held back my own tears, overwhelmed, impressed, surprised, loved, thankful to be among these people whom I have grown to love infinitely. 

Gathered around the cake, everyone sang again. Ña Silvia yelled, "Make a wish!" as Raquel shouted in true Paraguayan fashion: "A Paraguayan boyfriend!" Out goes the candle.

Once every three months, I complete a report that documents and measures my service's success via (tangible) projects.

The report also asks: What is one thing you wish Americans knew about your country of service? I wish every American and human alike could feel the way Paraguayans make you feel.
The spirit of love, giving, gratitude and thoughtfulness in this place is unrivaled, contagious, vibrant, beautiful. If you put heart and soul into your relationship with Paraguayans, your life will be magnificently illuminated. So, when you think of Paraguay, remember this story. Remember the señoras that went completely out of the way to make a foreigner feel a part of their family.
 
'Twas a pretty good birthday, if you ask me.