Unique RPCV group stays young at heart
Peace Corps brings people together from all walks of life, and Volunteers make connections and form relationships that last a lifetime. Proof of that lasting connection can be found in a retirement community in Florida.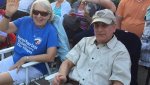 The Villages is a retirement community of 115,000 in central Florida. Among its residents you can find a returned Peace Corps Volunteer (RPCV) group of more than 40 RPCVs and family members of RPCVs including spouses, mothers and a brother.

This thriving group recently participated in a social event organized by the retirement community to spread the word about Peace Corps.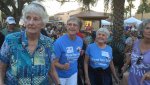 "We chose this evening to join the audience at the Square that had come to dance and hang out with a popular DJ," said Janis Droegkamp, RPCV Jamaica and Lesotho (1972-77). "We have music 365 days a year at this location which draws a crowd of more that 500 senior citizens, friends and families. We wore PC T-shirts, handed out [Peace Corps] stickers, danced in a group and answered questions from others in the audience. We got a shout out from the DJ." 
Peace Corps service never ends, and relationships formed through service last a lifetime.