Ultra running in Macedonia
Last year, by accident, I signed up for the Krali Marko 65-kilometer Ultra in Prilep, Macedonia, and figured, "At least I can try."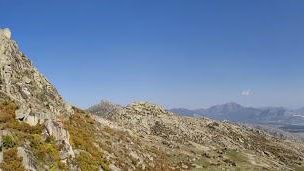 Races here are less expensive than in the rest of Europe or the U.S. so I ran out of excuses not to. The race was one of the best days I've ever had and was the first time I met Trajche*. He was like a smiling blur wandering back and forth from runners, to the stage introducing winners and the mayor, usually small puffs of cigarette smoke trailing behind him along with an echo of his laugh.

After talking with different runners over a few casual 30- to 40-kilometer runs with the group, there always seems to be a common denominator. "I was never really an ultra runner until I met Trajche," says one quiet, unassuming dude before or after telling me he just ran his first 100-kilometer race last year. This no longer surprises me. He brings a transparent philosophy and passion to the sport. Like many distance runners he's somehow a calming presence and yet even when he's sitting still his energy is bouncing around the car, restaurant or wherever he is. He's just as likely to break into a run, a song or tell you to wait up for everyone.
Trajche is one of the collective forces in the running community because of how easy, fun and inclusive he makes everything in this sport. Most of the trail runs in this area are put together by him or people in that circle. The running community is much larger than I expected in a country of about two million people where it seems like everyone knows everyone. It makes it easier to have an extensive network of outdoor enthusiasts who are making trails available all over the country. I've happily been able to see far corners and peaks with Trajche pointing out various ranges giving out their names as quickly as he could name is own children. Everyone is so talented and passionate it was the first time (not at an organized race) that I have been around a bunch of runners who were just out running because it's the weekend and why wouldn't we run together. The weirdest part: getting to talk about trail running all day with other people who also enjoy running. No one's eyes glazed over or rolled back into their heads.
I sat down with him to ask about the history and possible future of the sport here, which is quickly growing. Hiking has been popular in this region for awhile. Macedonia is rife with incredible landscapes with a range of terrain. Some areas remind me of dry, rocky Colorado; others of the rolling forests of the Midwest. And no matter how remote I seem to get here, there are always trails and footprints, if only by sheep and their shepherds.

This common passion is fueling a lot of development in the sport and cooperation between running groups not only in Macedonia but in the surrounding area. Trajche and others encourage younger runners to take over as organizers, as well as spending a lot of time building relationships with running groups from other countries in the Balkans. I asked how he would recommend someone who has never run to get started:
"Start here on the kej [a flat path along the Vardar river] when they can run 5 kilometers in one shot, they can run 20 km on trail no problem. We always try to run in one or two small groups so no one gets in a situation where they get lost. Anyone new who wants to join, it's no problem."
In 2005 he started organizing races, and in 2011 put together Krali Marko, which ranges in a 16-kilometer, 30-kilometer and 65-kilometer race. But he says he has routes for 90 to 110 kilometers for when the interest and money is there to put it together. Trajche has an impressive trail map collection of this country "when I have free time I always look at maps. I have in my head how long it takes, how long the route is, how difficult the terrain."
This may not seem like a big deal. But try finding trail information for Macedonia… go ahead, try Googling it. This man is a wealth of info for hiking and running in the Balkans. And he doesn't keep it to himself. He spends a lot of time trying to put outdoor activities in Macedonia on the, well, the map.
Right now he says it's a critical mass of good people: "We don't see a problem with [politics]; we want to enjoy and protect nature, and be with people." This August there is a first cross-border mountain race from Kosovo to Macedonia. The event is a part of the collaborative efforts of Macedonia, Serbia and Kosovo. There is good cooperation with Serbian racing organizations, like Sky Running. Because the members of Trex travel to races, they also have contacts in Montenegro, Bulgaria, Turkey, Croatia, Greece and Serbia. Despite any past wars or current conflicts and differences in language or culture in these regions, runners keep right on creating common ground that build stronger more united relationships.
As the popularity increases he wants to preserve the purity of the sport and maintain that atmosphere of respect towards each other and the planet, "the community of outdoor sports is changing because the motivation is for the love of the sport rather than money and metals. It's about promoting the sport and community in Macedonia." 
Within its borders as well as without, "we always try to be in contact with people, in Macedonia, in villages, to visit places where no one ever goes. And they are excited to have us there."
For my own personal curiosity because I'm young and still collecting gear, I had to ask about what he carries with him: "Chocolates, [granola] bars, sometimes I bring gels but I don't use them. I don't like them." As for clothing, "Nothing special. In Mont Blanc it was raining for 10 hours then there was snow. So it depends on the weather." For lighting: "Black Diamond. 90 illumines," he continues, giving a short laugh at the memory. "In France I had 60 illumines, I couldn't see my feet, there was fog." I asked him about other challenging races: "I have my problems, but nature is always nice. You should know yourself, you should respect nature. Prepare for every situation."
*Pronounced 'try-che' with a rolled r