Ultimate (Frisbee) Cambodian women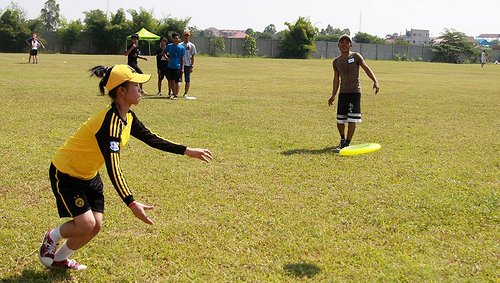 Dec. 12, 2014
Each time I pass the volleyball court on the campus of the Kampong Cham Provincial Teacher Training College (PTTC) in Cambodia, I notice that it is exclusively dominated by men, even though my school is 75% women. 
As I bike home across the large plaza in front of my school, the young male soccer players sometimes accidentally kick the ball in my path. After a couple of months of unsuccessfully trying to find other women to engage in sports with me, I resolved to do something about it.
Before accepting my Peace Corps invitation to Cambodia in July of 2012, I was an avid member of the Ann Arbor Ultimate Frisbee Association. I was a volunteer coordinator, board member and repeat captain for the recreational league. I've played for seven years, three of them at Yale University where we were very good, but not good enough to be at Nationals. That gave me a healthy sense of discipline in athletics, but I wasn't so serious that it ceased to be fun.
In the beginning, I wanted to be very respectful of the local culture and not barge in with a frisbee. Though Ultimate Frisbee tops my list of interests, I didn't want to force it on my students. So I decided to observe the local culture of sports first before introducing something new.
There is usually 30 minutes of free time during the physical education two-hour long block. To my disappointment, many of the women trainees used this time to sit in the shade of the tree and chat. The boys used the time to get exercise and get better at volleyball and soccer.
It's no mystery why this is the case. There are no female teachers who play sports at my PTTC, and though the sporty men are open to having women join in their games, they are not particularly encouraging and welcoming. So, in comes the Peace Corps Volunteer who isn't so afraid of the cultural standard that women should be quiet and still. I coaxed a few women to play volleyball and soccer with me for several sessions.
After many balls flying out of bounds and messy foot handling scrapes, everyone realized that these sports just aren't my strong suit. Seeing that my own skills in soccer and volleyball leave something to be desired, I started bringing a couple of frisbees to school just to see what would happen. Contrary to my expectations, the frisbee gained momentum very quickly. To my excitement, my trainees got hooked on the plastic disc. It was easy to learn for them, and more importantly, it was a sport that didn't come with any previous gender connotations.
After a few weeks of innocently tossing a frisbee back and forth, I got a few women who were really interested. They wanted to learn how to play. Yes!
Having played in the international Cambodian Ultimate Frisbee two-day tournament in Phnom Penh earlier that year, I knew the folks at the Phnom Penh Ultimate Association (PPUA) firsthand. They were excited to get more Cambodians playing Ultimate also, so together we arranged for a one-day workshop and tournament for my trainees. Before loading everyone into the bus for a three-and-a-half-hour bus ride, I needed to make sure they knew the basic rules and culture of Ultimate.
I organized weekly practices with any trainees who were interested. We did conditioning drills (these were very difficult for some!), learned how to catch and throw properly, and played scrimmages against one another. I saw Sonita and Sina, two of my women trainees, start to gain confidence in their skills and I asked them to teach newcomers what they know.
On May 5, the day of the workshop, I had 15 trainees attend the tournament -- half of them women! It might be difficult to see why this is an accomplishment if you don't live in Cambodia, but for me, it was a highlight of my service. Seeing young women run and play and lead others is a rare sight in Cambodian athletics. The bus ride home was buzzing with positive energy. Though the workshop exhausted them, my trainees came back with a self-confidence and excitement that I've never seen in them before.
In the old days, I'd have to beg and cajole my trainees to come out and play. I often sat there alone waiting for players. Now, though, Sina K., Sina T., Sonita, Soklem, Sophal (the first three are women), are often badgering me to play on the plaza after class. So I do what most Cambodian women teachers don't -- I untuck my button-down shirt, take off my shoes, and hitch up my long traditional teaching skirt and run willy nilly to score a goal downfield. The most rewarding thing for me is not just seeing all my female students thrive and participate in a field sport, but also seeing them continue to play on their own and forcing those male soccer players to share the sports space!
Who knows where this will take them? All I know is that I've instilled a love of Ultimate Frisbee and sports in competent and athletic women who will become primary school teachers. They are already breaking barriers by proudly chasing that plastic disc in clear view of all current and future teachers of Cambodia. Cambodia is paying attention!