Two days at an HIV education workshop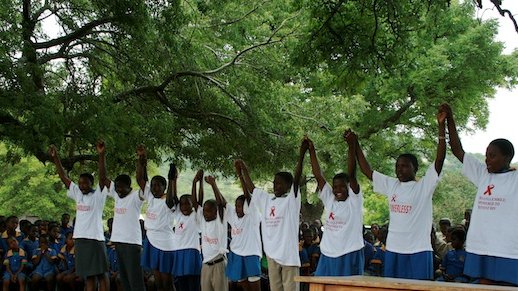 July 20, 2016
Following Peace Corps' first-ever HIV Boot Camp held in Zambia, Gini, Amelita and I — Swaziland's representatives — had the opportunity to present our newly acquired knowledge, skills and passion at our group's mid-service training.
The two-day training was done to about 20 Volunteers and 20 counterparts (Swazi nationals). While there was the added dynamic of training to two different cultures and two different native tongue-speaking groups, the feedback we received from Volunteers was very positive and encouraging. We focused our limited training days on information from HIV Boot Camp that we found the most helpful, inspiring and relatable to our Peace Corps service here in Swaziland. With the highest rate of HIV-infected adults in the world, and many orphans and vulnerable children (OVC), it was clear to us where our energy needed to lie.
We started the workshop educating everyone on UNAIDS' 90-90-90 vision and how can be used in Swaziland.  As Volunteers and counterparts alike, this information is crucial (and was very well received) to give us a background and a visible, tangible purpose for our work in the field.  
Next we talked about behavior change and how this is a big focus for our work if we are to achieve epidemic control by 2020. 
Finally, we studied a relatable character and her life story — an OVC. This fictional character was born HIV negative but lives in a household headed by her HIV-positive grandmother. As we walked through pivotal moments and stages of her life, we introduced to our trainees to evidence-based interventions including the HIV Stigma Index, the importance of core groups and support groups and HIV testing and counselling programs, to name a few.
It was difficult to try to compact all the information we received at a 10-day intensive training into a two-day workshop, but we managed! When we first arrive in-country as trainees, it is easy to get lost in adapting to the new culture and understanding everything around us. What we wanted to do for our Volunteers here in Swaziland — just like what HIV Boot Camp did for us — was more than impart knowledge and skills but to inspire and remind us all why we are here and why we are doing this work.