From TV to touchscreens: Bringing malaria prevention messages to the masses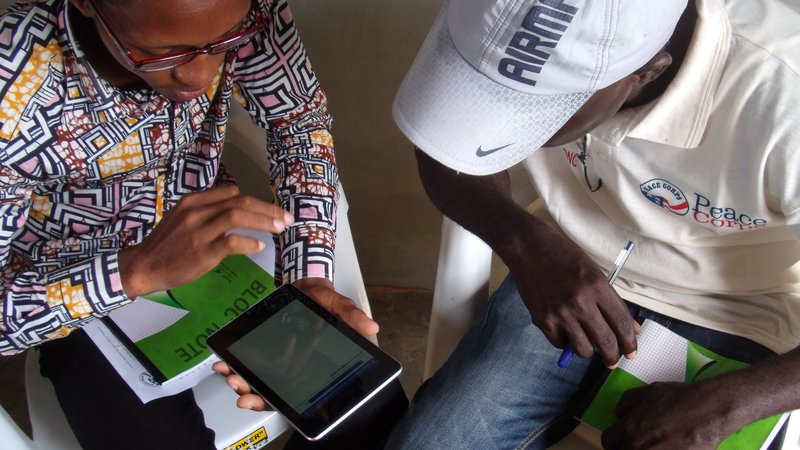 July 6, 2016
Most volunteers in Benin live in small villages to mid-sized cities. 
While all of us pass through the capital city of Cotonou, we rarely encounter urban poverty or work to alleviate large urban problems. But this year, in honor of World Malaria Month, Peace Corps and the Benin Against Malaria (BAM) Committee partnered up with La Vie Nouvelle, a community health center located in the heart of Cotonou, to address malaria in the community.

Ladji is a large village, with a population of over 10,000, built on the shores of and on Lake Nokoué. If you google Benin, the search will reveal images of stilt houses, the 'Venice of Africa'; Ladji is one such village. Located about 20 minutes from Peace Corps headquarters, Ladji is home to Cotonou's most impoverished: fisherman, farmers and small-scale entrepreneurs. Starting where the paved road ends, much of the region is built up on piles of trash, making it a man-made landfill island.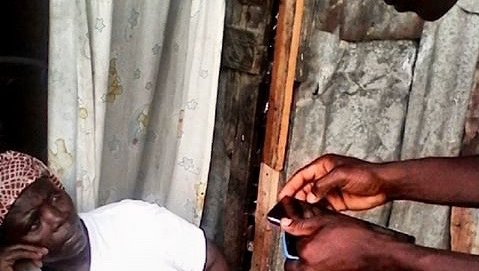 On April 25, 2016, after grappling with the logistical challenge of how to distribute nets to over 1400 households, some of which are accessible only by boat, we launched a week-long campaign to reduce the scourge of malaria in Ladji. Local leaders, including representatives from the Ministry of Health and military, kicked off a ceremony and announced the absolute imperative of preventing malaria in the community. Traditional stilt dancers and a local singer performed at the ceremony, urging the community to mobilize against malaria. 
You may think handing out nets is easy, but Peace Corps Benin isn't simply interested in handing out nets. We have developed a protocol to control the number of nets distributed based on the family's needs and to follow up on net usage. After one day of training, which included malaria behavior change communication and instruction on the Peace Corps Benin Volunteer-developed CommCare application for Bed Net Distributions, teams of local volunteers and PCVs dispersed into the community to assess bed net needs. Walking from house to house, or using boats to reach houses on the lake, the teams surveyed 1478 households, representing a total population of 9681 people. The application stored household data and calculated the total need for mosquito nets in the community. Based on the rule of two people per net, volunteers prepared to distribute 3422 nets over the course of the next two days.
Working out of five different distribution sites, PCVs and their partners from La Vie Nouvelle conducted 40 malaria behavior change communication sessions for 1331 people. We were concerned that our efforts would be stymied by a huge rainstorm that rolled in, turning the dirt roads into impassable mud puddles, but the villagers were undeterred, and made their way to our sites to receive their nets and attend the educational assemblies. The sessions covered the importance of sleeping under a mosquito net, dispelled myths of malaria transmission and counseled on proper net maintenance and repair for long-term malaria prevention. Using our Android application, community members signed for their nets and PCVs were able to monitor the number of nets distributed in real time. This was the first time that the application was used in a large-scale bed net distribution, and we couldn't have done without it! One month after distribution, volunteers returned to Ladji to conduct follow-up on the distributed nets, collecting data on who is using them and whether they are properly installed.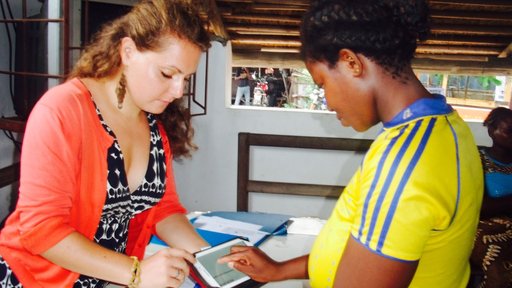 For me, this was my first opportunity to coordinate a large-scale project requiring the training and mobilization of volunteers. Despite moments of frustration and problem solving, the end result was knowing that many more people are now protected against malaria. Although I never thought appearing on Beninese national television would be part of my stint as a Peace Corps Volunteer, I was invited to sit down with a journalist from BB24 to discuss Peace Corps' anti-malaria efforts in Benin. Not only were Volunteers able to reach an entire community with our bed nets, but the TV special reached viewers across Benin, spreading the message of malaria prevention nationwide. 
Although World Malaria Month is behind us, this project has motivated me to dedicate my service to the fight against malaria. As a leader of BAM, it is my role to promote volunteer efforts to distribute bed nets, conduct malaria behavior change communication in their local villages and share the message of malaria prevention on social media and over the radio to reach the masses. 
If the success and innovation at Ladji showed us anything it's that, as a team, we can work to "End Malaria For Good."