Turning students in Morocco into business leaders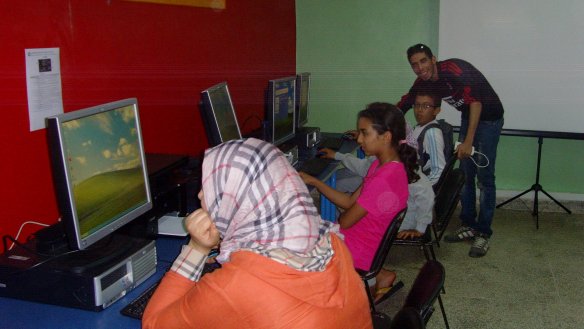 Nov. 19, 2014
Teaching a group of teenagers in rural Morocco how to become entrepreneurs can be a daunting task – especially if you have no experience with entrepreneurship. But that didn't stop Martha Fedorowicz from successfully piloting a partnership between INJAZ, a nonprofit working to help students become business leaders in their communities, and the Peace Corps.
As Martha sat in her site placement interview that would determine what community she would live in, she was asked what she wanted to do during her service. She told them that she wanted to do vocational training for youth. When she expressed interest in a new Peace Corps partnership with INJAZ, she quickly found herself as the Volunteer piloting the program. INJAZ currently runs several programs in Morocco designed to help students gain a better understanding of everything from financial literacy to leadership and career goals.
When Martha got to her community, she ran an assessment to see what programs would work well there. Within a few months, INJAZ had launched their first program with the Peace Corps, an entrepreneurship masterclass in Martha's youth center.
The participants in this program took a skills assessment quiz to see what entrepreneurial skills they already possessed, they then were given roles in a company based on the results from these quizzes and those companies produced a project that were then judged by a panel. This program was not only a successful launch to the partnership between the Peace Corps and INJAZ but was also the first time any of the students in her community had participated in any type of vocational training.
Prior to its partnership with the Peace Corps, INJAZ worked out of large, urban schools, but part of the new partnership was to get Peace Corps to bring the program into smaller, rural youth centers, which is where Martha worked. When Martha piloted the program, she had to not only figure out how to recruit participants and market the programs but also figure out how to get students to attend regularly, even though attendance wasn't mandatory. To do this, she implemented a policy where participants could only miss so many sessions or they won't be allowed to participate.
After the success of the first program, INJAZ decided to expand the partnership with the Peace Corps. They opened their programs up to more volunteers in Morocco and had Martha test out two additional, more intensive classes.
For the second program, students spent six weeks learning about entrepreneurship. They participated in entertaining activities, such as creating a commercial for a product, developing a business plan for a non-profit and participating in a mock stock market that were meant to teach them the basics of business such as marketing and interpreting the stock market.
For the third class, she helped a group of 20 or so students create and run a business over a four-month period. The premise was to create a good or service that had never been seen before and then find small investors in the community, such as friends and family, to be company backers. The students would then run the company, liquidate it and return dividends to their shareholders, and write a final report summarizing their activities. Her students chose to set up a kiosk at their school to sell snacks and school supplies to their classmates. They sold over 100 shares and made close to $300 over a two-week period.
"The students who committed to this program worked harder than I've ever seen the students in any of my classes work before," Martha said. "Although the activities were incredibly challenging at times, the students rose to the challenge and gave more to the project than I expected of them." 
In the end, their hard work paid off. At the end of the 16-week period, her students went to Casablanca to compete in the regional competition against other INJAZ participants from large, urban high schools. Martha was unable to attend because she closed out her service just three weeks shy of the event, but her site mate went and made sure to call Martha upon the exciting outcome: Her students won the regional competition and moved on to the national competition. 
When she heard the news, Martha was "so excited, [she] started jumping up and down" but says she had a feeling they would win. She knew that they worked so hard and put so much time and effort into their projects.
A few weeks later they attended the national competition and came home with the award for most heart.
Awards aside, the students' hard work gives back to their community. INJAZ's emphasis on innovation and entrepreneurial skills that students will spread throughout their communities is especially important in rural Morocco, where communities can go an extended amount of time using traditional and outdated business practices. Programs like this not only help these communities modernize, they also help students develop skills that make them leaders in their community.