Turning 80 in the Peace Corps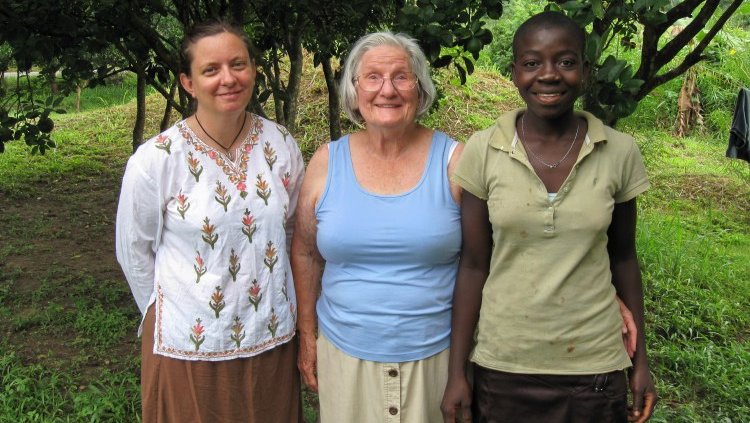 Aug. 11, 2015
"I had my 80th birthday in Ghana as a Volunteer!" exclaimed Dorothy Wooldridge, a returned Peace Corps Volunteer who lived and worked in Ghana from 2009 to 2011. 
Wooldridge had nurtured a lifelong dream of joining the Peace Corps but circumstances didn't allow her to pursue this dream until she was 78 years old.
During the late sixties Wooldridge was a single parent, working at Sacramento State College (now State University of California, Sacramento, or "Sac State") and writing letters of recommendation for students going off to pursue exciting work abroad. She fantasized about doing the same, thinking, "If the time ever comes…"
Wooldridge had three different careers before embarking on her Peace Corps adventure. After 15 years at Sac State, she joined Development Alternatives, Inc., (DAI) a company started by a returned Peace Corps Volunteer. Although she did not have the technical skills to participate in any of DAI's overseas projects, the job nursed her connection to development work.
After a few years Wooldridge left the company and worked in the travel industry for 15 years. She became owner of an agency that specialized in addressing the special needs of groups planning short-term volunteer projects in developing countries. As she traveled during that time Wooldridge continued to hope that someday she could settle somewhere long enough to fully experience a different culture.
During her third career working as an investigative analyst for the state of California, Wooldridge was finally looking forward to a decent retirement. One day, she found a Peace Corps mailer while picking up mail for a relative. She took it home, thinking, "I can do this now. I've been ready for a long time."
In June 2009, Wooldridge got on a plane to become a community economic development Volunteer in Ghana. She landed in the village of Adjeikrom, a rural village of less than 1,000 people three-and-a-half hours from the capital city of Accra. Her job was to help develop tours and other business opportunities at a cocoa plantation originally built by Cadbury (cocoa is Ghana's primary crop). The first priority was to bring electricity and water to the Cadbury campus and transform it into a visitor center.
When Wooldridge arrived, she faced two initial roadblocks. The NGO she was assigned to work with was no longer interested in pursuing the tourism project and the village chief was not thrilled with his new Volunteer.
"At our first meeting, he said, 'In my country when our mothers become as old as you are we don't expect them to do anything, and we take care of them,'" Wooldridge explained.
Wooldridge forged on, learning to rely on traits she had developed over a lifetime—adaptability, perseverance, creativity and resourcefulness. Her initial Peace Corps training prepared her well. In addition to personal health and safety training, she learned Ghanaian business laws and systems, culturally appropriate ways to motivate and develop stakeholders, and techniques to involve locals in setting achievable goals.
Ultimately, Wooldridge found enthusiastic support in the form of the local village committee, her Peace Corps-appointed counterpart in the village, and a couple of key local women. "They held back at first, but eventually responded to the way I listened to them and asked them for input," explained Wooldridge. It was a collaboration that yielded tremendous results for the village.
Dorothy worked closely with the local committee to put in place the administrative and legal framework for the business venture, as well as a marketing campaign. Equally significant, for the first time locals began earning income from work previously done voluntarily: women who carried water or laundered sheets by hand now got paid. Men who cleaned latrines and the guide who led tourists through the demonstration cocoa farm now got paid.
After many months of hosting tours, educational groups and funerals, and after countless meetings, the business gelled. Profits were finally being made. With the administrative structure finally in place, committee members went to the nearest big city and opened the first checking account for Adjeikrom Cocoa Tours.
Another milestone was reached about six months before Wooldridge completed her Peace Corps service in Ghana. She recounted the day the lights went on for the first time in the visitor center complex: "It was a really big deal. Drummers and dancers came to celebrate. Everyone knew they had earned the money to accomplish that, and they were very proud of it."
Along with business development, Wooldridge engaged youth in educational activities and became an integral part of the community. A girls' club met at her home every couple of weeks. Kids would come by, check out books and inspect the huge blow-up globe that hung on her front porch. Wooldridge was regularly invited to attend church services as well as weddings, new baby events and health programs. She was even asked at one point to speak at a funeral.
The American Volunteer inspired many in the Ghanaian village. One woman said, according to Wooldridge: "If you had ever told me that an old lady could get on a plane and come to a place she'd never been, where she didn't know anybody, and she couldn't speak properly, I would never have believed you. I've seen it, and now I believe that." With Wooldridge as a model, this village woman—illiterate and working two jobs to keep her two girls in school—decided that she would learn to read.
The Peace Corps also had a huge impact on Wooldridge herself; she gained insight and confidence from living and working in the remote village. "If you can handle two years in a strange village with no running water or electricity, you're not going to be afraid of too much out there," Wooldridge said.
She also discovered what it meant to be a part of a very different culture.
"One of the hardest things I had to learn was to let people do things for me. I had been on my own a long time and as I got older, was way too proud of my independence. 'No, no, I can do it!' I'd say. A firm 'No, Madame' was always the response."
Wooldridge recounted the day she went shopping with a young village woman: "She was carrying a ton of stuff, and I insisted she let me take some of the bags. She said, 'Madame, if people in my village see you carrying things, I will be shamed.' I was old, I was a guest in their country, their culture is to respect me and I had to accept that."
Wooldridge says she is proud of her work, and equally proud of other Peace Corps Volunteers who served in Ghana with her. "The bottom line," she said, "is that Peace Corps does good work. For everybody." Not surprisingly, she is passionate about speaking at Peace Corps recruiting events and with other groups. "I love sharing my story about being a Peace Corps volunteer, especially with people who say, 'I wanted to do that when I was in college, but my parents wouldn't let me go, and I'm too old now."
Wooldridge relishes the memory of her accomplishments in Ghana, but admits the transition home was difficult. She said, "By the time I left, I was a legend in Ghana. When I got off the plane in New Jersey, I was just another old lady. It's very different. I'm glad I had that experience. I know I'm a real person who can do real stuff, even if the person next to me on the bus may not realize that." She adds, "The flip side of that is that now I look at the person next to me with a new perspective, because you don't really know where they've been or what they've done."