A tree grows in south Benin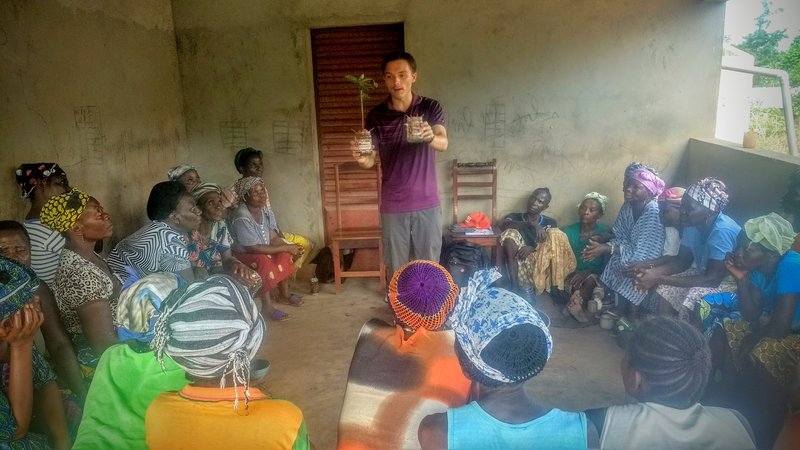 May 6, 2019
There had to have been a way to avoid the heat and strain, but there we were, hiking up and down the hill, digging holes, and struggling to get enough water. For the plants, that is.
It was June 1, Arbor Day in Benin, and my host organization, neighbors, and I celebrated with 60 mahogany trees, 50 beechwoods, and 20 orange and mango trees, respectively. Working across three villages, two schools, and two excruciatingly long, sunbathed roads, we planted these 130 trees to improve educational access for local girls. But I'm getting a bit ahead of myself, so let's rewind.
It was late March, and my community was deep in a national teachers' strike. At the same time, my counterpart wanted to use Arbor Day to raise awareness of environmental issues. We had neither seeds nor funding and had to scramble to plant trees. We looked to the Peace Corps for funding options, but the only one quick enough would have to be a gender-equity project capped at $100. How could we tie tree planting to gender issues? The teachers' strike was our link. In the past, our local schools felled trees to pay for teacher salaries when neither the state nor parent fees sufficed. Trees could be planted in schools and tied to gender somehow. A meeting with the local PTA president took it to the next level.
The result was a project, financed by Peace Corps Benin, called "Planting Bright Futures": we would capitalize on Arbor Day to teach students about environmental protection, train them in tree planting and maintenance, and build up the schools' resources. Local women's groups would teach tree planting and organic cage crafting to students and lead them in planting 130 trees. These trees would be owned and managed by local PTAs. Not only would these trees help raise environmental awareness, but they would provide fruit, shade, and—if ever cut down—revenue for schools to combat dropout rates.
The gender component was two-fold. First, girls rarely get the chance to learn about agriculture and agroforestry techniques, let alone from other women. Second, parents unable or unwilling to pay school fees often prioritize the education of boys over their sisters. If future tree felling subsidized fees charged to parents, then we could expect female student dropout rates to fall. So far, so good.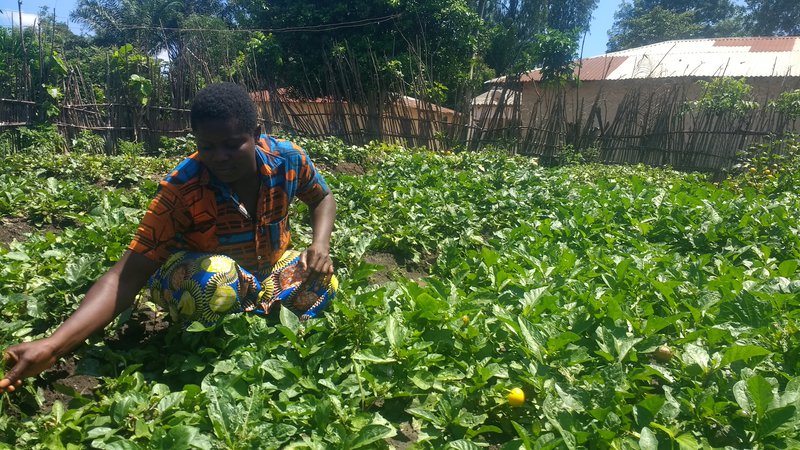 Come June 1, my counterpart led a ceremony at the local village school on the importance of trees that included speeches from local authorities and the county forester. The forester then led demonstrations for our women's group partners and the students chosen as maintenance leaders. Students were so excited they pushed and prodded for the front row at each planting site. Each plant got a hole of loose dirt, plenty of water, and a locally-produced organic cage.
My colleagues and I left early because we were late in going to our second school. We planted the fruit trees on-campus and turned our eyes to the adjacent hill to plant the other trees. Despite all measures of haste, the late morning heat soon beat down on us. We eventually ditched the last stretch and planted a handful of trees in the local health center instead. Sweating ourselves down the hill, we were done.
The day saw improved environmental awareness, trainings on tree planting, and 130 new tree saplings in the community. As excited as I was about my first project as a Peace Corps Volunteer, I was hesitant to call it a complete success. The children learned and the project progresses sustainably as the local PTA takes the reigns.
The real catch comes years down the road, for the project will only become truly successful should these trees fetch a pretty penny, reduce school fees, and keep the dreams of staying in school alive for smart, ambitious girls. Right now, the trees are much like these dreamers: small, young, and just getting rooted. But there is a sprouting hope in the communities we visited that day. Such a hope is that both tree and girl grow to become mighty providers, towering in the communities that nurture them and their chances to succeed.