Traveling by tro in Ghana
As a Peace Corps Volunteer in Ghana, I loved taking the local mini-buses called "tro-tros" or simply "tros."
They often displayed colorful bumper stickers featuring a phrase from the Bible or Koran, or a proverb or saying. My favorite sticker said, "No hurry in life," although not all drivers took that saying to heart and often sped to their destinations.
The best seat in a tro was behind the driver, where you could get a breeze from his window. Once seated, you'd greet other passengers in a friendly way (If you don't greet people, the driver may overlook your stop — I saw it happen.) There weren't official stops; they happened anywhere, even on a busy road.
Sometimes a preacher would hop on board and start preaching and pounding his Bible, while passengers shouted, "Amen!" in response. Many Ghanaians are very religious, so preachers get free rides. Christians and Muslims sat together on tros and lived side-by-side in town.
As the tro made its way to various destinations, street vendors would swarm the vehicle at busy intersections or traffic stops, offering water, plantain chips, apples (an imported delicacy), and even toothbrushes or mouse traps. With their wares atop their heads they yelled, "Pure water! Is pure!" or "Plantain, plantain!" Everyone snacked while traveling in Ghana.
One weekend, I had an especially memorable trip by tro.
From my small village, I took a variety of tros to the nearby town, then on to the regional capital to do errands and visit friends. At the end of the day, I arrived at a friend's village in a different region to attend a yam festival. We danced, greeted the village chief, ate, and slept in the courtyard under mosquito nets. It took all day and 10 tros to reach the festival, but it was worth it.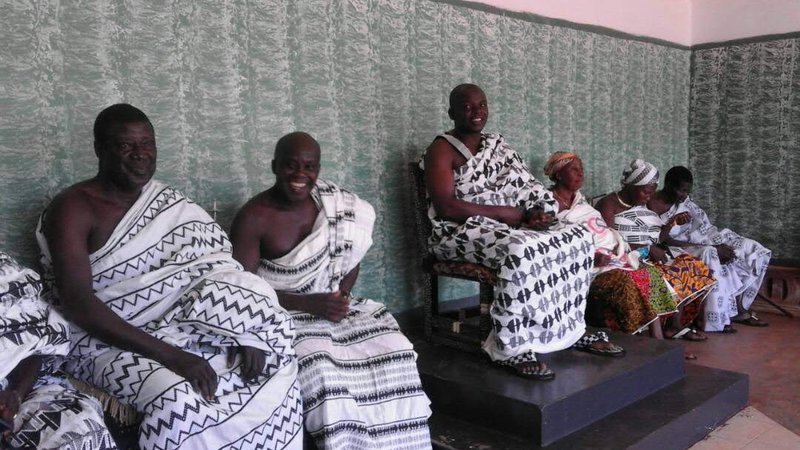 The next day, I set off on my return trip using the same route. All was going well until I got back to the regional capital.
The capital was a central transportation hub between southern and northern Ghana, with a market that was so big you could get lost among the various stalls. People from all over Ghana bought and sold all kinds of goods at the market, from concrete mix to toffies (candies). The market was near a giant bus station, with buses and tros lined up next to signs showing their destinations.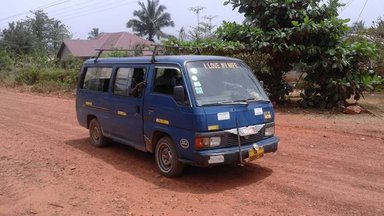 But when I got off the tro to look for my bus, I only saw a giant hole. No tros. No buses. No market. Just a large vacant area fenced off with chicken wire. Only a day ago there had been a giant bus station.
I was sweaty, thirsty, and frustrated. People called out, "Obroni! Obroni!" (foreigner). Finally, a man noticed my distress and politely asked in English, "Please, sister, where are you going?" I responded in a local language, "I am going to Bibiani. Where is the Bibiani tro?" He took my hand and guided me away from the now-deserted market. He led me down the street to another thronging market, where we made our way through a colorful crowd of sellers and travelers, past a mosque, past a large store, and then, finally, to the tro headed to Bibani, which was patiently waiting to be filled with passengers. It was and remains a mystery to me how he found the tro, given that things had changed practically overnight.
Boy, was I grateful. I thanked him profusely and looked around for a gift. It was very hot, so I called to a woman balancing water bottles on her head and bought water for myself and the kind man.
Traveling by tro in Ghana sometimes led to unexpected events, but it usually worked out—even when confronted by a giant hole in the ground.