Trash to treasure: in Uganda, discarded plastic equals access to water
Whether it's bottles, plastic kaveras (bags), remnants of a past lunch or an afternoon snack wrapper, plastic is king in Uganda.
By Michał Matejczuk
While coasting to the urban town of Mbale, Uganda, on a bus from Kampala, you pass dozens of roadside stops filled with vendors selling snacks and hot food. The shop attendants are persistent. In their attempts to wave down cars, taxis, and any two- or four-wheeled vehicle, these stewards of sustenance demonstrate passion for making sales. Their opportunities are fleeting, as vehicles come and go quickly. It is a spectacle worth experiencing — sellers frantically fulfilling their customers' orders while navigating a sea of arms stretched out through open car windows. Mostly, it's bottles of water customers want, and countless bottles are handed through countless windows on any given day.
I single out bottled beverages as it was common to witness, during my trips across Uganda, the same plastic beverage bottles — or other random bits of plastic — thrown out the window onto the roadside or strewn across someone's front yard, like mine.
Whether it's bottles, plastic kaveras (bags), remnants of a past lunch or an afternoon snack wrapper, plastic is king in Uganda. It appears in various shapes, sizes, and colors. Without going into my own disdain for single-use plastic, I became inspired by this visible and all-too-common pollutant and decided to do something about it.
I decided to use it.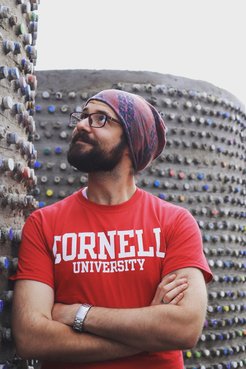 I started the Ichupa Upcycle Project, a community-based grassroots initiative and social enterprise inspired by the Peace Corps and funded by World Wildlife Fund's Climate Crowd Project. The project promotes plastic upcycling across Uganda. In 2017, Ichupa coordinated more than 100 community members, thousands of primary school students, a dozen trained masons, and various technical advisors to construct nine rainwater catchment tanks from discarded plastic bottles. The project has grown significantly since those early days.
When Ichupa was established in 2017, I was serving as a Peace Corps Volunteer in Uganda as part of USAID's Feed the Future Initiative. It had a profound impact on my perspective of international development, reaffirmed my commitment to rural agriculture and community health, and, most importantly, my service to others.
I spent lots of time collecting data for the WWF Climate Crowd Project. I sat in many worrisome meetings where I learned that dry seasons in the region, from November to March, were growing longer and dryer over time. I saw many buildings in Uganda with proper roofing but no gutter systems to allow water to flow directly into catchment tanks. Instead, water would puddle or be diverted and rendered useless. I learned that Ugandans relied on capturing rainwater by placing buckets at the end of their roofs, which limited the amount of water they could collect and store. For local residents, the cost of a gutter simply outweighed its potential use, which meant that they couldn't stockpile water to prepare for the dry season when water was scarce.
Before my service in Uganda, I trusted each of my water taps to do what they're supposed to do all the time. In Uganda, I had indoor plumbing — including a shower, multiple sinks, and a "Western toilet" (as opposed to a drop latrine). To my surprise, though, I could only use them six months of the year. Those things were a luxury that required a tremendous amount of water — a resource not readily available year-round in Uganda. Rainwater harvesting became a solution to water shortages in the dry seasons and also a way to enact behavioral change and create an affordable model. Early on, I recognized that establishing this project would be challenging, but that it held an immense amount of promise.
Another aspect to the project was trash elimination. In Uganda, trash removal doesn't show up like it did for me in the United States, where trash is rarely seen once it's picked up and driven away. In Uganda, household waste accumulates and is burned daily or weekly at the household, schoolyard, or community trash heap. The burning odor emanating from my own backyard was both toxic and unforgettable. With no recycling methods available, I knew options were limited and the only way to get rid of trash was by burning it. Ichupa became purposeful in this regard, too. The project solved multiple problems at once. It reduced plastic waste, increased stored water supplies, and lessened the need for burning toxic trash.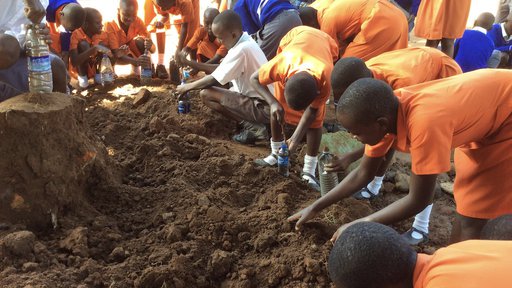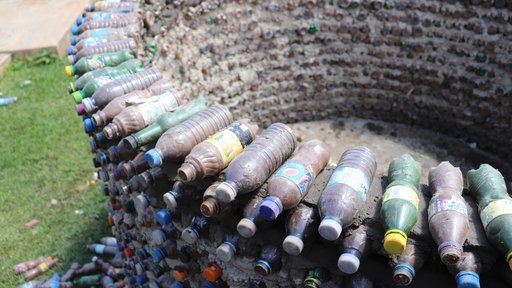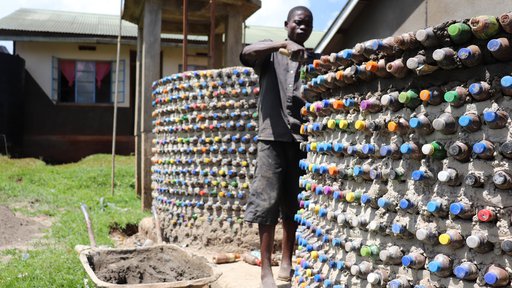 Despite some skepticism from a few local residents, the project became stronger with each bottle packed, stacked, and formed into walls for our rainwater catchment tanks. As the project grew, community collaboration became more integral. Our first completed rainwater harvesting tank, which could store thousands of liters of water, silenced any remaining nonbelievers.
In mere months, Ichupa inspired many neighborhoods to collaborate with one another to come up with solutions to programmatic issues that arose. We tasked each community to finance their building expenses, hire the masons to build their tanks, locate the plastic bottles and the people needed to fill them with soil and sand, and ensure that the construction of their tanks would be completed on time.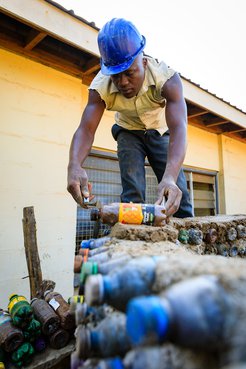 Upon completing our first nine rainwater harvesting tanks, we found we'd used over 30,000 plastic bottles and created a total holding capacity of more than 40,000 liters of water for the community of Mbale. It was a remarkable feat. In a few short years, Ichupa became one of the leading organizations in building rainwater catchment tanks out of plastic bottles.
Since November 2016, Ichupa has constructed 41 rainwater catchment tanks that total more than 400,000 liters of water-holding capacity. The project has also constructed two four-unit pit latrines, and removed more than 150,000 plastic bottles from the environment. We accomplished this slowly, building community and trust first, without allowing profit or egos to get in the way.
The Ichupa Upcycle Project focuses heavily on driving home an important message: plastic waste can be more useful than wasteful. We aim to prove this time and time again. During many phases of the project's mission, we focused our attention on adding stakeholders by including health centers and local clinics, sharing our growing narrative on both national and international efforts, and procuring investors interested in partnering to address the need for clean water in support of community health and protecting our environment.
The Ichupa Upcycle Project continues to train local apprentices to become climate change activists and promote and protect our natural resources, Today, the term "climate change" reflects not only our individual responsibility—and that of the project's mission—but also a promise to protect the basic human right of access to water and sanitation, in Uganda and beyond.