Touchscreens touch lives in Benin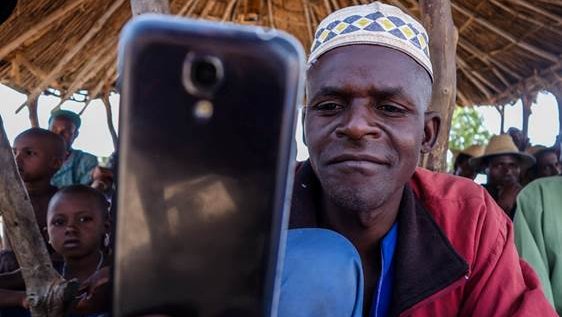 April 26, 2016
Over the past few months, Benjamin Lavin and I have built a mobile app that tracks real, useful data as part of our work as Community Economic Development Volunteers in Benin.
Peace Corps Benin Volunteers and our community partners are now using mobile technology to conduct standardized surveys about bed net coverage in our villages, asking community members to sign with their fingers on smartphones as they pick up their new nets, and tracking the demographics of the people sleeping under the nets that Peace Corps Benin has distributed. All of this information is automatically compiled in spreadsheets and easily accessible to project members.
In September, I was halfway through a long day at the Stomp Out Malaria Boot Camp training, and my energy was starting to flag. But as I listened to Dimagi's Claire Cravero (an RPCV) describe the app-building platform CommCare, my fatigue melted away. I left boot camp with a deeper understanding of the potential of mobile technology and the confidence that Dimagi staff would provide support if and when I decided to build an app. 
Although I had never built an app before, and in fact had just purchased my first smartphone a couple of months before, I left Stomp feeling empowered to build an app. I had seen the user-friendly interface and knew that I could learn the basics with CommCare's online tutorial specifically tailored to Peace Corps Volunteers. CommCare provides an exciting way to collect data (which is an oxymoron in my book). 
I started thinking about where an app might be useful in Benin. What data is really pertinent to our communities, donors and Peace Corps itself? 
Peace Corps Volunteers in Benin are exceptionally well-placed to find gaps in bed net coverage and distribute nets to fill those gaps. Roughly every three years, the Beninese government, with the support of several international partners including USAID, distributes nets to all of the households in Benin. Inevitably, there are people who are missed in these large distributions, like nomadic groups, orphans and students who live away from home. 
Finding these people is relatively easy for Peace Corps Volunteers and their work partners. The Programme National de Lutte contre le Paludisme (an initiative of the Beninese government, supported through PMI), provided the nets that Peace Corps Benin is distributing and has asked for information regarding missed populations so they can be more comprehensive in the next national distribution. Peace Corps Volunteers are also uniquely suited to collect information on bed net utilization. 
Until February 2016, this entire data collection process was paper-based. Paperwork is bulky, difficult to decipher due to illegible handwriting and, if left sitting in a corner for too long, can become a home to mouse nests and spiders. The documentation piece of bed net distributions was a barrier to Volunteers who, like most people, would rather avoid paperwork when possible. Data collected via paper also has to be typed manually into spreadsheets for analysis, a time-consuming and inefficient process. It became clear that a CommCare app to capture the data from the bed net distribution process would be useful to Peace Corps, donors and the Beninese population. 
I approached our Malaria Program Peace Corps Volunteer Leader, Hannah Eisen, with my idea. Benjamin Lavin, the Monitoring and Evaluation Officer for the Benin Against Malaria Committee, also signed on to the project. Together, we made a plan to collect all of the data previously captured through paperwork in a streamlined application built on the CommCare platform.
The app started as a plan on paper and slowly grew into a functional app in English. Translation to French took some time, as we had to make sure the language was clear and easy to understand even for someone with only a middle school education. 
After several iterations of the app that integrated input from Peace Corps' Beninese staff, we were ready to test. 
Kelli Schmitz, a rural community health Volunteer, field-tested the app in her community. Her work partners' education levels ranged from college to middle school. With a tablet in hand, they administered surveys to 60 households and distributed 132 nets, returning with valuable feedback from the field. 
After incorporating their suggestions on wording and ease-of-use, we moved forward with our plan for training Volunteers and their work partners on how to use the app. We made a guide on how to use the application in both French and English with plenty of visuals. Peace Corps' Malaria Initiative hosted two bed net distribution seminars during which Volunteers and their work partners learned the app and practiced their survey skills. 
By the end of these short trainings, everyone felt confident using the app and that they felt that they could use it for a distribution in their community. The most popular feature, especially among work partners, was the signature capture. People's faces lit up as they watched their finger leave a mark on the screen. 
All of the Volunteers who completed the training plan to complete a bed net distribution using the app before they close their service. 
One Volunteer has already surveyed an entire Fulani camp. The Fulani are a nomadic ethnic group found in Benin and other regions in Africa. It took him two days to survey 150 households, with the average survey taking 2 minutes 37 seconds to complete. As soon as he had synced his phone, our Bed Net Officer could see how many nets he would need to distribute and start working on the logistics of moving the nets to the region. 
The Benin Against Malaria committee welcomed new members in March. Benjamin and I trained four people on how to control and steer the Bed Net Distribution Application and discussed future possibilities (behavior change communication through diagrams and videos that are integrated in the app, for example). We also went over how to collect and disseminate the data so it's most useful. There is a five-month overlap between when these officers were trained and when Benjamin and I will finish our Peace Corps service, so there is time for a complete transfer of knowledge as well as space for collaboration. 
We envision this app will be sustainable for years to come, growing and shifting as data collection needs change. 
Photo credits to Jake Meyers