Together we can change the world
Stories of change come from many sources... sometimes even from the person gathering them.
From 1966 to 1968 I was a Peace Corps Volunteer in Nigeria and Tanzania. I've had itchy feet to travel ever since but I never liked to be identified as a tourist. So after retiring as a nurse practitioner in women's health after 35 years, I looked for alternative ways to explore places, people and cultures. In 2005 I took my first short-term assignment with Peace Corps Response because I believe in its core values; today, I'm serving as a Volunteer in the Philippines for my sixth assignment.
After volunteering in the aftermath of Hurricane Katrina, I read several books on foreign aid and disaster relief that made me question the best way to provide aid and wonder if I might be part of the problem rather than contributing to the solution. I was beginning to wonder if I should just stay home -- or worse, just become a tourist.
When I saw the posting for a monitoring and evaluation officer assigned to the Millennium Challenge Account in the Philippines, I was intrigued. Here was the chance to collect information from community volunteers on how they were changed by participating in community-driven development projects, projects that volunteers in barangays proposed based on their needs assessment. These volunteers worked tirelessly without pay to learn the skills necessary to design, manage and build systems they previously knew little about: a sky bridge, water systems, roads, schools, day care centers and a lying-in addition to a health center.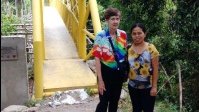 As we traveled to barangays in Negros Oriental, I used a translator to ask questions.  I listened to stories of empowerment, learned skills and improvement to the lives of all the community members. But the enthusiasm on their faces and in their gestures needed no translation. They had been hooked on the experience and so was I. They had owned the improvement by being part of it.

A footbridge in the sky (Baslay, Dauin)

A barangay needed a way for children to reach school across a gorge. Together with mostly farmer volunteers and Kalahi Cidss-Ncddp, they built this bridge on top of a deep gorge equivalent to a building 17 stories high. The author is seen with volunteer Filomina Morte.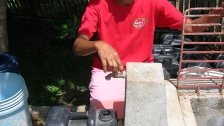 Water system (Nagbinlod, Santa Catalina)

Now the community has 22 water taps that are just meters away, allowing all access to water daily to improve their lives and keep everyone healthier. Kids could bathe frequently and no longer "smelled like dried fish. They could even raise pigs as a form of livelihood. Some people who lives further away were relocating closer to a source of water. Amalia Alcano, AIC Chair, demonstrates how to use a tap.

Road Malangsa (Vallehermso)

Even just sand and gravel or sections of concrete interspaced with packed dirt made for safer and faster transport of produce and people in both directions. School and health care could be more accessible. People and family members could visit. People could buy motorcycles as they would last longer and be safer. One barangay went from having two bikes to 38. Next they might need a traffic light.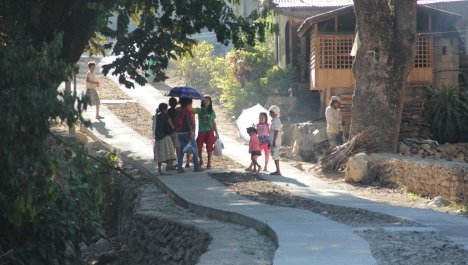 Schools and day care (Liantayan, Basay)

Children are the future and it is up to us to assure them of the best education at any age. One barangay went from large, single-room classes and one teacher to new structures that support learning and teachers too. Cooperation between two barangays working jointly to expand a high school shows the spirit created by this form of development.

Lying-in addition (Masaplod, Dauin)

A Gender Incentive Grant provided the funds to add a lying-in room at the health center in Masaplod. Women could labor and deliver closer to home rather than traveling a great distance.
Through the Millennium Challenge Account-Philippines (MCA-P), the U.S. government has provided a $120 million grant to DSWD for the implementation of Kalahi-CIDSS in 164 municipalities. These projects occur in rural areas where poverty incidence is greater than the national average.  The sub-projects provide needed infrastructure and strengthened community participation in development and governance activities at the village and municipal level. This is indeed a beautiful sight to see and experience.
I am humbled and proud to be traveling the roads, bumpy as they may be, with Kalahi-CIDSS staff to hear the stories of these energetic and committed volunteers. They have decided to move away from their comfort zones and become change-makers. As I volunteer, I feel challenged to live up to the standards they have set and look forward to future travels. Together we can change the world.