To be young, gifted and black: Blackness in the Peace Corps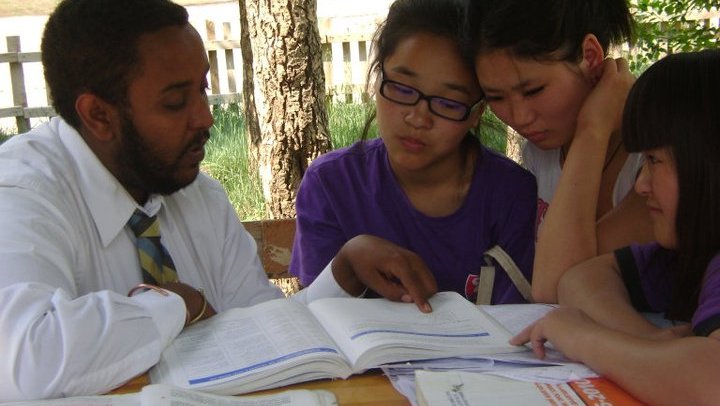 Feb. 2, 2015
My name is Esayas Wureta. From 2008 to 2010, I served as a Peace Corps Volunteer in Mongolia as a school social worker.
During my service, I was one of three Volunteers in Mongolia (out of 70 Volunteers in my group) who identified as Black - a statistic that perplexed me since our communities have such a rich legacy of service. After completing my service, this experience led me to pursue a career as a diversity specialist managing Black/African-American outreach at Peace Corps headquarters in Washington, D.C. 
To flatter myself by quoting the Queen, Nina Simone, her words best capture how I see my job: "My job is to somehow make them curious enough or persuade them, by hook or crook, to get more aware of themselves and where they came from and what they are into and what is already there and just to bring it out. This is what compels me to compel them, and I will do it by whatever means necessary."
When I think of Blackness in America, I think of organizations like Alpha Phi Alpha, Alpha Kappa Alpha, Delta Sigma Theta, the NAACP and the Student Nonviolent Coordinating Committee. These organizations were created by young people and grounded in service of community and mankind. 
Service is not new to me, or to many Black Americans. As president of the Mu Upsilon chapter of Alpha Phi Alpha Fraternity, Inc., treasurer of the Black Student Alliance and vice president of the Frostburg State University chapter of the NAACP, service was like breathing to me. I know this is the case for many of us but when I talked to my friends and family, Peace Corps was not always on their radar. And when the topic of Peace Corps did come up, the immediate needs of our domestic community and barriers to service, such as familial obligations and college debt, trumped the perceived benefits of engaging in international service.
I am an Eritrean-American, displaced from the African continent due to the war for Eritrean independence. Serving on an international level should not have been a surprise to anyone in my life. Peace Corps gave me the ability to contribute to the well-being of my family by giving me the skills and experience necessary to land "the high-paying job," gain preferential hiring through noncompetitive eligibility and lessen the burden of college debt by canceling portions of my student loan debt, and giving me the ability to get full or partial tuition remission in the attainment of my Master's degree. 
The Peace Corps has come a long way in attracting more young, gifted and Black individuals into its ranks. Over the past year alone, we have seen some of the highest rates of diverse applicants and Volunteers in our history, with 33 percent of Peace Corps applicants and 25 percent of Volunteers self-identifying as coming from underrepresented racial and ethnic groups. Of that 25 percent, seven percent identify as Black or African-American, an increase of four percent since 2010, when only three percent of our Volunteers self-identified as Black or African-American. 
Our accomplishment is a result of a concerted effort to attract the best and brightest. We have done it through innovative partnerships with organizations like the United Negro College Fund and Alpha Phi Alpha Fraternity, Inc. to help members access Volunteer, higher education and career opportunities with the Peace Corps. We have also created programming that discusses the nuances of serving as a Black Volunteer.  And, this past year alone, we have hired seven Diversity Recruiters to reach out into new, under-reached communities. 
When I think back to when I first arrived in Mongolia, I remember how some Mongolians would address me as the "N-word" person. Such words from a child could sometimes bring tears to my eyes, but I understood that it wasn't always from malice, but a lack of understanding. Hip hop mass media, a genre beloved by young Mongolians, had arrived long before an actual Black person. Therefore, Mongolians had adopted the "N-word" because they thought we called ourselves that word as a collective. I also think back to when I learned that my host family in Mongolia, although we grew and continue to love each other, wanted to "return me" and trade me for a "real American" – a blonde-haired, blue-eyed, white American. For these reasons and more, it is paramount that more of us go out to show ourselves to the international communities. 
As a country and as an agency, we still have work to do. Strengthening the cultural fabric of the Peace Corps is more important than ever. It is imperative that we are intentional in our efforts to foster a diverse and inclusive workplace. It is in the best interest of the Peace Corps, the United States and the world to make a daily effort to promote open dialogue. As an agency founded on the ideals of peace and friendship across cultures and across nations, we can do no less. 
Ready to start your Peace Corps journey? Explore Volunteer openings here.
Peace Corps Volunteers share stories about their experiences living and working overseas through their unique lens of identity.