Thoughts on Veterans Day from a Volunteer-turned-Navy SEAL
Veterans Day is a special day for me, as I am able to reflect on two great influences in my life: the Peace Corps and the U.S. Navy. 
Indeed, Veterans Day started with the spirit of peace in mind and encapsulates the service and sacrifice in both organizations. The 1926 Congressional proclamation that paved the way for its establishment stated that the day "... should be commemorated with thanksgiving and prayer and exercises designed to perpetuate peace through good will and mutual understanding between nations." 
I was a Peace Corps Volunteer in the Philippines and then an officer in the SEAL Teams, where I still serve as a reservist. An unusual career path to be sure, but one that fit my ideals of national service and helping others, both imbued in me by my parents. While you suspend your disbelief at the seeming dichotomy, I submit that the Peace Corps and SEALs are not really that different. Both organizations seek peace – one is just a little more aggressive in its pursuit. 
A list of some of my experiences while serving might explain the similarities and commonalities: I helped establish a literacy program for adult women; I conducted medical checkups for a poor village; I shared drinks with village elders and discussed community projects in the local language; I conducted swimming and snorkeling training; and I appeared in a movie.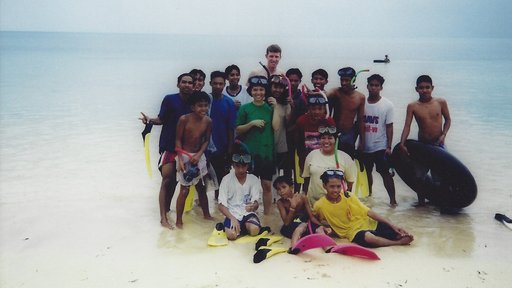 Now if you're thinking all but the last two were in the Peace Corps, you'd be mistaken. My platoon helped start a literacy program in Al Anbar province in Iraq, and the poor village was in Afghanistan. As both a Volunteer and a SEAL, I sat with community leaders; as a Volunteer, I started a snorkeling club for high school kids to help them see the local coral reef and certainly did my share of swimming as a SEAL. Lastly, and maybe most unbelievably, as a Volunteer (and not as a SEAL), I briefly appeared in a Filipino movie that was filmed where I lived—the lone American in a large crowd of locals. 

You can see there are some commonalities in the missions carried out. Here are a few more: 
Both the Peace Corps and SEALs were started by President Kennedy within a year of each other. The Peace Corps began on March 1, 1961—the same month the Navy was promoting a new unit for unconventional warfare. By January 1, 1962, SEAL Teams ONE and TWO were established. 
Now let's look at the language President Kennedy used to describe each organization. For the Peace Corps, Kennedy said:

"[We have] an immense reservoir of... men and women—anxious to sacrifice their energies and time and toil to the cause of world peace and human progress... [T]he responsibility for peace is the responsibility of our entire society... Life in the Peace Corps will not be easy... But if the life will not be easy, it will be rich and satisfying.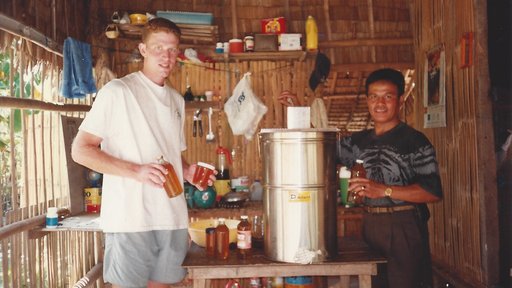 Just as learning new languages and cultures is essential to the Peace Corps' mission, President Kennedy discussed the same priority for special forces when he spoke before a joint session of Congress in May 1961: 
"[O]ur special forces and unconventional warfare units will be increased and reoriented. Throughout the services new emphasis must be placed on the special skills and languages which are required to work with local populations."

Many of President Kennedy's comments could have been referred to either organization: sacrifice, cause of peace, working with local communities, emphasis on languages and culture. Just as he told Peace Corps Volunteers that "life will not be easy," the SEALs stand by their motto of "The only easy day was yesterday." 
What about the missions of each group? Every Volunteer knows the Peace Corps mission—promoting world peace and friendship by fulfilling three goals: providing desired assistance, helping other countries understand Americans, and helping Americans better understanding other peoples. 
These goals certainly provided me needed structure and motivation during my time as a Volunteer. They were simple but powerful and gave direction to my actions. I learned the local dialect to show Filipinos I valued their culture. I ate some unique food to show them I respected their traditions. I played basketball to show them all Americans aren't as good as Michael Jordan. And as a returned Volunteer, the mission continues even after service.
The Navy also has simple goals: win wars, deter aggression and maintain freedom of the seas.
Special operations do this through activities such as direct action, counterterrorism, special reconnaissance, unconventional warfare, security force assistance and several others. These actions are designed to secure peace and safety. And the mission continues for me in the reserves.
What drove me to be a member of both these organizations was the desire to serve and, in a way, help—whether that help was protecting people, training others to defend themselves, or teaching others about Americans. I worked side by side with Americans, Afghans, Filipinos and Iraqis who all wanted to feel safe and to secure peace for their land.
I'll leave you with these final similarities that I experienced both as a Volunteer and a SEAL:
Eating with my hands; conversing in the local language; working with people from other countries with common purpose; and lastly, the honor and privilege of representing America in the cause of peace.