Peace Corps Thought Leaders Forum puts diversity, equity, and inclusion front and center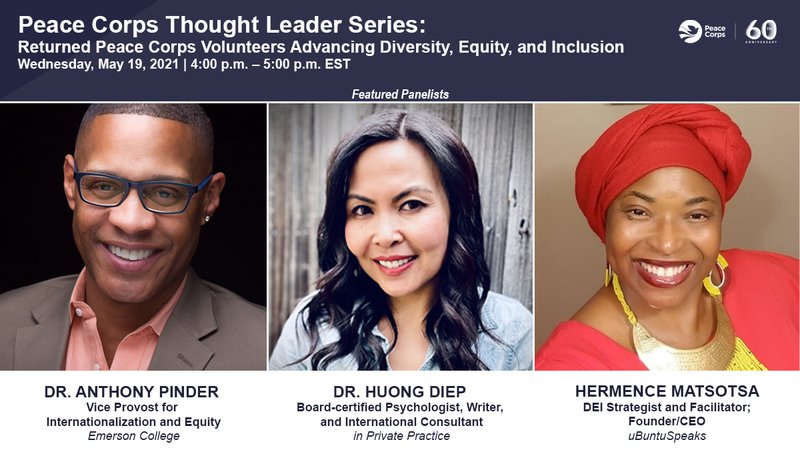 June 9, 2021
On May 19, Peace Corps held this year's second installment of the Thought Leaders Forum, featuring three returned Peace Corps Volunteers who are leaders in the field of diversity, equity, and inclusion (DEI).
The event was moderated by Senior Advisor to the Director, Darlene Grant. Panelists included Dr. Anthony L. Pinder, the vice provost for internationalization and equity at Emerson College; Hermence Matsotsa, founder and CEO of uBuntuSpeaks, a professional development, DEI, organizational, cultural, and leadership consulting firm; and Dr. Huong Diep, a psychologist, author, and international consultant. The panelists shared important lessons about diversity, equity, and inclusion they each learned while on their personal and professional journeys, including insights from serving abroad as Volunteers.
Anthony Pinder brings empathy and builds trust
As a Volunteer in Ecuador in the late 1980s, Pinder was the only African American in his cohort of 50 Volunteers. Pinder discovered an Afro-Ecuadorian community in the country's northwest coastal region, Esmeraldas province, and requested to be assigned there. With little technical background to aid him in his work with the fishers in this coastal area, Pinder approached his community not so much with a strategic plan, but with a huge heart and the desire to gain a sense of belonging and create friendships. For him, interest and understanding were the foundation of intercultural competence, and he believes the soft skills he gained through his Peace Corps service continue to be essential to his professional work.
"Trust is your superpower, empathy is your superpower," he said during the virtual event. "No matter what the issue is, what problem you are trying to solve, what gap you are trying to fill, when people trust and believe you, it is amazing what you do together as a group."
Pinder's Peace Corps background helped him create greater awareness of how intersectional identities impact and enrich student experiences on university campuses. He reflected on approaching a job with intention, something he has been doing since his service in Esmeraldas province. This intentionality is now a part of his foundation.
Hermence Matsotsa helps organizations create human connections
Matsotsa is the daughter of a Peace Corps Volunteer, and her parents raised her with the South African philosophy of Ubuntu, which centers on human connectedness. During her service in Togo, she learned the value of seeing people's common humanity, regardless of differences in culture, national origin, or physical appearance. She developed a commitment to help others live their best, most authentic lives in harmony with others.
"Peace Corps will teach you who you are, who you want to be, and where you are going to go," she said. "For me, it taught me so many life lessons. One was being patient with progress. It helped me gain strategies in the work that I currently do."
As a DEI facilitator, Matsotsa encourages people to express themselves authentically and asks them to reflect on how they reach certain conclusions about a situation. She wants to help individuals examine the collectiveness of who they are and their own being.
"With diversity, equity, inclusion, and belonging, it's all about why, when, how, and to whom you ask the question, all while staying neutral, unbiased, and not appearing shocked, surprised, or disappointed with whatever answer you receive."
Today, Matsotsa shares the Ubuntu philosophy with corporations and organizations, helping them understand how to embrace diversity and inclusion without feeling threatened by it. She also helps them draft policies and standards that incorporate diversity, equity, and inclusion. Her goal is to embed a DEI perspective in an organization's mission and values.
Dr. Huong Diep brings an intersectional background to clinical psychology
A child of Vietnamese refugees, Dr. Huong Diep was born in a refugee camp in Hong Kong, and was the first in her family to attend college. As a Volunteer in Peru, she realized the importance of representation and allyship, and has made it the focus of her work with clients.
Diep majored in psychology as an undergraduate and was known as "the town psychologist" in the community she served as a Volunteer. She learned to ask open-ended questions and to listen without judgement. After understanding how trauma is present across cultures, she decided to pursue a career in clinical psychology. Her ability to speak multiple languages helped her establish a rapport with clients from diverse cultures. Eventually, she began providing pro bono evaluations for detained, Spanish-speaking, and transient individuals.
Explaining how fear, trauma, and shame prevent people from fully being themselves, she said it is important to first seek understanding of others before trying to be understood.
"I have an intersectionality in my diversity, equity, and inclusion work, and believe we are the sum of our life experiences. In my clinical work, writing, consultation, and training, I give folks space to be seen and heard," she said. "Everyone has a story that needs to be shared, because shame hides in darkness and secrecy."
Peace Corps' DEI goals
During this Thought Leaders Forum, the Peace Corps Deputy Chief of Staff, Jackie Dinneen, also provided an update on the agency's work to advance intercultural competence, diversity, equity, and inclusion (ICDEI). Dinneen explained that the Peace Corps' intends to weave ICDEI into training across the agency. DEI competencies have been defined, and in-country staff have conducted workshops to identify systemic inequities in each country. The DEI task force has also reviewed letters from RPCVs, staff, and other constituents. From these letters, the task force has identified numerous recommendations and forwarded them to senior leadership. Moreover, a barrier analysis has been developed to gather agency data and identify root causes of disparities.
As part of its efforts, the agency is also implementing broader directives from President Joe Biden regarding DEI. This includes advancing equity, including LGBTQI+ human rights, across the globe. An agency equity council has been established as an accountability body. The council will build on an established culture of parity and inclusion to increase representatives' equity in everyday work practices.