To those who say "every Peace Corps service is different," we say BINGO!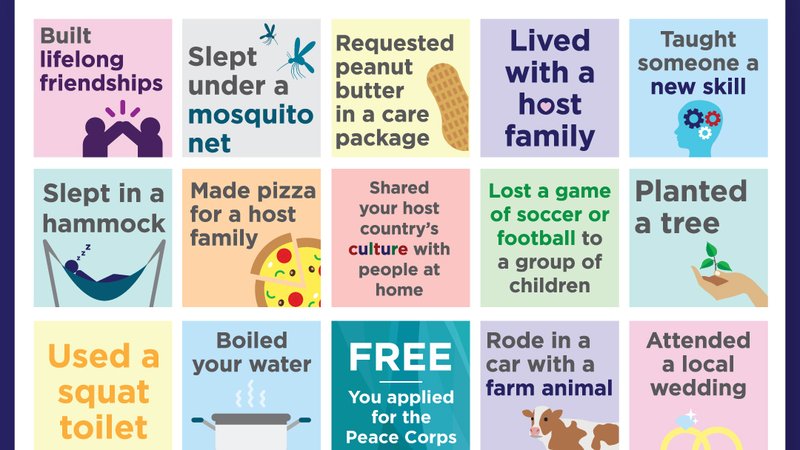 March 7, 2019
Every service is different. This phrase has become a bit of a cliché in the Peace Corps community, but we repeat it so often because it's true.

Considering we have Volunteers on every continent except Antarctica, it's not hard to imagine why the experiences of Peace Corps Volunteers vary so greatly.
From Albania to Zambia, Peace Corps Volunteers treasure their host countries and the experiences they have while living and working abroad. Some ride in boats to get to work, others hike up mountains or take city buses. Volunteers might live in an apartment building in Ukraine, a ger in Mongolia or a traditional bure in Fiji. Those living in predominantly Muslim countries may participate in Ramadan, others who reside in Hindu communities can partake in Diwali festivities, and Volunteers placed in Mexico, Guatemala, Peru or Belize might celebrate Dia de Muertos with their friends and neighbors.
Whether you're sharing Hanukkah traditions with new friends in Togo, baking bread with Costa Rican entrepreneurs, teaching English to teenagers in Tonga or attending a wedding with your Namibian host family, being a Peace Corps Volunteer means knowing the value of embracing life outside of your comfort zone.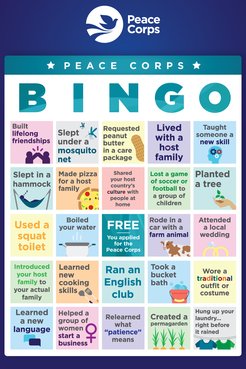 We made this bingo card to celebrate Peace Corps service in all of its many forms. How many of these experiences have you had? Did you get bingo? Fill all but two squares? None at all? Maybe during your service there were no TVs for you to binge watch shows on. Instead of starting an English club, perhaps you helped dig a fish pond.
No matter your results, the diverse experiences that your service afforded you are what makes Peace Corps so unique. Download your copy.