This Peace Corps Volunteer's parents were taught by... Peace Corps Volunteers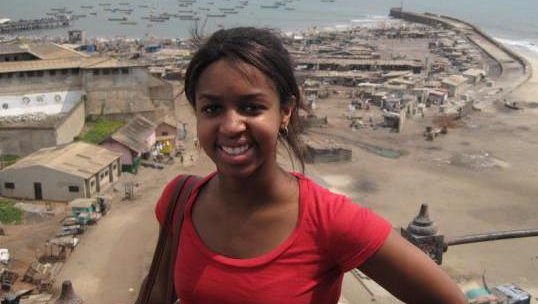 Dec. 30, 2013
For Acton, Mass. resident Alexa Ofori, her parents Patricia and Michael played a major role in her decision to serve in the Peace Corps. 
"I'm a first generation American, both of my parents are from different countries," Alexa explained. "My dad is from Ghana in West Africa, and my mom is from Grenada in the Caribbean. They both had Peace Corps Volunteers teaching them in their schools when they were growing up." 
When the 26-year-old was earning her undergraduate degree from Hofstra University in Hempstead, N.Y., her family encouraged her to pursue her passion for volunteerism. 
"Ever since I was younger, whether it was community service or my church, I was really inspired to help," she said. "When I was a junior in college, I started to think about what I wanted to do next. I looked the Peace Corps website with my mom. I was also considering grad school, so when we discovered the Master's International program, I thought 'Why not do both? I can go to graduate school and get my Master's while serving in Peace Corps.'" 
She departed for Peace Corps service in Cambodia in July 2013. 
Alexa earned her Bachelor of Arts in anthropology from Hofstra, and will earn a Master's degree in public health in 2015 through Peace Corps' Master's International Program. Master's International gives students the ability to integrate a Master's degree with service overseas. 
"I've had a really great experience with the Master's International program," Alexa said. "There is someone to help you at every single step of the application process, so I think it's good that you get a well-rounded sense of what you are getting yourself into." 
While Alexa earns her degree from Tulane University's School of Public Health and Tropical Medicine in New Orleans, she will live and work in a community in Cambodia for 27 months as a Health Education Extension Agent Volunteer. 
As she joins 255 Volunteers on the ground in Cambodia, Alexa is eager to make new friends and share her culture with her host family.
"I'm excited to form a family away from home. Not only with other Peace Corps Volunteers, but with my host family. I'm really excited to share a little bit of my life with them, and to have them share a lot of their life with me!"