Think outside the envelope: 13 activities to expand and grow your intercultural exchanges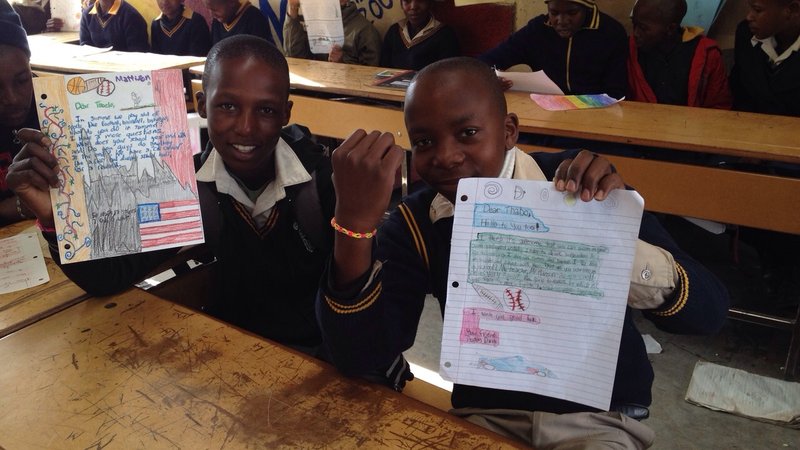 Oct. 19, 2015
Everyone loves a letter, but it's time to start thinking outside the envelope. 
Historically, Paul D. Coverdell World Wise Schools Program relationships between a Peace Corps Volunteer's (PCV) host country and U.S. students have focused on letter writing. When it started in 1989, international pen pal exchanges were cutting edge! While we believe letter exchanges are a fantastic way to promote intercultural exchanges, academic calendars do not necessarily match up, and mail in other countries can make a snail seem fast, making one-to-one letter exchanges a challenge.
We encourage PCVs and educators to be creative and think beyond traditional letter exchanges – or to try other activities in addition to letters.  Here are 13 possible activities to help you "Think Outside the Envelope."
1. Postcard exchanges. Exchange postcards, but bring it to the next level by encouraging others to get involved. PCV Matt Borden started "Postcards to Java" asking in this video for postcards to be sent to his community in Indonesia. He had a goal of receiving one from all 50 states, and shared those he received on Twitter. Teach about other countries using the pictures and stamps on the postcards.
2. Connect via video chat. Talk face to face! Prepare questions ahead of time and allow students to talk to and learn from each other, like in this video. Use your match as a chance to be exposed to a new language or to practice language skills. The students in Lauren Beversdorf's Spanish class in Chicago, for example, connected with PCVs in Peru and Nicaragua via video chat to practice speaking Spanish.
3. Try different technologies. That fax machine may be gathering dust in the office in a U.S. school, but in a PCV's host country, it may still be cutting edge technology. Try faxing letters or pictures back and forth. Scanning and emailing is another option – one that Steve Lawrence, a PCV in Jamaica, shared on our Facebook page.
4. Write a book. Host country and U.S. students can choose a common theme (such as "food" or "work") and swap photos or pictures that can be turned into books. Older students can research and write the text to accompany their graphics. Sometimes the exchanges themselves are book-worthy. When Hana Truscott served as a PCV in Macedonia, she turned her pen pals project into two bilingual books.
5. Create a video. The possibilities are endless, but some great examples we've seen include: thank yous, readings, and introductions. This PCV created a video of his house specifically for his class, modeled after a popular television show. Consider swapping video tours of schools, houses, or other spaces. Or try a "What is this Thing?" exchange.

6. Start a newsletter. PCV Victoria Webbe in Cameroon shares her experience via newsletter with students in New Jersey, and Jessica Walker in Botswana had students in her English Club create one, which included questions for her class in Oregon.
7. Write a blog. Many Volunteers maintain blogs, share experiences with their students, or write directly to their classes in their blogs. Students can also act as authors in both countries  - such as these students in Thailand and Alaska. Have students develop a list of topics they both address, facilitate Q&A sessions, or share photos. Refer to this guide for ideas and tips.
8. Use social media. Encourage students to interact directly with each other. But be sure to check first. Many schools in the U.S. and abroad block certain sites, and some do not allow children under a certain age to use social media for school-related activities. Also, be careful of privacy concerns. There are special platforms for educators, however, and many schools do allow responsible use – so consider it an option. Create a Facebook page for your school or group. Tweet about your projects or participate in a Twitter chat. Share great photos via Instagram.
9. Eat together. Who doesn't love food? Swap recipes, prepare the dish, taste test and share reactions. Send an odd ingredient and try to figure out how it's used, or try a strange snack from your class. Model cook-offs or competitions based on popular cooking shows.

10. You think you can dance? Teach each other a local popular dance using video, written directions or pictures. Exchange videos of students trying out your new dance. Consider healthy competition – bring it to social media and invite parents, administrators, and other students to vote for which class learned best!
Students learning a #Jamaican dance! #ApplyPC @PCThirdGoal @PeaceCorps pic.twitter.com/TR1hsALnWg

— Ryan Fouss (@rynfss) October 7, 2015
11. Host a movie night. Host country kids and U.S. kids can recommend (age appropriate) movies or television shows for each other. Watch them at home or as a class, then share reactions and questions.

12. Try a project based approach. Rather than single letters between schools, have students do the same lesson or project together and exchange them via video, mail, or virtual meeting. Essays on a shared topic, art projects, crafts or mapping projects are a few examples. The students in Colin Hanson's class in Wisconsin loved making bracelets out of colored rubber bands. They sent bracelets, directions and the materials to their class in Lesotho so the kids could learn about and make the popular U.S. craft.

13. Collaborate on a digital mapping project. Digital mapping can be used to solve some of the world's most pressing development issues. We can get you started.
Have another activity to share? Comment below to help our list grow! Or tweet @PCThirdGoal and #WorldWiseSchools to let us know what you are up to.
---