These 4 returned Volunteers continue to be inspired by their Peace Corps service
Martin Luther King Jr., led an exemplary life of service to others, a life that inspired countless people to serve in their own ways, too. In 1968, while speaking at the Ebenezer Baptist Church, he famously said "Everybody can be great … because anybody can serve. … You only need a heart full of grace. A soul generated by love."
The experiences of most returned Peace Corps Volunteers prove King's point: that kindness, compassion, and effort are all you need to serve (and service is all you need to be great). In celebration of the Martin Luther King Day of Service, returned Peace Corps Volunteers share special memories from their Volunteer experiences — memories that inspired their ongoing commitment to service at home and abroad.
1) Kat Joiner: Senegal
My experience of being welcomed into another culture as a Peace Corps Volunteer was deeply moving, and I am glad I now have the opportunity to do the same for others here in the U.S.
From the moment I stepped off of the plane in Senegal, I was struck by the kindness, patience, and warmth of my new community. I experienced Senegalese teranga (hospitality in Wolof) throughout my service, as strangers frequently invited me into their homes for an afternoon bowl of fish and rice or a cup of hot tea.
The generosity of the Senegalese people sparked in me a great curiosity about the experience of people who immigrate to the U.S., including those from Senegal. The West African nation is known for its family-oriented culture, and any decision to move or study abroad cannot be an easy one.
After completing service, I wanted to support new immigrants as they acclimated to life in the U.S. [I saw this] as a way of reciprocating the support I received as a new Peace Corps Volunteer. I found an opportunity through World Relief, an organization that helps refugees and other vulnerable immigrants rebuild their lives in a new country. As part of a Good Neighbor Team, I support newcomers in the Memphis area. Currently, I have the honor of assisting Harriette— ho moved with her children from Rwanda to Memphis in 2019—with tasks like grocery shopping, practicing English, and learning about local culture.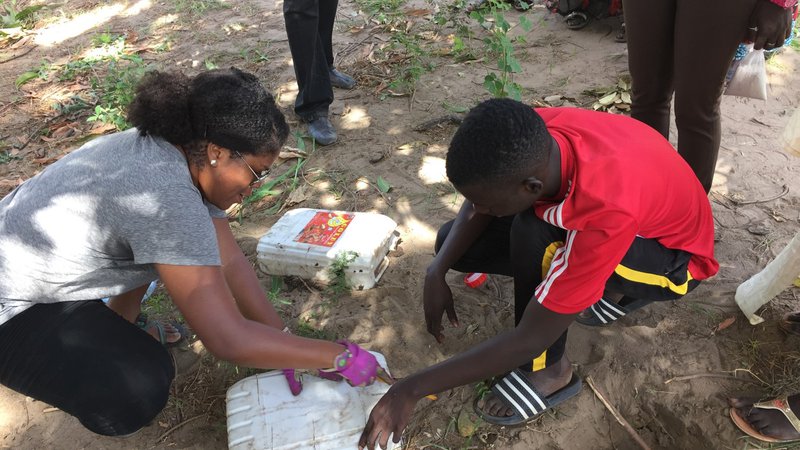 2) Carole Anne Reid: Moldova
My commitment to service today is inspired by the projects during service that stretched me in ways I could never have imagined. I'm so grateful.
I continue to be inspired by the mothers and grandmothers in the Moldovan villages who welcomed me to teach them African dance at the local library, despite a culture that emphasized domestic responsibilities and traditional ways. They risked being singled out, stared at, and ridiculed for participating in nontraditional movement — including barefoot dancing — yet they showed up every week, rehearsed the choreography, and performed African dance.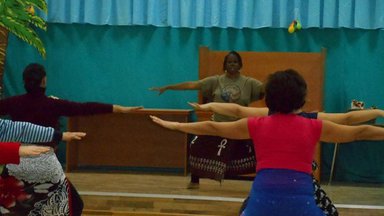 We danced to express gender equality, end domestic abuse, and honor Mother Earth. We performed to a recital of "Phenomenal Woman," Maya Angelou's poem about the power of women. The troupe even toured other villages and earned income from their performances. Moving together empowered the women to unravel their personal histories and share their stories. The earned rewards of healthier bodies, self-confidence, and sisterhood were immeasurable.
Today, I feel blessed to continue my journey of service through One Spirit Learning Alliance, where I founded a group of interfaith ministers of color who convened to support the Black, Indigenous, and people of color (BIPOC) community during the COVID-19 pandemic. Through this collective, I continue to provide resources and fellowship within our BIPOC communities.
3) Manuel Colón: Paraguay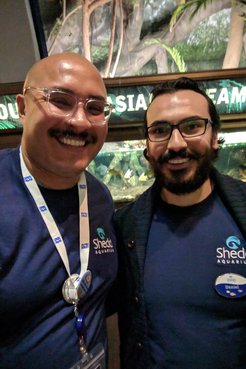 I served as an Education Volunteer in Paraguay from 2010 to 2012. Drawing on my undergraduate degree in environmental science and my background in youth engagement and outreach, I spent much of my time in Paraguay working with youth groups and connecting national environmental efforts to local communities. After my return home, I earned a master's degree in education and continued my passion of teaching and educating others.
I continue my commitment to service and outreach by volunteering at the John G. Shedd Aquarium in Chicago. During free times in my schedule, I support a few different outreach and engagement programs at the Shedd, including overnight programs where guests and their families sleep among the galleries and tanks, jazz nights featuring local musicians, and my favorite—a behind-the-scenes-tour of shark feeding.
I visited the Shedd Aquarium countless times as a child either through school or camp field trips, so it's nice to be an active part of helping youth and adults enjoy and learn at the same place I did. Not only am I putting my educational training to work, but it's very meaningful to spark people's curiosity and appreciation of aquatic life.
4) Sierra Plato: Costa Rica
One student I encountered as an Education Volunteer in Costa Rica continues to inspire me today and motivates my ongoing dedication to helping youth build leadership skills.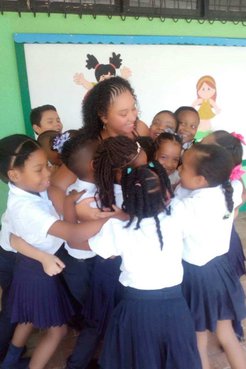 One of my projects as a Volunteer was to organize an English festival in my community as part of a national initiative in Costa Rica. I invited a fifth grader named Nagelyn to participate. She was a good student, but had also been the victim of bullying at school and, as a result, had low self-esteem. She was reluctant to participate in the festival. I shared my own challenges speaking a foreign language with her, and we had a few laughs about my slowly developing Spanish skills. She finally agreed to participate. After a week of preparation, she stood in front of a large crowd and delivered a speech in impeccable English. After the festival, she was more active in class and her personality shone brighter.
My experience with Nagelyn showed me the power of individual connection and it continues to inspire me to find ways to support our youth and future leaders. I am still involved in this type of work as part of the gender-based empowerment programming that I do with Afghan women who are resettling in the U.S.