There is life after pre-service training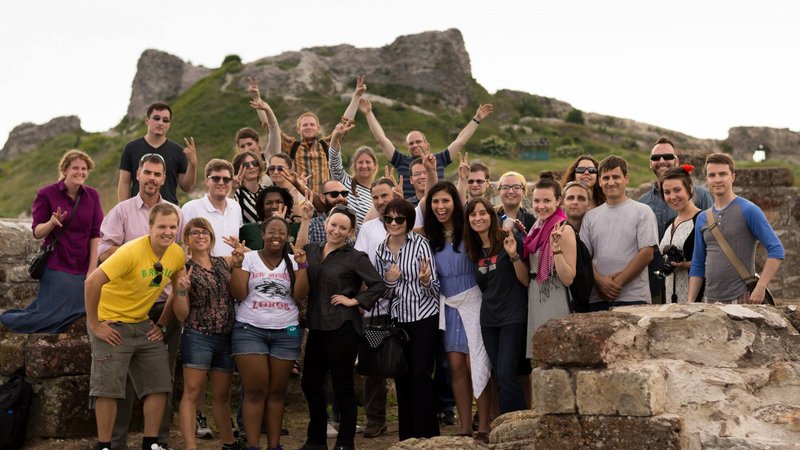 Oct. 20, 2014
About four months ago, I remember staring at the ceiling in my childhood bedroom and letting my mind wander. 
Up until then, I tried to have no expectations about my Peace Corps experience, have no pre-conceived notions and participate in absolutely no Facebook stalking of my fellow trainees (okay, maybe a little Facebook stalking). But that night – one of my last nights in America – I sat there just mulling over everything I had consciously blocked.
How will I learn the language to a point where I won't be able to just survive, but to live? What sort of people will be in my group? Will I make any friends? Will my host family like me? Will I make it through the intensity that every returned Peace Corps Volunteer (RPCV) tells me defines pre-service training, or PST? My stomach was churning.
Today, I'm proud and extremely humbled to say "përshëndetje" (hello) from the other side.
Those 11 weeks of my life both flew by and went on forever. The days were long, filled with a laundry list of things to note and tasks to complete. From weekly cross-cultural training sessions, to language classes six days a week, PST was abundant with blossoming friendships, countless macchiatos (seriously, those foamy cups of goodness became a staple in my diet) and lots of laughter.
When we first arrived in Kosovo, we had a few days in a hotel to get acclimated to the staff and country, while learning a few words in Albanian, before all 25 Volunteers were sent out to their respective PST host families.
You can imagine what was going on in many of our minds during that tremendously frightening moment when a member from our new family spoke their first words in Albanian to us. It went something like this: "Oh, no. What did they just say?!? Why didn't I study this language more while I was in America?!? Wait, I think I remember how to say 'I don't understand' in Albanian… remember, remember, remember… ohhhh, please remember. I can't remember. I'm just going to smile and shake my head yes."
But our families – and that's what they are now, four months later – accepted us just the same. They took us into their homes, let us into their hearts and treated us like their own children. When we didn't know what was going on, they helped us with an unparalleled amount of patience. (Just a side note: I think any PCV on a team for charades would be unstoppable.)
So, when our swearing in finally came, it was both a day of celebration and a day of sadness. The time had come to, once again, say goodbye to places and people we had grown to love as we prepared to head to our 24-month posts in communities around Kosovo. Above is a shot of my trainee class on a trip to a castle – now we are all Volunteers!
I'll forever cherish the irreplaceable life snapshots that PST gave me: playing soccer with the school children until our legs hurt, watching lightning strike the nearby mountains from the porch, laughter shared over the dinner table where once-strangers became family. Every day I will keep these moments close to my heart, long after I leave this beautiful country.
On August 20, I stood proudly with 24 other Volunteers as Peace Corps Director Carrie Hessler-Radelet, U.S. Ambassador to Kosovo Tracey Jacobson and Kosovo President Atifete Jahjaga expressed the significance of our two nations' friendship – and how that friendship is strengthened with the presence of Peace Corps Volunteers. As I headed away from my PST home toward my new one, the message of these three inspiring women echoed in my head: One of the most powerful things we can do in this world is to help understand a little better, inspire a little more and give hope to those who seek it.