The way to fish pond entrepreneurship is through… chickens?
The Tukwatankane Women's Club that I work with has been working incredibly hard since May to build a fish pond so they can eventually sell the fish in their community. The problem? The women's club didn't have money to buy the required 300 fingerlings for the pond.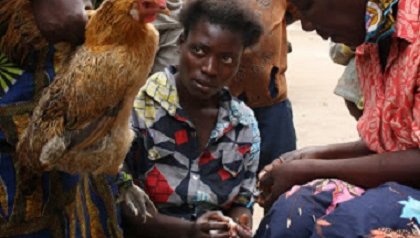 As such, I ran an idea by the women for a way that they could raise money: We would buy a chicken vaccine and sell doses of it to locals that were interested. One thousand doses of the vaccination cost about $4 to buy, so each of the women had to contribute just 30 cents to buy it. The women would then vaccinate chickens for the small price of 20 cents for five chickens. The total amount they would raise from the venture was $40. It was incredibly cheap, which made it doable in a village setting.

Although the women vaccinated only 150 chickens, not 1,000, they still raised enough money to earn their investment back, and then some. For a small investment, the women now have raised enough money for 60 fish to put into their pond.
The women will have a fully functioning fish farm, and, after six months, they'll be able to harvest, eat and sell their fish.