I've heard that smell is the sense most strongly attached to memory. 
My service in the Peace Corps has confirmed my belief in this observation. Macedonia is rich with odors – foods, flowers, people – and I am constantly reminded of the landmarks of my service by the reoccurring smells of each experience. Today, the scent of roasting peppers and wood fire hangs in the suddenly chilly air. It's a smell that brings me back to my arrival in Macedonia. It's the smell of fall.
But after this summer, I am convinced that there is no smell that will remind me of service quite like sweat, dirty feet and 64 grungy teenage boys camping in the forest. This was the ever-present aroma of Young Men's Leadership Project (YMLP).
YMLP is a one-week, leadership-focused, American-style summer camp for high-school-aged men, held in the Macedonian mountains near Kruševo. As the male companion program to Girls Leading Our World (GLOW), Peace Corps Volunteers work hand-in-hand with local colleagues to empower the next generation of Macedonian leaders.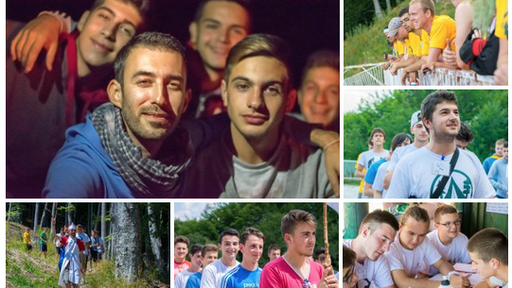 The idea behind YMLP is simple: bring young men from all ethnic backgrounds, walks of life and areas of Macedonia together, and get them excited to make a difference in their communities. Campers develop skills to care for the environment. They learn to understand and practice democracy, and take an active interest in their own civic responsibility. Together they solve problems and together they experience success. These young men become the leaders that Macedonia deserves.
My job at camp this year was teaching. I facilitated classes dedicated to the concepts and practices of effective leadership, sportsmanship, and a special class called "talking to women," an intentionally tongue-in-cheek-named session designed to develop gender equality through men's education. Every day, the young men at camp piled into my classroom with dirt on their faces, full of enthusiasm, and reeking of the campsite and the YMLP shirts that they had each been wearing for days.
Writing this now, I am not sure what I expected, but what I saw in one short week truly blew me away.
The campers at YMLP were engaged, caring and insightful. In my classes, I got to see how they worked together while challenging one another to be better versions of themselves. These young men showed all the best qualities of leaders.
What astonished me most though was not the shear caliber of the campers, but rather the transformation that I was privileged to witness over that one week of YMLP. Before camp, these were boys from different worlds. Few knew each other or would have had the opportunity to see what life was like for one another. By the end of camp, these men were a team. They were dirty and smelly, but the stench was worn like a badge of honor. It was a shared experience and something that they had earned together at camp.
By the last day, the campers gushed about YMLP being the best week of their summer. And you know what, it was for me too. It was a week where I truly saw the impact I can make as a Peace Corps Volunteer.
It's strange to say, but now when I smell dirty feet or unwashed clothes, it reminds me of YMLP, and it makes me just a little happy.