The people who have influenced my service
At my Close of Service conference, we were asked to reflect on the people from our communities who have influenced our service. I decided to take the idea and run with it, so I'm going to introduce you to some of the people from my community who have in some way impacted my Peace Corps service.
Andri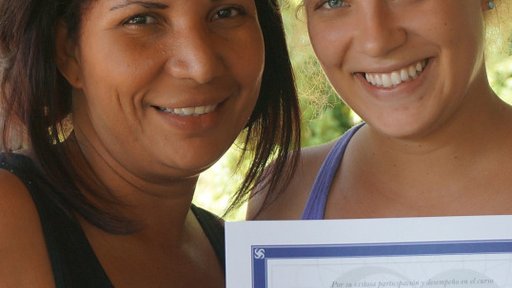 First up is my amazing project partner, Andri. (As an aside, I wrote this in Spanish for her and it made her cry!) Two years ago, Andri came to pick me up from the Peace Corps training center. I was extremely nervous, and she probably didn't know exactly what to think of the American who didn't speak. In that moment, I didn't know how lucky I was to have her as my community counterpart. She is a tremendous force in her community. As regional coordinator for the Healthy Homes initiative, she works tirelessly to improve the health and lives of people in her community and those nearby, and is an expert in motivating other people to do the same. Her example has taught me much about leadership and community development. Andri's involvement in the Healthy Homes initiative is even more impressive when you account for her other commitments. She is an elementary school teacher, and is also in the process of earning her master's in educational psychology. At the same time, she is busy raising her three biological children and helping to raise several more. Her oldest daughter is deaf and Andri has learned sign language to be able to communicate with her and her friends. She has also fought to ensure that her daughter has access to a good education. Despite all of this, Andri always has time to support me. She has advised me, helped me and taken care of me, and she has become a true friend. I am very grateful to have had the opportunity to work with her and learn from her, and I will always value our friendship.
Rafael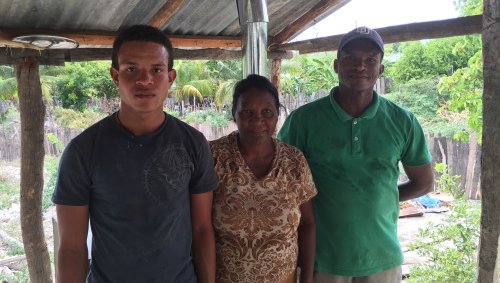 Meet Rafael, the rock star mason who's making my stoves project a reality. My stoves project got off to a very rocky start, in part because I had a hard time finding someone with actual experience in construction work who was willing to join our team. My original mason seemed promising, but he left the community for college just as we were gearing up to finally start building stoves, leaving me in a panic. Luckily it turned out that his dad, Rafael, was also a mason, and he agreed to take his son's place. I can't overstate how lucky I am to have him as my partner on this project. Rafael is among the hardest working people I've encountered in my time here. He elected to take on stoves construction in addition to his other jobs, meaning that he regularly worked seven days a week. In a culture where machismo means that men (and many women) consider women incapable of doing construction work or physical labor, Rafael has never questioned my involvement in the project, and has stood up for me by explaining to incredulous onlookers that I'm the jefa, or "boss," who actually does know what she's doing (most of the time). He is easygoing and kind—quick to crack a joke or smile and to look out for my best interests in a fatherly—not condescending—way. Since we began our second stoves project (somehow we'll build 50 stoves by May?!), I've been inspired to see the ownership Rafael has taken of the work. He is an enthusiastic promoter of the stoves we're building and has recruited many families to participate. He has also innovated multiple new processes and tools to make construction more efficient, giving us a better shot of finishing the project on time. It's been a pleasure and privilege to work alongside, and learn from, Rafael! 

Mis amiguitas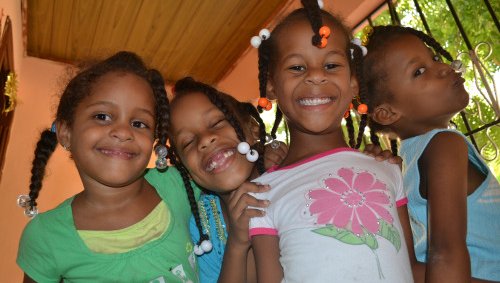 In a word, my relationship with these girls has been complicated. They were my first friends in my community and our daily coloring/activity sessions during my first few months of service helped provide me with the sense of purpose I needed to get through the day, especially when my other work was moving slowly. Several months into our friendship though, things started souring as their behavior got worse and worse, and my tolerance level got lower and lower. Where I had once looked forward to the time we spent together, I started to dread their knocks on my window (invariably at 7 a.m. on a Saturday morning) and found myself making excuses as to why we couldn't play cards/exercise/color/read that day. Our relationship faded out for a while, which initially proved to be a welcome relief. Eventually, I found myself missing them and somehow we made it back into each other's lives. Armed with encouragement from my family, advice on discipline from teachers and a renewed sense of purpose, we slowly established a friendship once again—this time on terms that were much more favorable. I learned how to set clearer limits from the beginning and the girls began to understand my expectations of them, and the idea that their actions and behaviors had consequences. Even more importantly, I became better at situating their bad behavior in the context of their lives. Annette Breaux once advised educators to "remember [that] everyone in the classroom has a story that leads to misbehavior or defiance. Nine times out of 10, the story behind the misbehavior won't make you angry. It will break your heart."  In the case of these girls, this has proven to be true. 
They live with their mothers and grandmother in a small house with a dirt floor. I'm not entirely sure how they manage to get by financially, since neither woman works, but money is always tight and there never seems to be enough to go around. Neither their mom nor their grandmother is literate, and neither seems to place a high premium on education. At home, there is no one to help them with homework. No one asks how their days were or what they learned in school. Adults pay attention to them only when they misbehave. It should come as no surprise then that the girls are constantly seeking attention and approval. And I have realized that it can be both a pleasure and a privilege to provide them with the positive reinforcement they so desperately want and need. These girls are funny and regularly make me laugh with their little kid-isms. They are also smart. They may be behind academically (through no fault of their own), but their hunger to learn is inspiring. One taught herself to read through sheer force of will. Another is still struggling to learn the alphabet but goes out of her way to find me so that we can practice together. They have ambitions to one day become teachers, doctors, lawyers and police officers.
In many ways these girls have become mis hijas over the last two years and it is difficult to contemplate having to leave them when I finish my service in May. Recognizing the ways in which the odds are so unfairly stacked against them, it's hard to imagine what their futures will hold. I can only hope that they'll carry with them fond memories of the crazy americana who read to them, colored with them, danced with them in the middle of the street and loved them. And that they'll somehow be able to realize their enormous potential. 
Poutin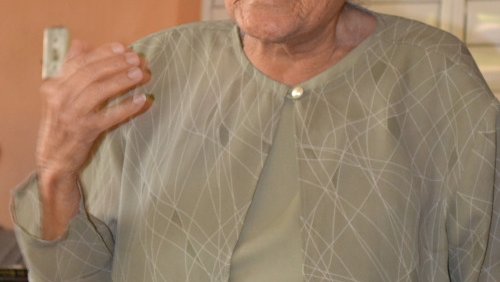 Poutin was a strong woman, well known for her kindness. My host family's house is across the street from hers and she made it clear from the beginning that I should consider it a second home. Despite the fact that between my poor Spanish and her hearing loss she almost certainly couldn't understand anything I said to her, each time I visited she was quick to offer me a chair, ask me how I was doing, brindar me candy and encourage me to stay for as long as I'd like. As her extended family, neighbors, and friends gathered to remember her in the days following her death, it was clear that I was not the only person who benefited from her kindness. Countless people commented on the ways in which she had helped them and their families over her lifetime—offering poor families credit at her colmado so they could purchase food for their children, for example, and offering advice to others as they faced difficult times. She raised not only her three biological children—one of whom went on to become a diputado (equivalent to a representative in the U.S. House of Representatives)—but also at least five other children, including my host mom and my boyfriend's mom. Her impact on the community was evident in the sheer number of people who attended her velorio, or funeral/memorial services. She was greatly loved and will be greatly missed.