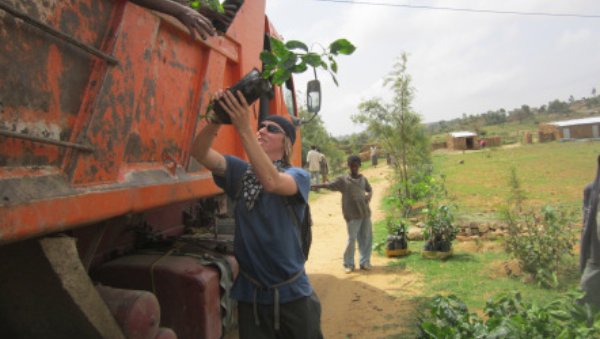 June 15, 2013
Many people know Shel Silverstein's children's book "The Giving Tree," a story of the loving relationship between a boy and his tree. This is a beautiful relationship: The tree and the boy grow up together and will die together.
I recently coordinated a large-scale tree distribution in Ethiopia that attempts to provide thousands of people with their own "giving tree." This project aims to confront poverty and food security head on by distributing these trees to one kaballe, or village. It's a project that reminds me of this story I know so well.

When the boy in "The Giving Tree" is young, he swings from the tree's branches and plays in its leaves. As the boy grows, he needs money, so he sells the tree's apples. Later he needs a house, so the tree offers its branches. Eventually the boy wants to build a boat to sail away, and the tree offers its trunk. When the boy returns one final time, the tree says, "I have nothing more to offer you, you have taken everything I had." The boy, now an old man, just wants a place to sit and rest, so the tree offers its stump.
As an environment Volunteer, I would be happy if all the trees that I helped distribute had similar stories. You might say that for this to happen, these trees would have to be exploited for their physical resources. When I tell my own version of this story, I change some of the details. Trees will outlive people if given the chance. In my version, there are multiple generations per tree: the original boy, his daughter, even his grandson.
A project like this is meant to provide food security and to improve the lives of those who receive the trees. It also aims to improve the natural environment in the area where the trees were distributed. But above all, this project strives to improve the relationship between man and nature, like the boy and the tree. When people experience nature, they learn about the benefits directly. This lesson is not provided by a lecture — it is a real, hands-on experience.
This project was a special one for me to be involved in. I was able to meet thousands of people that lived in the most rural parts of northern Ethiopia and connect on a level that was broken down to the most basic human need: food. This project will bring man and nature closer as it attempts to link important food security concepts, love for nature and ownership ideology. I am ecstatic that I had the opportunity to be involved with such a selfless project.