The importance of investing in health professional education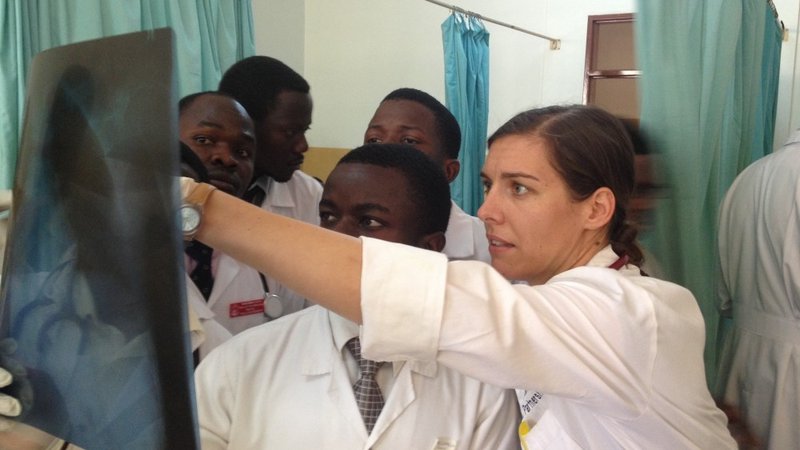 July 28, 2015
I had the chance recently to visit a Global Health Service Partnership physician Volunteer working in northern Uganda where she teaches medical students both at the bedside and in the classroom. 
One day during my visit, I shadowed her as she led a team of eight third-year medical students and a medical officer rounding in the High Dependence Unit (HDU). Suddenly, one of the patients' breathing pattern changed and shortly thereafter he stopped breathing. The team immediately started resuscitation; the medical officer grabbed an oxygen concentrator and two students grabbed the bag valve mask and tubing. For five minutes, everyone worked tirelessly to resuscitate the patient but it seemed to be to no avail.
One of the team members asked to call off the resuscitation. Reluctantly expressing, "We will not get him back," he removed his gloves and walked away. The GHSP Volunteer calmly chimed in, "I think I can still feel a pulse. Let's give it one more try." She asked the medical officer if he could get adrenaline and then she and her students worked together to reposition the patient. As she placed the mask on the patient's face, she instructed one of the trainees on how to bag. When the medical officer arrived two minutes later with the adrenaline, the patient had already regained a strong pulse and was breathing on his own.
The team proceeded to discuss the treatment plan and pathology of the patient. He was 25 years old, HIV-positive and had just started his antiretroviral (ARV) treatment one month ago. He was reacting to two of the drugs and was also showing signs consistent with tuberculosis. His brother was taking care of him, but familial financial constraints and poor nutrition were concerning factors in his health prognosis. A note was written to a nearby military hospital to change his ARV therapy and address some of the socioeconomic constraints as possible. The team planned to meet the next day, process the experience and formulate a CPR code that could be adopted in the HDU.
Witnessing this experience reinvigorated my commitment to the GHSP program. The GHSP Volunteer was able to deliver clinical care in a teaching context, model holistic patient care and exhibit clinical leadership. These invaluable skills not only helped save a patient's life, but are now important lessons medical students will be able to use in addressing clinical acute care situations in the future. High-quality health worker pre-service training forms the foundation for strong health systems and healthy populations. In Uganda, a country with 14 physicians, nurses and midwives for every 10,000 citizens, we need to invest in training the next generation of health professionals for the future health of the population. Through GHSP and similar programs, we can make this significant and critically needed long-term investment.
This post first appeared on Seed Global Health's blog.