The Green Brigade and the power of service to heal
Rapping with friends, his faith, service to his community, and the beauty of the Cibao Valley defined much of Aruby Tavares Nunes' life growing up.
When he was 15, James and Brooke Rufo Hill, a Peace Corps Volunteer couple, moved in with his family in Villa Sonador, in the central valley of the Dominican Republic. James and Brooke, from Washington State, were focused on supporting the community's efforts around education and environmental conservation. At the time, when they weren't in school, Aruby and his friends were aspiring rappers.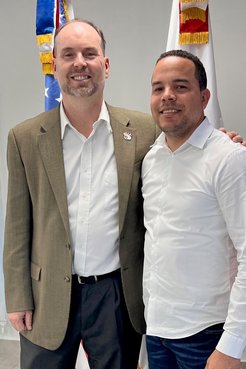 Soon into their service, James, Brooke, Aruby, and a few other local youth leaders took part in the inaugural group of Brigada Verde (Green Brigade), an environmental action club started by Peace Corps in conjunction with the Ministry of Environment. Brigada Verde sought to support a new generation of young leaders in environmental education and action. Through a series of camps, clubs, and yearly conferences, Brigada Verde trained thousands of Dominican youth, and networked them both to each other and to resources they could use to further their efforts.
From the start, Aruby and his friends were inspired to put their experience into rap and song. They became a hit at every conference and national youth service day event. Then, one year later, while riding a motorbike, Aruby was hit by a truck and nearly killed. His legs had been shattered and required an operation to implant pins to allow him to walk. Brooke and James worked to find doctors who might be able to operate and help him walk again. The recovery was painful and took more than a year but, eventually, Aruby walked again, albeit with limited capacity. After James and Brooke returned to the U.S., they continued to support future operations to help Aruby recover, while Aruby continued to support Brigada Verde and the Sirve Quisqueya national youth service movement. This is the movement through which I began to work with him.
Eventually, the people of Villa Sonador recognized Aruby's long-term commitment to building an ethic of public service. Friends encouraged him to run for mayor of Villa Sonador, but he first dismissed the idea. Eventually, though, he realized it was an extension of his lifelong commitment to service, which began with an environmental club and two Peace Corps Volunteers. Today, Aruby serves as mayor of Villa Sonador and remains a champion of youth volunteering locally and nationally, and still loves to share his stories through song.
---