The gift of simple surprises: celebrating July 4 in the middle of the Pacific
It was July 4, 2000, the first Independence Day of the new millennium, but I didn't expect to see any American flags waving in the breeze or hear any brass bands playing in the streets. The only sounds I expected were the quiet cluck of a chicken near my front door or the grunt of a small pig as he scurried through my grass hut. I was far from home and serving as a Peace Corps Volunteer in the Republic of Kiribati, a remote island nation in the Pacific. As far as I knew, this day would slip slowly into oblivion as so many had before it.
Minutes later, the familiar sounds of the early morning were interrupted by someone calling my name. As I opened the door of my hut, I was surprised to see the chief elder and leader of the village standing there. With great kindness he said, "I'm giving you the day off, Nei Minnie. I suggest you go to Butaritari Village and celebrate your national holiday with your Peace Corps friends. You've earned it."
I smiled broadly as I thanked him for this surprise gift of a day off from work and the opportunity to celebrate with other Peace Corps Volunteers. Then, quickly, I went to the well to draw up a bucket of water for my journey. After boiling it and filling my canteen, I slathered myself with sunscreen. Next, I hopped on my bike, the only method of transportation on this outer atoll, a place so remote that villagers stopped mid-sentence to point skyward, as the one plane per week buzzed in for a landing.
As I pedaled cheerfully along the only road on this island, I carefully avoided the sharp pieces of jutting coral imbedded in the dirt. Within half an hour, I arrived at Butaritari Village. I was dripping wet from the equatorial heat and humidity. Excitedly, I approached my Peace Corps friend's hut and called out the usual Kiribati greeting. "Mauri! Mauri-o!"
After a warm welcome from Chris, a second-year Peace Corps Volunteer, I explained that the leader of my village had given us the day off to celebrate our national holiday together. His face lit up.
"I have the perfect way for us to enjoy this July Fourth. I'll make the preparations, while you get Mindy," he said, referring to one of our fellow Volunteers. "When you return, I think you'll both agree that my surprise is every bit as special as a Fourth of July picnic in the USA!"
With a lightness in my step, I wound my way through the village in search of Mindy. I spotted her and within minutes we were skipping along, eager to discover what Chris was preparing for us. We didn't expect much. We knew there was not much he could buy on this outer atoll.
As we neared Chris' hut, we smelled the distinct, familiar aroma that wakes every American across the vast U.S. each and every morning. However, we were sure our minds were just toying with us. How could we be smelling coffee? In all of Kiribati, there was not a bean to be had. More astonishingly, the I-Kiribati people had never even heard of coffee.
As we rushed forward, Chris greeted us with a wide grin. "A few weeks ago, I got a package from home. I decided to keep this coffee to share at our next meeting," he said. "When you appeared at my door this morning, I realized that the perfect time was now, July Fourth!"
With grateful hearts, we each savored our one, small cup of Joe and drank it silently as we gazed out to sea. It really didn't matter that we had no corn on the cob, hot dogs, or cold beer for our July Fourth celebration. For us, this cup of coffee was more than enough. It confirmed what we already knew. This celebration was one we would always remember.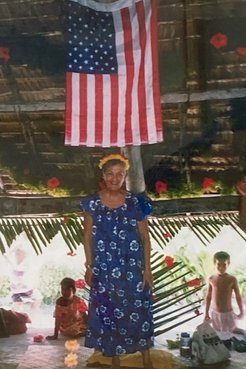 The rest of the day seemed to evaporate too quickly, and before long, the sun was beginning to set. Not being in any hurry to have our holiday end, my two friends decided to accompany me home. We hopped on our bikes, and made our way through the bush by the welcomed light of a full moon. As yet, we were completely unaware that the biggest surprise of our day still lay before us.
We seemed to reach my village, Ukiangang, in record time, and took the narrow trail to Nan Teinaura, the school compound where I lived. Once we reached the clearing, we stopped, and simultaneously gasped in awe.
As we stared at the sight before us tears of pride and gratitude trickled down our cheeks. There, high above us, suspended from a coconut tree, waved the symbol of our freedom and independence as Americans. The flag that once stood watch over our troops, the courageous warriors who fought on this spot in the Battle of Butaritari during World War II, was flying once more. The villagers had kept this flag as a sign of lasting friendship with the Americans. Although we had heard this story many times, we had never seen any evidence of the U.S. flag on this island until now.
On this night, the village elders unfurled it to honor us, three humble Peace Corps Volunteers, serving our country far from home on this first Fourth of July of the new millennium.
---