The Director's Travel Blog, Day 3: Moche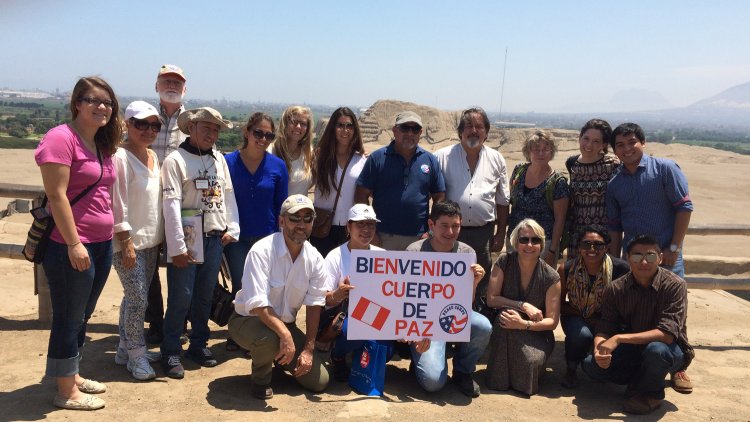 April 13, 2015
In Moche, a northern city best known for its rich history of pre-Inca civilization, our first stop is a freshly painted mural near the main city square.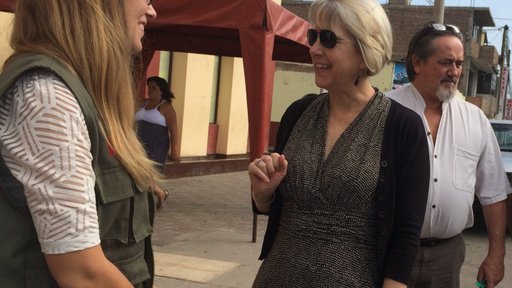 Rumor has it that a Peace Corps Volunteer has been painted into the scene – a colorful, elaborate tableau featuring community members interspersed with religious figures – and as we approach, there she is!

When Adrienne Peck arrived in Moche to begin her service as a community economic development Volunteer, she would pass by a group of local artists each day on her way to work. They were midway through their mural project and, in returning Adrienne's daily greeting, would often joke with her about painting her into the montage. "My Spanish was still a little shaky and I was sure I'd misunderstood," Adrienne told us.
As it turns out, the artists were completely serious and the fruits of their labor are now displayed for all to see. (Talk about community integration!)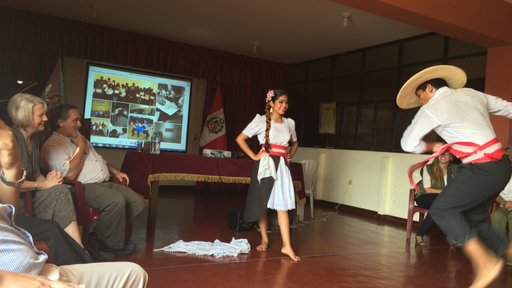 Our morning in Moche continues as we meet up with Adrienne and another Moche-based Cuerpo de Paz Volunteer, Hope Ansanelli, to hear more about their projects and visit the municipal offices where many of their socios work. There, we are warmly welcomed by the mayor of Moche and greeted by a stunning performance by a pair of young Marinera dancers.

Our regional director, Ken Yamashita, and Peru country director Parmer Heacox express their thanks to the community for inviting Peace Corps here. Hope and Adrienne play a video that brings me to tears, capturing in a series of snapshots and interviews what their Peace Corps experience has meant to them – and what Peace Corps has meant to the people of Moche.
Peace Corps service is not easy. It is not a path for everyone. It forces you to overcome fears and confront challenges that you might have otherwise never even imagined.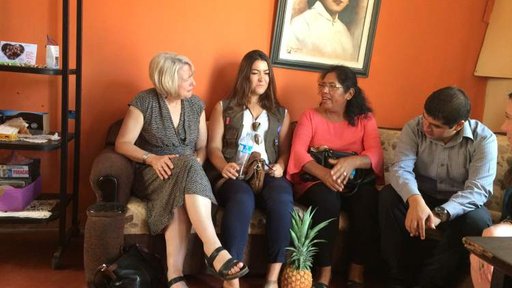 As a Volunteer, sometimes you wake up on top of the world because you've turned the corner on a project and you feel like you're really, truly making a difference in people's lives. Other times, you wake up and wonder whether your efforts are amounting to anything at all.

I know it certainly was that way for me.
But what I also know to be true is that most Volunteers give more than they realize… often in ways they did not expect. It is often not what they do, but how they do it, that makes the difference.
That is the magic – and perhaps the greatest blessing – of the Peace Corps experience: the whole is truly greater than the sum of its parts.
Read earlier installments: 

"The Director's Travel Blog, Day 1: Official day in Lima" 
"The Director's Travel Blog, Day 2: Trujillo to Otuzco"