The Director's Travel Blog, Day 2: Trujillo to Otuzco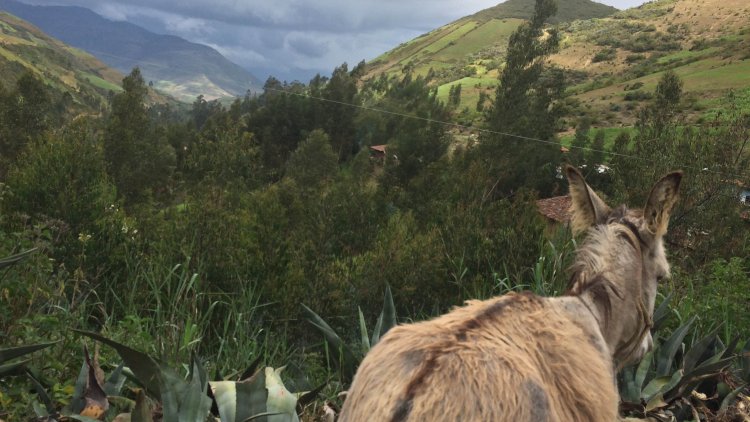 April 12, 2015
I am so happy that this is a trip focused on Volunteer visits.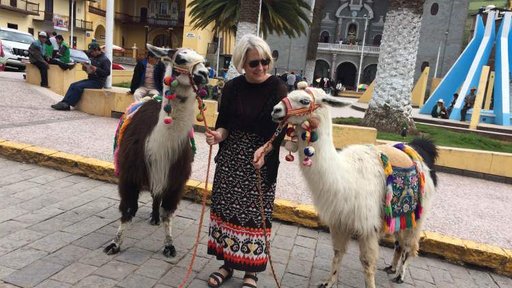 Getting to meet with our amazing Cuerpo de Paz (as Peace Corps is known in Peru) Volunteers, seeing the tremendous passion they have for our mission and the love they feel for the communities they serve -- this is truly the best part of my job.

Today, we are headed east -- driving from the northern city of Trujillo, the third-largest city in the country, to visit Volunteers at their sites around Otuzco.
We are going above the clouds, safety and security coordinator Enrique Navarro tells us as we drive on a narrow, winding road that twists and turns across the craggy Andean mountainside.
The green slopes and deep valleys are beautiful to see -- but you can also understand how hard it must be to eke out a living on these steep mountain ridges.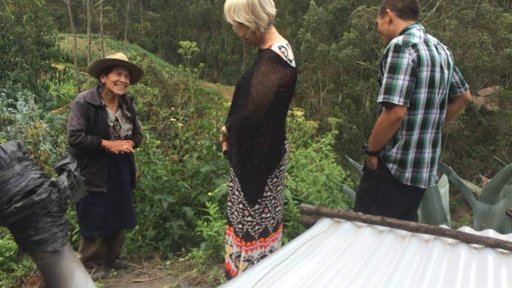 Our first stop is Otuzco, the provincial capital, which is also known in Peru as the "capital of faith." Religious pilgrims come from all over the country, and indeed all over the world, to pay homage to the Virgin Mary.
Upon our arrival in the city square, we meet with Marvin, a community economic development Volunteer. Here in the highlands of La Libertad, Marvin has put his business degree to good work by teaching after-school business classes, organizing a local women's community bank and mentoring aspiring entrepreneurs. In turn, he says, he feels he has learned so much about business and economics from the members of his community -- gaining insights into juggling fixed costs, variable costs, budgeting, financial strategy and above all sustainable planning that he could never have gleaned from examining case studies in the classroom.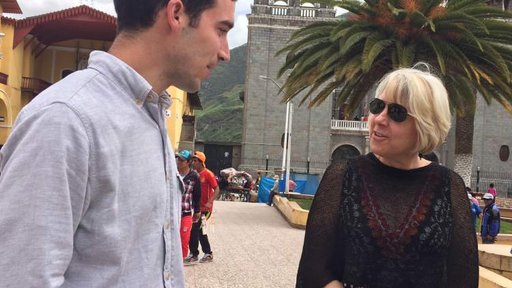 Last year, two of Marvin's friends and mentees -- 24-year-old Greins and 18-year-old Ana -- came up with the idea of starting a tourism agency to fill a gap in a town frequented by religious pilgrims and other visitors yet lacking in tour guides and organized tours to explain the history of the town. With Marvin's help, Ana and Greins developed a business plan, entered a national entrepreneurship competition sponsored by the Peruvian government and won.
With their winnings, the two young entrepreneurs opened up a storefront in Trujillo, calling their agency "Irpajaqi," a Quechua word meaning "The road is known." The next time I have friends and colleagues headed in this direction, I know where I'll recommend they make their first stop in Otuzco!
We also meet with Oscar Torrico, a water and sanitation Volunteer who has partnered with an incredible array of local, national and international organizations in his efforts to help rural communities improve their water supply.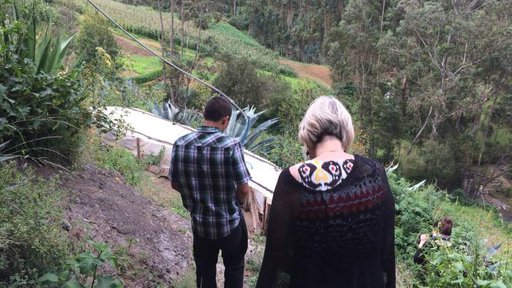 I am amazed to hear about all that Oscar has accomplished in his short time as a Cuerpo de Paz Volunteer -- and his colleagues seem to be just as impressed, as we hear from municipal leaders. Oscar has been especially successful in coordinating municipal committees and establishing partnerships with international NGOs working to improve rural water supply and sanitation -- connections that will help his community build on the projects he started long after his service ends.

Of course, we also hear from Marvin, Oscar, their socios (counterparts), their host families and their Otuzco friends about much more beyond their primary projects -- whether it is Marvin's host mother telling us about the brownies and pizza that Marvin likes to bake, or hearing about how Oscar somehow landed a plum role in the town's annual Vía Crucis pageant, part of a festival drawing some 20,000 people to Otuzco.
I am reminded of one truism of Peace Corps, whether you are a Volunteer serving in the highlands of Peru or the coasts of Samoa. As a Volunteer, you arrive in your community with a specific title and assignment -- water in sanitation Volunteer, community economic development Volunteer, secondary education Volunteer. But being a Peace Corps Volunteer is about so much more than your work. Peace Corps service is also about the relationships you develop, the life you build in the community you come to call your home and the lifelong skills and perspectives you gain from an experience unlike any other in the world.
Read Part 1: "The Director's Travel Blog, Day 1: Official Day in Lima"