Telling my Peace Corps story isn't as simple as "ant soup"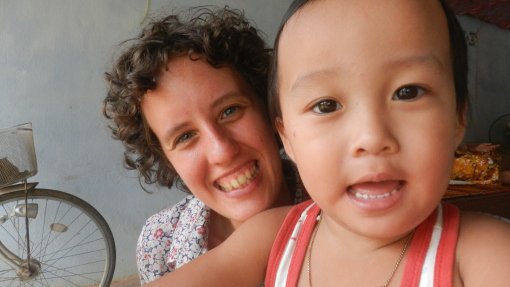 April 29, 2014
I've been agonizing over how to sum up the past two years of my life in a concise, meaningful way. 
Like any two years, my time as a Peace Corps Volunteer in Cambodia has been complex: full of personal milestones, frustrating challenges and moments of boredom. In that way, it doesn't feel much different than any other two years I've lived.
Yet these two years took place on the other side of the globe in a context that was different from any I had known. Because of that, there's an expectation that I have neatly packaged insights that I can easily and eloquently relay when others ask, "How was Cambodia?" or "What was it like?"
I have no shortage of anecdotes I can share: mice shooting out of our toilet, being bitten by the town's infamous three-legged dog, running a half marathon through ancient temple ruins. But interesting anecdotes only touch the surface. 

In the same way that the pizza you had for dinner last night doesn't define your week, the ant soup that I ate with my host family — although perhaps an amusing story — in no way represents the experience I've had.
Although I know most people are just looking for a brief response, I feel pressure to give more than a simple anecdote or two. Crafting my story feels like a heavy responsibility, because in telling my story, I also tell Cambodia's.
However, this kind of reflection is difficult. How do I make sense of an experience so tangled up in who I have become that it's nearly impossible to separate it from myself?
It becomes easy to slip into a rut of self-absorption. After all, living in Cambodia was life-changing, so it should come as no surprise that I want to explore what I'm feeling now that I'm faced with leaving it.
I feel heartbroken having to say goodbye to people who have become my closest friends and sources of inspiration.
I feel gratitude to those who took the time to teach me a new word in Khmer, to share their stories with me, to work beside me on projects.
I feel pride for the effort and thought that I put into my service.
I feel unbridled excitement to share my experiences with others when I return.
But if I'm honest, I also feel disappointment about the days I chose not to leave my house, for finding excuses to avoid studying the language when I had free time, for not trying harder to achieve equality in my workplace.
Then there's the doubt.
I doubt whether — after countless hours of chatting and sharing meals together — I ever meant more to my host family than the $100 of rent money I provided each month. I doubt whether my projects did more good than harm. I doubt whether the lessons I've learned over these two years will stick with me back in the States.
If dwelling on my own feelings seems too self-absorbed (and it certainly does) focusing on the many brave, resourceful and open-minded Cambodians I met feels trite. It's true that "they taught me more than I could ever teach them," yet the phrase seems so empty.
How do I shine a light on individuals like Hoan Hoak, who has become a leader in her community and begun to create a safe and just environment for women and children? How do I recognize my student Vanna, who is brave enough to teach older women about health, even in a culture where age equals respect? How do I give voice to these stories without them seeming forced or formulaic?
I imagine returning from an experience like Peace Corps is one of the only times in my life when I will be asked to summarize two years of my existence, including the place I lived, the people who influenced my day-to-day routine and my emotional response to it all.
It overwhelms me to try to make sense of it.
I want to tell a nuanced account of the past two years, but I haven't figured out exactly what this story will sound like. After all, some of the most powerful insights come long after an experience is over.
So I'll say this: As I begin the long process of making sense of this journey, I hope never to forget the beautiful complexity of this country or my time in it. I will try to remember that this experience is more than an accumulation of anecdotes, self-righteous reflections or formulaic stories of local heroes. I might not yet be able to supply neatly-packaged insights, but I can attest that it was two years like any other: messy, beautiful and finite.