Teaching the next generation of doctors in Tanzania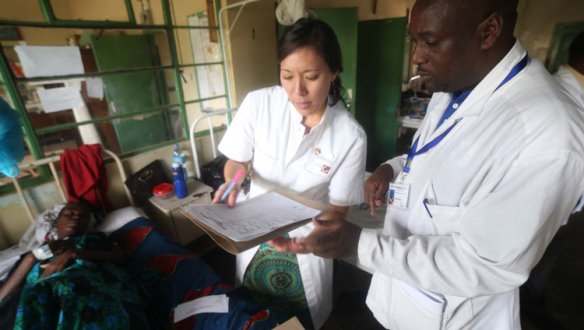 Jan. 5, 2015
On my last day at Sengerema district hospital, in true Sengerema fashion, it was busy: a hysterectomy, a fourth-degree vaginal laceration repair subsequent to domestic violence, an emergency postpartum hysterectomy, donating blood because our region's blood banks are completely devoid of spare units and getting called immediately afterward for a seizing woman in labor.
 Staying busy until the end made the reality of leaving difficult to grasp.
But upon leaving our rural hospital and traveling back to Dar es Salaam, the tree-studded landscape that flashed by over a year ago brought on a great deal of nostalgia. I remembered a sense of excitement, anxiety and hope as I watched the shifting landscape last August. It was a challenging year, but a great one. I laughed, I cried, I bled and I most certainly sweat. Was I looking forward to returning home and reuniting with friends and family? Absolutely. But did I have a heavy heart when saying goodbye to my students, colleagues and friends? Undoubtedly.
Throughout the past year, there were many high points (the highest was literally at 19,341 feet when we summited Mount Kilimanjaro) and obviously there were challenges. For those of you who have ever wondered if, in the middle of a surgical case, it was possible to have a cockroach crawl across your sterile patient and then scurry across your abdomen, I'm here to tell you, it's possible.
I am a better teacher, a better doctor and hopefully a better person for the experiences the past year brought. But there were days during the soccer-frenzied summer when I felt like I was playing for a grossly outnumbered team. It can be exhausting to push through a relentless opposing side made up of patients, medical emergencies and all the difficulties associated with a shortage of supplies and healthcare personnel. There were days when I didn't feel like playing. There were trying days when I needed to just sit out.
And yet, a friend who is a fellow Volunteer aptly described the year as an opportunity to wake up every morning and realize that you are doing exactly what you want to be doing with your life. Even with the challenges, I feel incredibly fortunate to have been extended the opportunity to go to Tanzania to teach and work with its warm-hearted people.
That last day, I had an incredibly joyful visit with all the students that I worked with throughout year. It was the last day of their final exams, and soon they would disperse to clinics and hospitals to begin working as doctors in Tanzania. One of my local colleagues found me later and said, "This year in gynecology, the students are doing very well. You have made them good."
It was a tremendous year – difficult to encapsulate with words – but if my colleague's statement is really true, then I couldn't think of a more gratifying closing thought with which to end.