Teaching Pharmacy Students in Malawi
The students' love for learning and for applying their new knowledge in the realm of pharmacognosy was the most rewarding.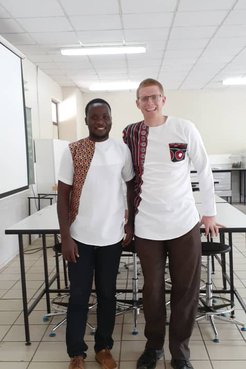 My position with the Advancing Health Professionals (AHP) program of Peace Corps Response was as a clinical pharmacy and pharmacognosy lecturer at the University of Malawi College of Medicine. This position uniquely combines the spectrum of medical interventions from biomedical entities with plenty of clinical data to traditional herbal plants used by generations of humanity.
While clinical pharmacy offers some variation across the globe, similar medications are utilized both in the United States and Malawi. This allows for a smooth transition of skills and knowledge even across different populations. Pharmacognosy and herbal medicine, on the other hand, is unique and depends on the part of world one inhabits. Pharmacognosy is defined as "the branch of knowledge concerned with medicinal drugs obtained from plants, animals, or other natural sources."
As the geographical location changes, so does the biodiversity of the flora and fauna. I knew that experiencing the perspective offered in Malawi was sure to be an incredible learning journey. Fortunately, engaging colleagues and passionate pharmacy students accompanied me every step of the way. College of Medicine faculty members quickly recommended national parks where I could observe useful flora in person – I was able to see the majestic fruits of the sausage tree, and the long, distinct branches of the baobab tree. These two trees play important roles in traditional medicine practices in Malawi, and it was beautiful to see them in their natural habitat. Other colleagues and I collaborated on an herbal medicine monograph database and even started plans for an herbal garden within the institution's compound.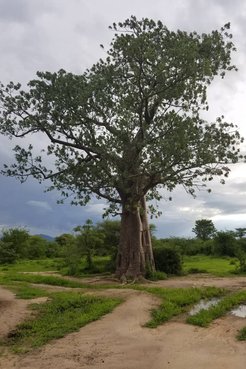 However, the students' love for learning and applying their knowledge in the realm of pharmacognosy was the most rewarding aspect of my time there. In the pharmacognosy module, the curriculum was missing laboratory practicums. An extremely motivated counterpart and I began to develop a lab manual that would challenge student's didactic learning in an experiential setting. This included identifying different types of leaf stomates underneath a microscope, discovering starch grains after staining slides of potato and rice and isolating caffeine from locally-grown tea leaves. Students enrolled in this module were required to submit lab reports and post-lab assignments to further their understanding of the subject at hand. The class was even able to utilize various extraction methods to make their own tasty juice. As the instructors, my counterpart and I were able to sample the unique juices. I think it was the easiest grading we did.
At the end of the semester, one final practicum was organized. This involved taking a day off from classes and traveling to the National Herbarium and Botanic Gardens in a nearby city. Here, students observed the process of preserving medicinal plants and even saw preserved plants from before Malawi's independence. The students' favorite part of the trip, though, was the medicinal plant garden. The administration arranged to have experts on hand to explain traditional and current uses of common plants, shrubs, and trees only found in Malawi. The students were both amazed and proud of the native species that are positively impacting Malawians' health and the contribution other species are making globally. After this field trip, several students expressed interest in becoming professional pharmacognosists, a young but growing field in Malawi.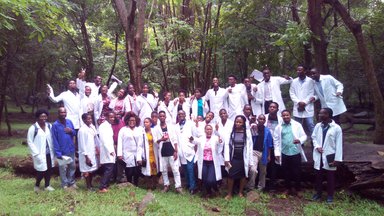 Despite the fact that the COVID-19 pandemic shortened my time in Malawi, my interest in herbal medicine grew significantly through my time at the College of Medicine. My colleagues challenged me with opportunities for growth, while the students displayed a passion for learning that efficiently infected myself and other faculty members. I cannot wait to follow these students' career paths as they pioneer the field of pharmacognosy in Malawi.