Teacher from North Macedonia builds an English language library with Peace Corps' support
It's hard to believe I've taught English here in North Macedonia for 28 years. I was introduced to English in fifth grade when my teacher noticed I had a talent for learning foreign languages. Since then, I have loved the English language and, as a teacher, I am honored to pass the gift of foreign language on to my students.
After primary school, I continued my language education through high school, and then enrolled in the Department of English Language and Literature at Blaže Koneski Faculty of Philology in Skopje, North Macedonia. I deeply enjoyed my studies and my teachers, who paved the way for me to become an English language teacher. I spent 20 years as a high school teacher at the Gymnasium in Ohrid. For the past eight years I have been teaching students ages 14 to 18 at St. Kiril and Metodij Secondary School in Ohrid, which is a vocational school for students in the medical and economics tracks.
In November 2016, I met Peace Corps Volunteer Bill Bridgeford at St. Kiril and Metodii. I volunteered to be his counterpart during his two-year journey in my community. I shared with Bill my goal for students to be able to communicate in English and to be active users of the language. As a global language, English is a tool my students need to interact in the modern digital world—English fluency lays the foundation for them to have successful careers.
Bill's presence at our school gave my students an opportunity to have conversations with a native English speaker. Through Bill, they gained access to new resources, ideas, and contacts from the United States and around the world.
Together, Bill and I wanted to execute a project that was meaningful to my students and that could be sustained after his two-year assignment was over. We first discussed bringing an English language library to the school. One of the challenges we face as teachers is that many of our students do not read books for pleasure, let alone to improve their English language skills. It seemed that a library offering diverse books could help create a greater appreciation for reading.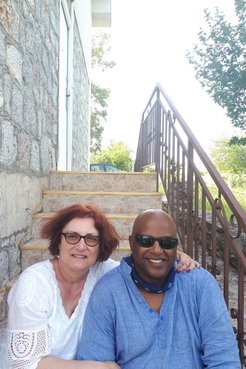 Bill organized a donation of books from the International Book Project, and we were able to build a small, five-shelf library for students. The library included books that might be particularly interesting to students, like the "Harry Potter" series. The new library was so popular that it spurred interest in a conversational English club and led to the development of a Student Resource Center (SRC), a hub for student-centered, interactive, workshop-based learning activities across five curriculum areas.
The SRC included courses in IT skills development, business skills development, personal and life-skills development, and the Girls Leading Our World (GLOW)/Young Men's Leadership Project, which teaches leadership skills through community service. The SRC also offered the first course for conversational English.
The success of the SRC was undeniable.
In the first year, 212 of 250 first- and second-year students signed up for at least one workshop series, and 167 students received certificates of completion—many for multiple workshop series. The kids loved it. They came to the workshops, and, to my delight, they enjoyed themselves while continuing to develop their conversational English. The workshops boosted their self-confidence, enhanced their motivation to learn, improved communication skills, and built a stronger community with their fellow teens.
When COVID-19 hit, our schools closed for almost a year, and even though we taught our students virtually, the SRC lost momentum.
Nevertheless, throughout the pandemic, Bill and I stayed in contact and continued to work together with the goal of resuming our project. In the fall of 2022, years after Bill's departure, the two of us contacted the International Book Project again. We shared how their initial donation had blossomed into the SRC. Their response was overwhelming. They donated nearly 50,000 English language books of all types, which were delivered to my school in January 2023. We are now in the process of distributing the books to the local library, YMCA, and kindergartens as well as more than 100 primary and secondary schools throughout North Macedonia. We are preparing to restart the SRC program in September 2023.
The book donation, secured with Bill's help, will help form libraries at each school. I am overwhelmed by the joy on my students' faces when they see all the books available to them now, and I imagine that each new book will spread the same kind of joy around the country.
We hope each book will trigger a love of reading and the English language, and we also hope that these small libraries will introduce the SRC concept at other schools. We are in the process of identifying contacts who are excited about the idea and could help move it forward at their own schools. Our big-picture goal is to submit a proposal to expand the program to the Ministry of Education and the Bureau for Development of the Education of the Republic of North Macedonia.
My role as a primary counterpart for Bill through the Peace Corps offered a chance to collaborate with someone whom I would likely never have met otherwise. Through my partnership with Bill, I was able to take my love for teaching English and expand programs at my school, share ideas, build relationships, and learn from one another. I'm looking forward to seeing the SRC idea grow and to continue to expand my students' worlds, their love of learning, and their exposure to the English language.
---