Tales from the TEFL Certificate Program: "We are learning together"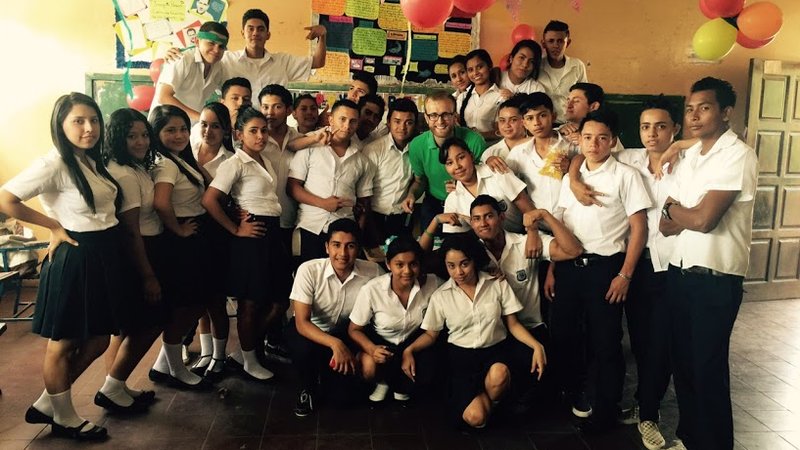 Jan. 5, 2016
TEFL Volunteers at three pilot posts began their training in 2014 with online courses, and in the two years since then, have participated in teacher training at their posts, taught English classes with host country partners, shared experiences with other Volunteers in communities of practice, honed their classroom skills, and much more. 
This three-part series on the Peace Corps TEFL Certificate Program highlights the stories of four Volunteers: Hannah in Armenia, Gabrielle in Madagascar, and Emily and Andrew in Nicaragua. They are among the first Volunteers to earn the TEFL Certificate at the end of their service in the spring of 2016. 

Here is the last of the three articles, in the words of Andrew and Emily, TEFL Volunteers in Nicaragua. Andrew and Emily regularly co-teach English classes with their counterparts to 7th through 11th graders. 
Inspiration 
"So what did you think about our last class?" 
"It was OK. I really liked the Walk-to-the-line activity, but I don't know if they completely understand possessive adjectives." "Why do you think that?" 
"Every time we gave an example with a possessive, they seemed to wait for one student to move, and then they followed. I think they were just mimicking him." 
"Good observation. What can we do about that? Do you want to re-teach the material, or try a different assessment to see where individual students are?" 
"I would like to do a review of the material. But how?" 
"Well, let's look for some ideas here in the TEFL Manual. What do you think about this one?" 
Almost every co-planning session we have with one of our counterparts begins with some variation of this conversation.  Looking back on the first half of our service, we recognize that it's conversations like these that are the heart of the TEFL program in Nicaragua.
In the United States, Emily was a teacher with formal classroom experience (middle school science and English language arts) and informal experience through summer camps, tutoring, and Outdoor School in the Pacific Northwest. She couldn't wait to take on the challenge of teaching in Nicaragua, and looked forward to learning about Peace Corps' approach to improving education.  Andrew, however, had never taught until joining the Peace Corps, working instead in the world of non-profits.  Before departing for Nicaragua, he was comforted to see the structure the TEFL Certification Program had in place to not only prepare him to teach English, but also provide him opportunities to continue learning and growing as an educator throughout service.
A Challenge Accepted 
Between the two of us and our seven Nicaraguan counterpart teachers, we taught in 23 different English classes of 7th-11th graders this year. While our primary assignment is teaching in the high schools, it is always through the co-teaching model. We could certainly teach a lot of chavalos English during our 27 months as PCVs if we had our own classrooms, but the project framework of PC Nicaragua is bigger than teaching a few students a couple years' worth of English. 
We are co-teachers, learning not only how to teach, but how to share with other professionals our planning, ideas, successes, and failures. It is our job to become a part of the school community through working with Nicaraguan English teachers in their day-to-day teaching and to help them improve their English and methodological practices.  Co-teaching both provides us with support as we develop as teachers and provides a level of long-term sustainability to program.  Our counterparts will continue teaching here long after we have finished our 27 months. 
If you think sharing all of those responsibilities is easy…think again.  Before Peace Corps, we feared that our ideas would clash with our counterparts, that we wouldn't see eye to eye, that we would be forever frustrated and stuck between being real teachers and slightly annoying guests.  In some ways, this is exactly what happens. Every day. But in other ways, we couldn't have been more wrong. 
Best Practices and Lessons to Share 
Our counterparts are some of the most hardworking, intelligent, creative, and passionate people we know. While we don't always have the same ideas (as we do come from different cultures and educational contexts), we always strive to work together towards our mutual goals. Instead of only encountering difficulty, we have found that our counterparts are more than willing to try some of our "crazy gringo ideas." Some of them work, some of them don't.  We also benefit from their sharing, as they possess unique skills and experiences as Nicaraguans who aren't native English speakers, but have done the hard work to figure out our complicated language!
Our students are even more excited to learn. They love learning with the games and songs we bring, but also about a new culture that they may only know through Hollywood. They pass us on the street saying, "See you later, teacher," a daily phrase in our classes. They respect us and treat us as both teachers and as guests. 
The TEFL Certification Program built in other supports as well.  In addition to a jam packed Pre-Service Training, we participate in trainings and Online Learning Communities throughout our service.  These forums give us the opportunity to share with our fellow TEFLers across the country, asking questions and giving suggestions on how to improve aspects of our teaching.  We receive visits from Peace Corps TEFL staff who observe our teaching and provide feedback in targeted areas.  We are participating in various peer observations to see other TEFL volunteers in action, learning from them and their counterparts in the process. 
There are also times when we are confused and struggle with our work here in Nicaragua.  As with any Peace Corps service, doubts can creep in.  It would be easier to have our own classrooms.  How do we feel about playing a part in promoting English as a global language?  Is what we're doing here actually making a difference? But we have tried our hardest to remain open minded and curious. Starting from a place of humility and a genuine hunger to learn has made a world of difference. Our counterparts are as excited to teach us as we are to teach them. They want to learn English, they want to help us learn about Nicaragua, and they want us to help them be better teachers.  The beauty of it all is that we are learning together. 
And that's what this Peace Corps thing is really all about. 
The TEFL Certificate After Close of Service 
As for the future…who knows?  With two TEFL certifications and two years of teaching under our belts, the rest of the globe will be open to us.  Or if we decide to head directly back to the states, we know that our experiences here will not only improve our chances for grad school and employment, but also give us a broader perspective on the world of education, a world we are committed to improving wherever we are.  Nicaragua is changing who we are as professionals, as educators, and as people.  The greatest thing we can do with our TEFL certification is to carry those lessons forward into whatever the future may hold. 
About the Peace Corps TEFL Certificate Program 
The TEFL Certificate Program, an innovative and first-of-its-kind program at the Peace Corps, was developed in response to our host country partners' need for certified English teachers. The program provides rigorous, supervised teacher training and the opportunity for Volunteers to earn a professional teaching credential upon successful completion. Additional posts including Thailand, Ecuador, Costa Rica, Benin, and Rwanda are entering the TEFL Certificate Program in 2016. For more information regarding the TEFL Certificate program, click here.