Tales from the TEFL Certificate Program: "Celebrate the small steps"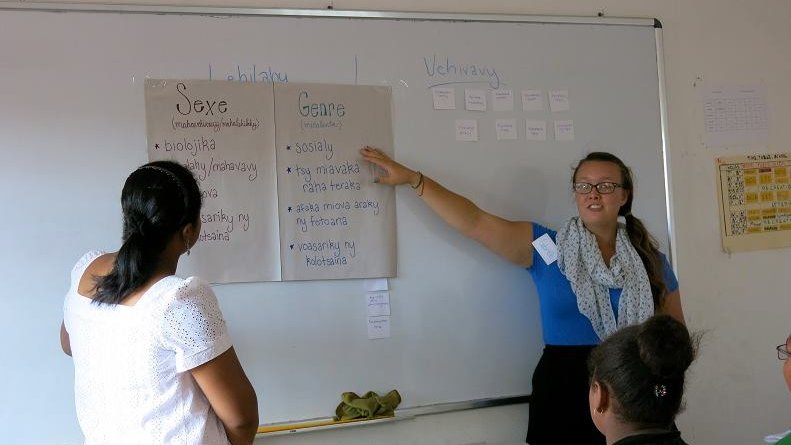 Dec. 15, 2015
TEFL Volunteers at three pilot posts began their training in 2014 with online courses, and in the two years since then, have participated in teacher training at their posts, taught English classes with host country partners, shared experiences with other Volunteers in communities of practice, honed their classroom skills, and much more.
This three-part series on the Peace Corps TEFL Certificate Program highlights the stories of four Volunteers: Hannah in Armenia, Gabrielle in Madagascar, and Emily and Andrew in Nicaragua. They are among the first Volunteers to earn the TEFL Certificate at the end of their service in the spring of 2016. 
Here is the second of the three articles in the words of Gabrielle, a TEFL Volunteer in Madagascar. Gabrielle regularly teaches secondary English classes with a counterpart at a school that was founded three years ago. The school's approach is unique within the developing world in that it encourages teachers to invest in their student's lives outside of school.
Inspiration 
My favorite part of my experience is without a doubt my primary project—teaching English and working with other teachers. In Madagascar, students at public schools often learn by rote memorization, copying down lecture notes for two hours while teachers chat and enjoy a refreshing breeze in the courtyard. This method of education is not student centered or conducive to critical thinking skills, deductive reasoning, or confidence in public speaking. I have worked the past year and a half to change this in my classroom and gently nudge my coworkers to do the same in their classrooms. My students are bright, young, eager children with dreams of becoming doctors, lawyers, and pilots. I love encouraging them to pursue these dreams through education. I also love being the teacher that allows them to play games and do fun (but applicable) exercises. It took a few months for the students to adjust to my teaching style and be comfortable speaking or even attempting to pronounce words. But now I see that they have gained so much confidence in their own abilities.  
A Challenge Accepted 
My biggest challenge has been maintaining the mindset of "I don't have to move mountains." My two-year service will ultimately be a blip on the radar of development at my site. For example, last January, I was selected to attend a workshop in Benin focusing on developing "student-friendly schools." As participants, we learned methods to identify and prevent gender-based violence and developed action plans to create a more gender equitable environment in our schools. I met with my counterpart about gender inequalities we witnessed in our school. One specific issue I presented involved the weekly Monday morning flag assembly, at which only boys raised the flag. The next week, four smiling, confident girls pulled the chords to lift up the red, green, and white colors of the Malagasy flag. Since then, girls have been elected to student leadership positions, won business competitions, and scored at the top of their classes. But every day there are still many instances of gender-based violence in my community; I desperately want to solve all these problems! As a Volunteer, you have to celebrate the small steps and recognize that they lead to broader changes over time—even if you won't be there to witness those changes. 
Best Practices and Lessons to Share 
A best practice that applies to all PCVs is to continually ask questions. This is advice that I sometimes have difficulty following. We are trained to do community surveys and use other methods in the first three months at site in order to determine what the community needs. But after that, especially in the second year, it is tempting to just go about your work. Sure, you may be entirely comfortable at your site and know where everything is, but you can still ask questions about people, or cultural intricacies. Invest in people's lives and demonstrate that you truly care. 
The TEFL Certificate After Close of Service 
The dreaded question… what will you do after Peace Corps? Well, I don't currently have any specific plans, but the TEFL Certificate opens up options in the future. A few of my colleagues are looking at teaching abroad, counseling, or going to graduate school. Upon closing my service, I plan to go to law school and study immigration law in order to help refugees and asylum seekers. 
About the Peace Corps TEFL Certificate Program 
The TEFL Certificate Program, an innovative and first-of-its-kind program at the Peace Corps, was developed in response to our host country partners' need for certified English teachers. The program provides rigorous, supervised teacher training and the opportunity for Volunteers to earn a professional teaching credential upon successful completion. Additional posts including Thailand, Ecuador, Costa Rica, Benin, and Rwanda are entering the TEFL Certificate Program in 2016. For more information regarding the TEFL Certificate program, click here.