Stopping the flow of menstrual misconceptions, one pad at a time
When Habbie first got her period, she was clueless about what was happening to her body.
"I thought I was dying," she says now, laughing. "But even still, I was too embarrassed to talk about that part of my body with anyone that I just did nothing. If someone had told me before, it would have saved me a lot of anxiety and could have helped me manage it better."

In The Gambia, it is culturally inappropriate to talk about menstruation. Even mothers rarely discuss it with their daughters, bolstering myths and stigmas that have lasted for generations.
As a teenager, Habbie found rags to line her underwear, as most girls in her country do. But the method is faulty and often leads to leakage – and shame.
One in 10 girls in Africa skip school because of menstruation, according to UNESCO. If a girl misses an average of four school days per month, that adds up to 40 school days a year, which of course translates to missed lessons, failed exams and falling short of their potential. Some girls drop out of school entirely when they reach puberty, citing lack of sanitary bathroom facilities as a cause.
Habbie, now a nurse, is helping me lead a project to teach girls in our community how to manage their menses in a healthy way.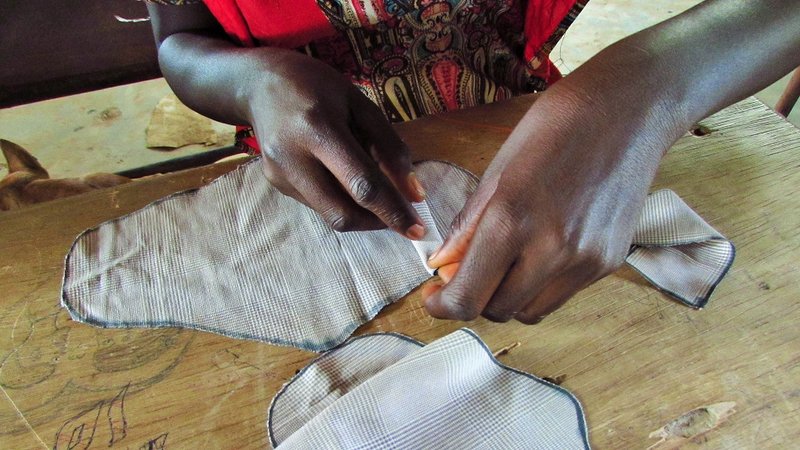 We are hosting small-group workshops where we teach teenage girls to make reusable menstrual pads. The pads are a simple design that can be made with local materials. With just some scrap fabric and a button, the girls can hand sew a pad that fastens around their underwear to stay in place. The addition of a removable towel is both absorbent and washable. While commercial disposable pads are available, they are often too expensive for most families.
Every student we reach is tasked with teaching a friend. Tenth-grade student Fatou has gone above and beyond the challenge. In just the first week after learning how to make the pads herself, she taught three other people. Inspired to do more, she is now working to help organize more workshops at her school. In our initial month of classes, we've already personally reached 20 girls (not including the girls they then also teach).
"I always worried about staining my school uniform," she said. "I tried the pad we made and it worked and I didn't have to worry. I want to help my friends now too."
By meeting with a few students at a time, it has created a comfortable environment to start a dialogue about puberty. Once we've finished our how-to sewing spiel and the girls start stitching, Habbie breaks the silence with her entertaining story of seeing her own menses for the first time. It gets all the girls laughing and breaks the ice for them to tell their own stories and ask questions.