The start of an environmental education initiative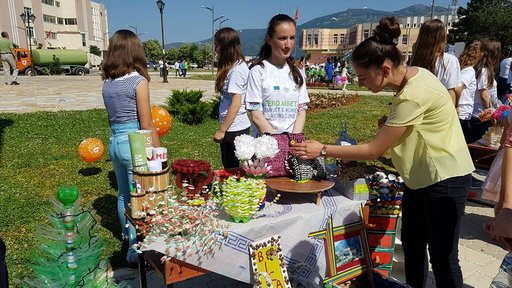 I have been in my village for two months now and when I first began volunteering at the local school, the school year was coming to an end. As the first Volunteer at my site, I help teachers with health lessons pertaining to adolescent development. My expectations for the rest of the school year were to continue practicing the language, learning about the community and helping with a handful of health lessons.
One day, the school informed me that in three weeks there was a recycling competition called "Zero Waste" and that they wanted to participate. They approached me to help create items that were beautiful and, most importantly, useful.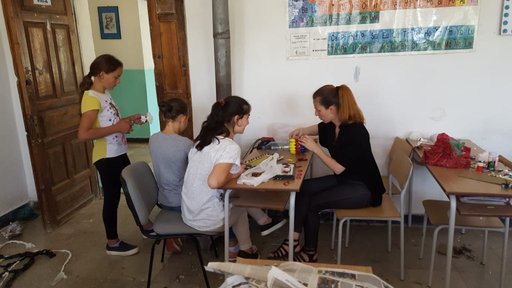 The competition included the Kukës region along with three villages. My village is just 10 minutes outside a larger city and schools in the villages are often intimidated to compete with schools in the city due to the number of resources urban schools have access to compared with more rural areas.

The teachers asked me to come up with a list of possible ideas that the students could work on to promote recycling. We looked online together and came up with about six different ideas. 
We faced obstacles from the beginning but the teachers' commitment to the school and their students excelled throughout. The teachers were concerned about how they were going to acquire enough recyclable materials to implement our ideas. Our solution was to go to each classroom and ask students to donate any plastic or paper materials that they would otherwise have thrown away.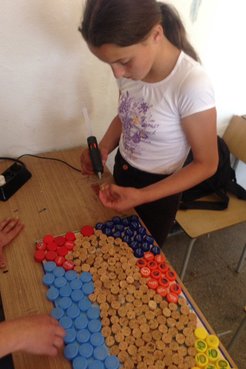 Another obstacle we faced was that the school lacked arts and crafts materials. Fortunately, the teachers brought some materials from their homes to contribute to the project, including hot glue guns, which made many of the ideas possible as well. (To paint a picture of how difficult it was to gather resources, the closest hot glue guns available were in Prizren, Kosovo, which is about 45 minutes away.)

During project development, I was amazed at how enthusiastic teachers became and how eager each student was. With every completed project, a student or a teacher would find a bag of unused recyclable materials and ask, "What can we make with this?" and that, to me, is a huge success.

The day of the competition fell on "Children's Day." We filled a car with projects and brought an overwhelming number of items to our table, which was displayed in the center of the city. We even had items on the floor because of how full the table was! Our original six ideas grew to more than 20 finished projects. 
For weeks, the students and teachers had asked me if we were going to win or if they had done enough for the competition. Finally, it was announced that we had won first place! It was so incredible to see students' and teachers' passion and hard work be recognized.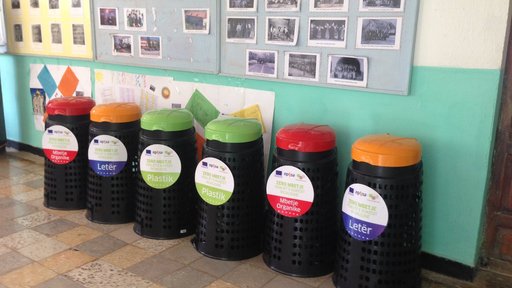 The prize was six recycling bins for the school: two for plastic, two for organic materials and two for paper.

The "Zero Waste" competition provided so many opportunities for our school. I used the activity as a chance to teach how plastic can take forever to degrade and how much better it is to create new uses for plastic than throw it away. 
Waste is a huge problem in Albania and can be found in many public areas such as rivers, parks and schools. Teaching others to be environmentally conscious can be a challenge, especially in another language. 
As we searched for ideas online, we found many ideas that revolved around gardens. Now the teachers are interested in working on a school garden for the upcoming year and want to paint a mural for the school. The interest students have shown has also given me the inspiration to create an environmental awareness initiative for the upcoming school year.
It was very rewarding to help the school and even more rewarding to have gained the support and trust of the teachers in my school. I would never have expected that I would start an initiative outside of the usual health program, but I also never expected to take part in such an amazing event with my new school.