Staff celebrate impact of Deaf Volunteers in Kenya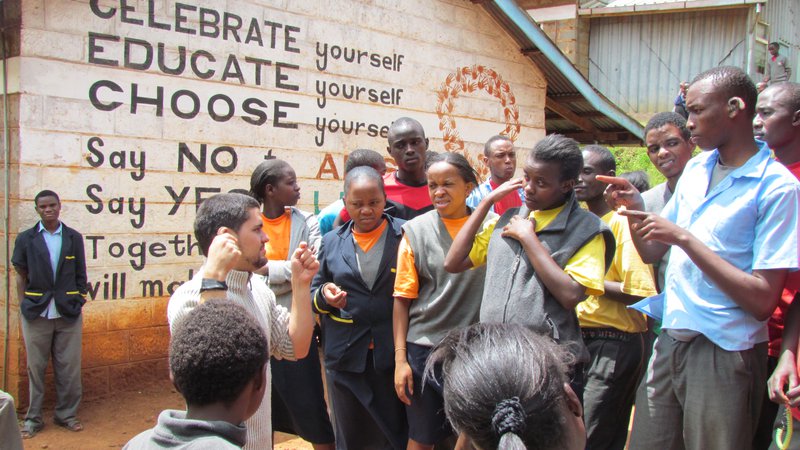 Sept. 21, 2020
From serving as role models to engaging in secondary projects, Deaf and Hard of Hearing (DHH) Peace Corps Volunteers often bring valuable perspectives and skills to their host communities.
Peace Corps Kenya has hosted over 20 Deaf and Hard of Hearing Volunteers, and began its Deaf education project in 2002. Kenya staff members Renalda Mwanyuma and Joseph Maruti provide programmatic and technical aid to Volunteers, but they also focus on Deaf education projects and support DHH Volunteers.
As the Peace Corps celebrates Deaf Awareness Week, we sat down with Renalda and Joseph to ask them about their experiences working in the DHH education sector in Kenya.
Describe the local DHH community in Kenya.
Renalda: In Kenya there is a vibrant DHH community involved in advocacy and sensitization of Deaf people's rights. Through the efforts of national and regional associations of the Deaf, Kenyan Sign Language (KSL) has been recognized as the 3rd official language for communication in the country's constitution.
Various policies have ensured the inclusion of the DHH community in leadership positions where legislation and accommodations are made, which has resulted in the provision of widespread Sign Language interpretation services. The Ministry of Education also provides services for Deaf students through established schools for the Deaf and Units for the Deaf in mainstream schools.
DHH children in Kenya face many obstacles, such as inaccessible teaching and learning materials, inadequate numbers of well-trained teachers, and communication barriers. Due to these challenges, DHH children have low progression rates to institutes of higher learning. Although major strides have been made to ensure inclusion in Kenya, DHH individuals are still disadvantaged in access to equal opportunities in education and employment due to societal and systemic barriers.
How many DHH Volunteers have you worked with?
Joseph: I've worked with approximately 12 DHH Volunteers over my 11 years of working with Peace Corps. Typically, we would have at least one DHH volunteer arrive each year, and there were some years where we received two.
Renalda: I have worked with at least two DHH Volunteers who served in Kenya, but I've also worked with many hearing Volunteers who focused on DHH education projects in Kenya.
What do you think has been the most valuable aspect of hosting DHH Volunteers?
Joseph: Peace Corps Kenya's Deaf education program benefits deeply from the involvement of DHH Volunteers. The DHH Volunteers are a true role models–for host families, school communities, and the public in general–of what DHH people in general are capable of achieving. All the DHH Volunteers who have served in Kenya have had university degrees, they have travelled halfway around the world to come to serve in Kenya, and they live and work at their sites the same way the hearing Volunteers would. I find that DHH Kenyans are deeply encouraged when they see these Volunteers in action.
Renalda: Ensuring diversity in our programming is one of the most valuable aspects of having DHH Volunteers in Kenya, which is very in-line with the Peace Corps' mission and goals. Adding to what Joseph has said, having American DHH volunteers in Kenya helps to reduce societal stigma and promote inclusivity.
Joseph: I also think there is a fascinating cultural exchange between the DHH Americans and the Kenyan DHH communities with whom they live and work.
Renalda: Yes, as part of that cultural exchange, DHH Volunteers living with local host families were able to teach sign language and aspects of Deaf culture to a hearing families and further demystify the misconceptions associated with being Deaf.
Were there any unique needs or challenges that the post staff experienced while arranging for the training and placement of DHH Volunteers?
Renalda: DHH volunteers are not any different from their hearing peers. The only difference is that they are unable to speak verbally. With minimal accommodations such as sign language interpreters and training in Kenyan Sign Language, DHH Volunteers have been able to go through training and serve their communities successfully.
What impacts have you seen DHH Volunteers make in their communities?
Joseph: I've seen our DHH Volunteers encourage parents of DHH children stop hiding them at home and instead to take them to school and keep them there. They have promoted the use of KSL in the schools where they are placed, and have even provided KSL classes for members of faculty at their school placements.
Renalda: Overall, DHH Volunteers are positive role models to DHH children in Kenyan schools and help prove to the community that Deaf children are indeed capable of learning and becoming productive members of society. When our hearing and Deaf Volunteers work together on education projects, Deaf children and the local community get to see how inclusion can work, thus reducing stigma towards Deaf people.