Staff celebrate the impact of Deaf Volunteers in Ghana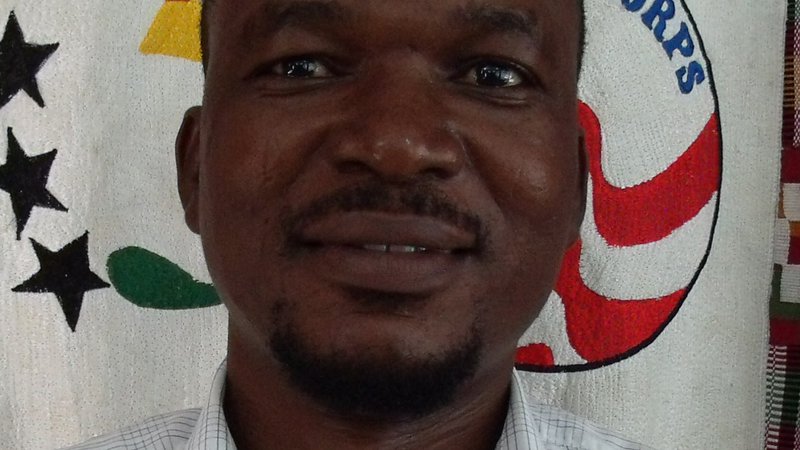 Sept. 24, 2020
Peace Corps staff member Yussif Alhassan is a programming and training specialist for the education sector in Ghana. In that role, he provides technical and programmatic support to Volunteers working in schools, and has worked with six Deaf or Hard of Hearing (DHH) Volunteers. As the Peace Corps celebrates Deaf Awareness Week, we sat down with Yussif to ask him about his experience in Ghana.
Describe the local DHH community in the country in Ghana.
The DHH community in Ghana does not have the same educational and work opportunities as their hearing counterparts. Whereas there are thousands of pre-tertiary schools for the hearing individuals, only 12 pre-tertiary schools for the Deaf exist in Ghana. There is also a critical shortage of teachers with sign language proficiency in these schools.
What impacts have you seen DHH Volunteers make in the communities they worked with?
Our DHH Volunteers teach Deaf students and build the capacity of local school staff in Ghanaian Sign Language. They sometimes even extend their sign language lessons to staff of health clinics and centers. Like all Volunteers, DHH Volunteers also engage in secondary projects in their communities, such as building libraries and ICT centers, organizing clubs, running youth camps, or refurbishing health centers and community water systems.
What are the advantages to having a program that includes both DHH and hearing Volunteers working on Deaf education projects at posts?"
Having Deaf and hearing Volunteers working in the Deaf education sector promotes social inclusion and enhances the understanding of Deaf culture all around.
The Ghana Education Service is moving into inclusive education where DHH students can share the same classroom or school compound arrangement with the hearing students. Having a program that includes both DHH and hearing volunteers will make things easier when the transition finally takes place.
Is there a particular success story of a DHH Volunteer that you would like to highlight or share?
I worked with a Deaf Volunteer named Maya Penn. She served in the education sector and taught integrated science and creative arts at a school for Deaf students in eastern Ghana. Her projects included teaching hospital staff Ghanaian Sign Language, running the HIV/AIDS club, and hosting a leadership camp at her school.
One of her most successful projects was getting a grant approved for the renovation of an old building in order to make it a health clinic. She and her project committee worked together to manage and monitor the project. Unfortunately, Maya was evacuated due to COVID-19 before the renovation was completed. However, her community is currently in the process of installing ceiling roofs and electric wires and they expect the clinic to be completed in the next two months. Maya says, "I have built my trust with my community, and especially my counterpart. I'm [confident] that he can continue working on this project without me".