Making snow in the desert
How do you select gifts for a family you've never met?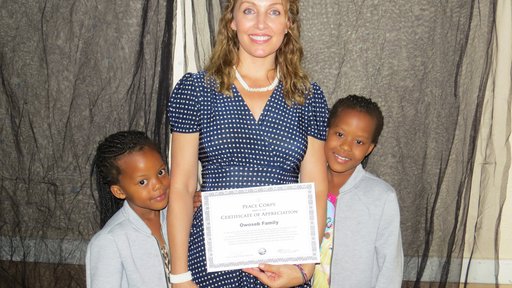 This was my dilemma. Here I was in Madison, Wisconsin, more than 8,000 miles from my Peace Corps site in Namibia, shopping for a mystery host family. What type of gift would give them a glimpse into my home? The beautiful lakes, the stunning architecture, the feel of a college town, America's Dairyland, farmers' markets, fall leaves … oh wait … SNOW!

What better way to bring the feel of Wisconsin to Namibia than bringing a bit of snow to the hot, dry desert?
After a bit of internet research I was able to locate a few small envelopes of "fake snow" to pack into my suitcases for the journey. They joined my other gifts of freeze-dried cheese (the only non-perishable form I could find), a Wisconsin Badger finger football game, chocolate-covered fruit, and a coffee table book showing landscapes and architecture in and around Madison.
Fast-forward to arrival in my new host family home. With a mother, father, grandmother, three brothers, four sisters, and two dogs, my new home was a busy place! My sisters ranged in age from 2 to 16, and brothers from ages 17 to 21.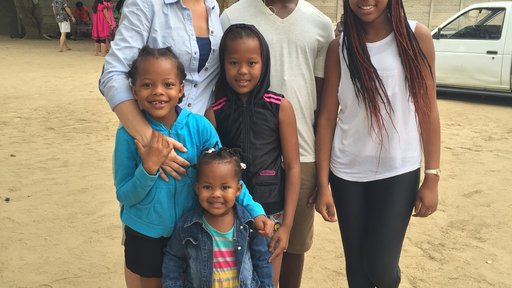 After some settling in time, I presented my gifts to my host parents. In Herero and Damara tribal heritage, one does not give gifts directly to children but, instead, allows their parents to decide what and when is best to distribute.
Little by little, over the next week or so, the items were distributed and shared by all. The chocolate-covered fruit was a big hit, the freeze-dried cheese…well, not so much. My host brothers enjoyed the finger football game. Together, we all perused the pictures in the book and discussed the four seasons and why leaves change into bright colors during fall.
Paging through images of winter scenery was the perfect segue to the snow-making exercise. The girls – Tuno, Pahe, Matanga, and Hage – were visibly excited with the idea of being able to touch the snow they were seeing in the pictures of Wisconsin. They boys were a bit more reserved, at least at first.
We all gathered in the kitchen with three large plastic wash basins. The youngest children were given envelopes to empty into their basin. Per instructions, we added the measured amount of water and watched with glee as the snow grew and grew and became deep piles of fluffy, white, cold snow.
The first thing everyone did (including the older family members) was completely submerge a hand and arm into the snow basins. "It's so cold!" They exclaimed. "It's so soft!" .
Unfortunately, unlike authentic snow, this stuff was not edible, so no snow cones for us. But we discussed different uses for snow, both good and bad. We talked about the 'crunching' noise that snow makes when you walk on it, ice skating, skiing, and the dangers of driving in snow and ice.
It was fun to see my siblings' minds run wild with the idea of looking up into the sky and seeing snowflakes (each one unique) dropping down and landing on your nose.
What a great way to bring a little piece of Madison, Wisconsin, to the desert of Namibia!