Serving one last time in the Philippines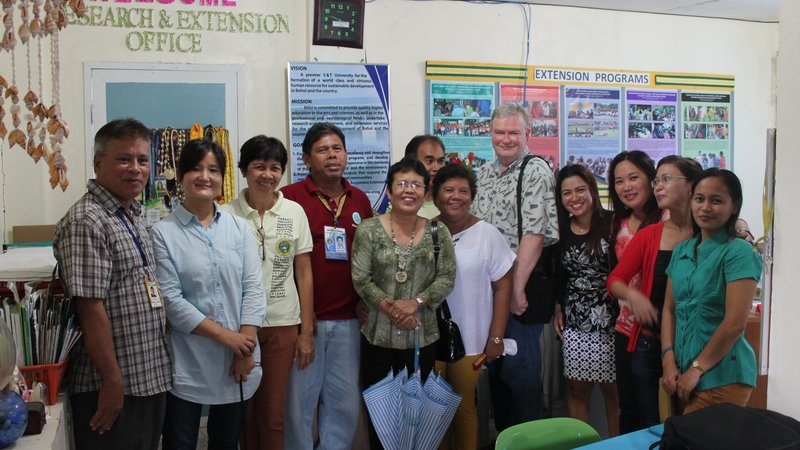 Oct. 19, 2015
I served as a Peace Corps Volunteer in the Philippines from 1975 to 1977 and was hired by the Peace Corps to stay on after completing my service to assist in the training and orientation of new Volunteers upon their arrival in-country. I did that until April 1978, when I returned home to Wisconsin with my Filipina wife and our six-week-old son. 
My career after the Peace Corps focused on teaching healthcare and higher education at the University of Wisconsin School of Medicine and Public Health. I retired in May 15, 2015; eight days later, I rejoined the Peace Corps as a Peace Corps Response Volunteer, accepting a seven-month assignment to return to the same Philippine province, Bohol, where I had volunteered 40 years earlier.

I had always thought about possibly serving in the Peace Corps one last time. The Peace Corps Response program met my goals perfectly, and this assignment is a great match. I am now in the middle of my seven-month Volunteer assignment working with the Bohol Island State University (BISU) to expand and intensify its research and extension projects by increasing the number of applications for both external and internal funding. The university was established in 2009 and includes six campuses with about 19,000 students. I live in a modest but comfortable apartment. The faculty, students and leadership have become my "host family," and I enjoy my time here as we get to know each other better. The years of experience that I bring as a Response Volunteer working with a university – and perhaps my being a senior in the field of formal education – have brought about noteworthy respect and confidence from my faculty counterparts.
My work is focused on training faculty how to write competitive quality fundable grant proposals. These proposals need to be in English; the national language in the Philippines is Filipino (Tagalog) and there are numerous other dialects spoken throughout the country. There is also a lot of English spoken with varying proficiency. I put on two-day grant writing workshops at each campus that include plenty of opportunity for writing. Our goal is to have at least one proposal submitted to a funding agency from each campus while I am here. We also want faculty to learn and become more comfortable with the grant application process. Examples of proposals in process are: performing a comprehensive water study on a nearby island, improving BISU information technology infrastructure to support greater online learning, mapping the habitat of endangered species on Bohol, helping out-of-school youth learn a trade and finding the cause of coastal mangrove tree loss.
I am also working to identify external funding sources that match the needs of the university. I proofread other proposals as requested on behalf of the university. I have assisted in master's and PhD dissertation review. I try to promote a culture of research and extension here at BISU.
One challenge faced by BISU is that in June of 2016 the country will implement the change from a kindergarten through tenth grade (K-to-10) educational system to a K-to-12 system, adding two additional years of high school. Most of the world operates under a K-to-12 system. This will create a loss of students at the university level for two years, which means a loss of tuition and a need to reduce the university workforce. One of the strategies to help mitigate the impact of this situation is to increase funded research and extension activities during this time. My Response Volunteer assignment is to reinforce their capability to contribute to this purpose.
There is also ample time for relaxation and travel within this wonderful country of more than 7,000 islands. There is much interesting history and amazing natural beauty to explore – including right here in Bohol. The Filipino people are curious, friendly and kind. My true "retirement" will begin after my return to the U.S. I will always take great pride in having served as a Peace Corps Response Volunteer.