Serving as an LGBTQ Volunteer altered my outlook
In celebration of LGBTQ Pride Month, Peace Corps Northeast Recruiter Zoe Armstrong discusses how her experience living and working as an LGBTQ Volunteer in the post-Soviet Caucasus region helped to fortify her sexual identity.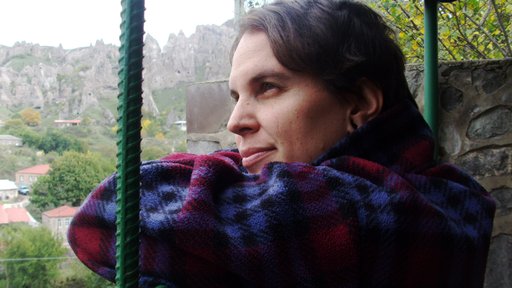 Zoe served as an NGO Development Specialist for a women's advocacy center in Southern Armenia and currently recruits for the Peace Corps in Vermont. Her story – titled "International Outing: How serving in the Peace Corps led to a personal awakening" – was first featured in the October 2014 issue of Curve Magazine.      
When I received my invitation to serve as a Peace Corps Volunteer in Armenia, all I knew of the country was Armenian music from my belly dancing experience and the history of the 1915 genocide – of which the band System of a Down raised awareness through their music. I went in armed with my New England work ethic and stubbornness – and enough Equal Exchange chocolate to last two years. Little did I know the lasting impact that this tiny, post-Soviet, primarily agrarian nation would have on my life, and how it would alter my perceptions and my queer identity. Living in mid-coast Maine, I had relative political freedom as a queer person, but a level of expression of my queer identity was missing at that point in my life, and I knew going into the Peace Corps that I would need to internalize my queer identity even more. For safety and acceptance, on a case-by-case basis, I would need to make some hard choices about how honest I'd be.
For two years my post was Goris (pop. 15,000), in Syunik Marz, four hours north of Iran, in a beautiful valley in the Caucasus Mountains. I was assigned to the Goris Women's Resource Center, initially funded by the Organization for Security and Cooperation in Europe (OSCE). My closest counterparts, the board of directors, consisted of nine dedicated Armenian women aged 30 to 60. I was 32.
Armenian society has strictly defined gender roles. Women who seek freedom, travel, expression, and education outside their established roles are often seen as trouble, undesirable, a threat to tradition and a destabilizing force in their families. This resource center – a space run by and in the service of women – in rural Armenia was in itself a revolutionary act. Through sheer grit, we connected women to educational and economic opportunities in Armenia and abroad, built a micro-finance artisan project, created a small research library and computer lab, held health workshops, hosted domestic violence awareness and outreach services, and participated in civic engagement initiatives, including election monitoring and anti-corruption programs. 
*** 
I didn't come out in my community, though I tried to once, to one of my closest counterparts. We were working late on a grant proposal, and I received an e-mail from an old college friend who had recently transitioned. My friend shared his new name with me and I cried a bit. I explained my tears to my colleague and how my friend had transitioned from F to M. It was a lot for her. She'd heard of it, but only as a faraway idea – not as a reality in a friend's life. I wanted to come out to her then. We had been friends for over a year.
I felt like a fraud. I hit a heteronormative wall as I weighed the possible consequences. I had heard of a Peace Corps Volunteer in neighboring Azerbaijan who had decided to come out to her service community. I was impressed, but I had invested so much and been through so many defeats and victories, both personally and with our programming goals, that I wasn't ready to take on an unknown wave of reactions from a very large group of women in my small town. They are modern women, and they can learn, adapt, and change like any of us. Sometimes I feel I was cowardly; other times, I feel it was a simple, logical choice in a seemingly impossible situation. 
I was out to Peace Corps staff, my fellow Peace Corps Volunteers, and the local urban queers. But in my post, Goris, I was closeted, which is often the case for Peace Corps Volunteers serving in regions where sexual and gender minorities are not supported or socially understood. On the books, homosexuality became legal in Armenia around 2007. But there were still hate crimes, including those targeting local LGBTQ citizens in the capital. In Armenia, there is a repeated soul-and flesh-bruising trajectory of progress toward equal rights for LGBTQ people; Armenians who choose this fight knowingly put themselves at great risk in a society that many say is "not ready" for them. In the face of such daunting odds, they are making progress. 
*** 
In Yerevan, I was fortunate to meet a network of academics, artists, and activists connected to Women's Resource Center Armenia. I met local LGBTQ advocates, who collaborated with me to teach tolerance initiatives at the growing Goris Women's Resource Center. A few advocates worked for Public Information and Need of Knowledge (PINK), a nonprofit dedicated to equal human rights for LGBTQ citizens in Armenia and the Caucasus region (including Turkey, Georgia, Azerbaijan, and Russia). These advocates, and my daily Peace Corps life, opened my eyes to reality for LGBTQ Armenians. 
Reflecting on their experiences led me to new caverns of thought. It twisted my own queer identity. My priorities shifted. The reality of desperation and the silencing of souls en masse shook my core. I gained a firsthand understanding that what I was seeing in Armenia is happening in so many nations: Gender outlaws, queer academics, and activist bloggers are trying to push their nations forward while the weight of tradition and social norms embedded in our globe's elder cultures are holding firm. 
Returning to my American queer "family" has not been a smooth transition. My voice in the community does not feel the same, or come through as easily. If I say I see a sense of privilege in the queer politics in the U.S., it is perceived as criticism. But what I am able to see now are the very real opportunities embedded within that privilege. If we don't take these privileges and do all we can with them, when so many others do not have that access, then we are taking something very precious for granted. 
Before becoming a Peace Corps recruiter, Zoe Armstrong was a Peace Corps Volunteer in Armenia, empowering women with business savvy and health awareness. Now, she promotes overseas service in Vermont, Western Massachusetts, western New Hampshire and parts of New York's North Country.
How has your service as a Peace Corps Volunteer shaped your work as a Peace Corps Recruiter? After completing my service, I knew I wanted to work for Peace Corps. The two-year experience provides a rare opportunity to really know another culture. The more citizens of the United States who go through this experience, the more will know that every tiny fold of the world is precious to someone and should be respected and honored. The more Americans who come home with an ability to work cross-culturally, the stronger our nation will be. My favorite part of this job so far, looking back at my three years as a Recruiter, has been inspiring people of all ages to listen to that call inside of them and go forth into the world and bring us back great stories of our fellow humans. 
As you explain in Curve, you had to stay closeted as an LGBTQ Volunteer for two years to not risk cultural resistance from your host community. How did you make that transition from being open with your sexual identity to projecting an identity that was more expected from your host community?  People stared at my Merrell hiking boots, a lot. Women in Armenia wear heels, high heels. My community was very confused by my footwear. It made me think of that old Robin Williams joke, "You cannot call them lesbians anymore; It is just 'women wearing comfortable shoes.'" I stopped wearing them, I had my mother send me some Danskos I had left from a past restaurant job. Also, I grew my hair out, which the women I worked with loved, and they would do my hair sometimes or play with it. I was a Goth back in high school, so it was not too much of a stretch for me to start wearing make-up again – although I had not for many years. (Plus, the gothic essence of my make-up skills worked well in a very Russian-fashion influenced environment.) So with lipstick, eye-charcoal, and "girl shoes," I fit in fine and became very close with my colleagues in Armenia. Internally at times, I felt like an actor or a clown, but as time passed, the role I was acting became normal life. Since returning to the United States, I have kept the eyeliner, but am very happy to have my comfortable shoes back! 
What challenges or insights did you encounter when omitting that part of your identity from service? Now, looking back on your service, do you wish you weren't closeted as a Volunteer? Sometimes I think about how different my service would have been if I had come out of the closet. If I had to do it all over again, I think I would have reached out to that Peace Corps Volunteer in Azerbaijan or other Volunteers who had come out while serving in the post-Soviet Union to learn about their experience and see if I could do it. There is a risk to any LGBT villagers if a Peace Corps Volunteer comes out because we can never foresee how our realities will intertwine and end up revealing a person unintentionally. I could have come out near the end of my service, and I discussed this with my closest Peace Corps Volunteer friend in Armenia. He had decided at the end of his service to tell people – including the women at my center – that his sister is queer. I think he even showed pictures of her with her female spouse. He said it generated disappointment, confusion and curiosity equally. I know some of them would have been supportive; some would then have dismissed me as an undesirable human, and would not have spoken with me again; others may have been confused that I had not told them. None of them would have been surprised as they all wondered why I did not have a husband and children so "late in life." So, in that milieu, I made the choice I made and have no overt regrets. 
What would you tell other LGBTQ people who are looking to join Peace Corps about serving overseas? It will be hard, but hard in a way that is so crucial to the evolution of our LGBTQ family here in the United States that you will never regret it. A lot will be asked of you personally that is a unique burden, but you will have a cohort of LGBTQ Peace Corps Volunteers, Returned Peace Corps Volunteers, and allies with whom to process these lessons. Serving in Peace Corps helped me realize that any burden I ever feel from being queer may pale to the pain of most queers on planet Earth. Holding compassion for their struggle in my heart helps keep my own challenges in perspective. 
Click here for more about Zoe's service in Armenia and current role as a Peace Corps Recruiter. To learn about serving as an LGBTQ Volunteer or as part of a same-sex couple, visit our website at www.peacecorps.gov.