Serving in Albania helped me develop pride in my Jewish identity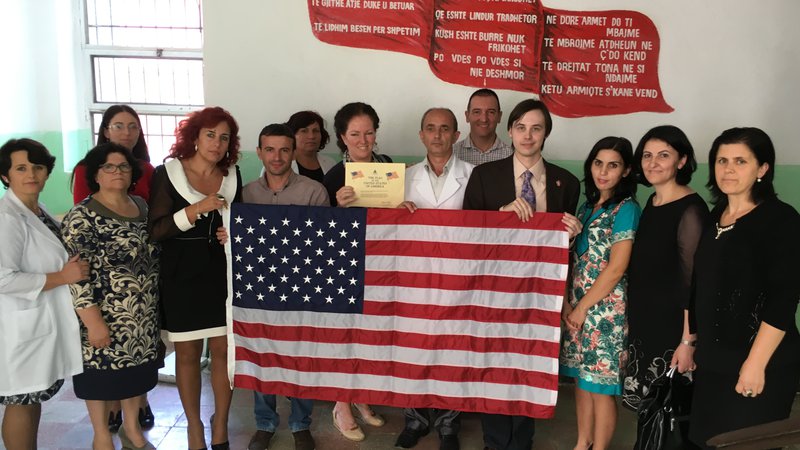 Dec. 7, 2020
As I sit and write this, I look back on my experiences and the people who I had the honor to meet, and I am deeply grateful to them.
I am a Jewish American. I began my Peace Corps experience in the Republic of Albania in March 2016, and completed it in April 2018.
Not long before I began my service, I was a graduate student completing a degree in international peace and conflict resolution. Following graduation, I felt adrift—as if my life was tossed into the tempest of the unknown. During this time, I didn't know where to live or what I would end up doing with my life. In the midst of this struggle, I remember hearing about the Peace Corps. That's when I began my research. That research sparked my interest and that interest was kindled into excitement. After much deliberation, I applied to be an English teacher in Albania, and I was accepted.
On the plane from Miami to Vienna, enroute to Tirana, I found myself frantically questioning whether or not I was truly cut out for the Peace Corps. After arriving in Albania and all the way through the hustle and bustle of training, I continued questioning myself. I knew I had much to learn about life, Albania, and its people, though, so I decided to stay.
Following training, I was sent to a village community in the mountainous northeast of the country—near the border of North Macedonia. It was sink or swim. On my first night in my new community, I was welcomed by my host family like I had never been welcomed before. Here I was, an introvert thrust into a family of extroverts, and I had only started to learn the Albanian language. Despite that, breaking bread and eating together (the biggest meal I had ever eaten before), I learned the Albanian custom of kindness towards outsiders. My nervousness began to melt and I knew that I had found a support system.
For the longest time, I did not talk to many people about being Jewish. It was something my family at home highly discouraged, whether out of perceived concern or real. Growing up in my family, faith was personal. We were in the minority wherever we lived. When I was a teenager, there was a spate of unchecked antisemitism at my high school, which made me clam up even more. This is the reason that I hope you, dear reader, can see why I placed my Jewish identity on the back burner.
All of that changed in Albania. About a year into service I had a few conversations with my elderly neighbors about local history. We were sitting together during a rainstorm and drinking lemon tea. During our conversation, one neighbor informed me that during the Second World War, a few Jewish families escaped Germany and found safety in this region of Albania. This nugget of information caught my attention and, before I knew it, I had slid down a rabbit hole of research.
I learned that thousands of Jews were sheltered and welcomed as family by Albanians—despite being foreigners and neither Muslim (the predominant faith of Albania) nor Christian. In Albania, there is a powerful honor code called besa, or fidelity. If an Albanian becomes your friend, they will defend you to the death. In learning this, my love of Albania and its people grew tenfold. I knew I had to give back as much as I could. It would be a thank you.

Over the next year, whenever I was not teaching, I joined local friends and visited elderly community members. Soon enough, I was deep into a secondary project—collecting stories, histories, and folklore of the elderly generation.
Through much trust building, hot chocolate, lemon tea, espresso, and byrek (a delicious Albanian/Balkan dish), I visited as many homes as I could and I collected as many stories as I could. I saw preserving those memories—not allowing those stories to disappear forever—as my small way of giving back.
For the first time in a long time, I felt a real sense of community and belonging. I was part of the local besa and I found myself becoming comfortable being open with people about my Jewish American identity. In 2018, I tearfully ended my service. I returned home with a pride I had not felt before.
Life is fickle—it took living halfway around the world to discover myself. I am ever appreciative to Peace Corps and to Albania for changing my life.